Back to selection
UT3D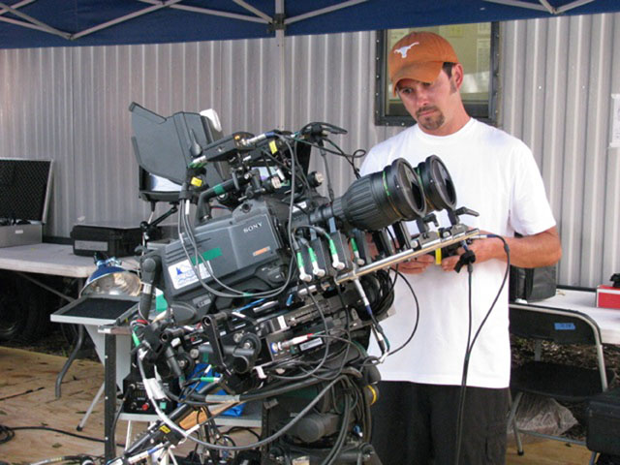 The UT3D program in action
While Hollywood continues to generate three-dimensional spectacles, directors, industry pundits and audiences all continue to question the technology's validity. In a recent story in The Hollywood Reporter highlighting the DVD release of The Wolverine, which includes a 3D Blu-ray, director James Mangold said, "The question is whether 3D will survive or not," adding, "Is it more than a gimmick and can we make it more than a gimmick?" And after ESPN announced last June that it would shut down its three-year-old 3D sports channel by the end of 2013, Variety's David S. Cohen explored both the predictions of total demise and those of an exciting future, concluding that "3D is going to be sitting quietly for a while, waiting for laser projectors, UHD, glasses-free 3D TVs and the next generation of streaming VOD."
The quietness pleases Don Howard, who helped spearhead the design of the curriculum for a new program in the Department of Radio-Television-Film at the University of Texas at Austin dedicated to 3D production. Titled UT3D, the program is designed to introduce undergraduate students to the history and science of 3D technology. But rather than training the next generation of directors to make high-end Hollywood feature films, the program instead wants to explore a full array of 3D uses. "Our interest is not primarily in 3D movies," Howard insists. "Instead, we want to take a very broad view of what 3D might eventually become." And the seeming lack of interest in 3D in Hollywood? It only means that there are more people available to help advise him.
Howard, who serves as the production area head in the Radio-Television-Film department, as well as the director of UT3D, explains that the idea for the program began more than a year ago when a UT alum, Wayne Miller, and his company, SD Entertainment, were engaged to revamp the Austin City Limits studio, which included adding 3D capabilities. "He and his colleague Jonathan Dern were complaining among themselves that there was no comprehensive training program in 3D in the U.S.," Howard explains. "There is one in Belgium and one in South Korea, but nothing in the U.S. So they decided to call us."
Howard was initially skeptical. However, he recalls an epiphany. "We were talking about 3D, and someone had a prototype of a new tablet with a glasses-free 3D display, and at first, I was looking over the shoulder of someone who was watching Avatar, and I thought it was just okay; there were a lot of artifacts and I wasn't that impressed. But then they handed it to me, and I realized that I was always in the sweet spot. I suddenly understood that a lot of the problems inherent to 3D had been fixed. And I also realized that if you're a young kid playing games on devices like these, where 3D isn't an extra, it's just something expected, then there's going to be a big market for 3D in the future. What we were looking at, then, was a whole different kind of entertainment, and something that's much bigger than 3D movies."
Based on this experience, Howard was hooked, and the trio began writing proposals soliciting funding. The Moody Foundation, which had helped with the Austin City Limits studio redesign, provided a $2.17-million grant to create UT3D, dubbed by the school "the first comprehensive 3D production curriculum in the country."
So far, the curriculum contains only two courses: RTF 366M: Intro to 3D Production, and RTF 343N: Advanced 3D Production. Students had to apply to be accepted into the program, and the department offered two sections of the first course in September.
Buzz Hayes, who founded the Sony 3D Technology Center and was the founding chairman of the International 3D Society, taught the course. Hayes has used his skills on many films, including Beowulf, Alice in Wonderland, Life of Pi and The Great Gatsby. Student response to the first course, according to Howard, has been fantastic. "Buzz Hayes is just the best," he says. "He's a gifted teacher and has a very broad view of 3D, and because he's been a consultant on a lot of major films, and thoroughly knows both the art and science of it, he can relate the ideas to his own real experiences."
Howard is deeply committed to a full exploration of options for 3D. He says that journalism students are interested in using the technology to capture many of the high-profile sporting events on campus, and some students are interested in exploring dance. Another student will shoot his sci-fi thesis film in 3D in order to explore and experiment with the technology. Howard has also had interest from medical experts and neuroscientists and hopes that the program can become the nexus for a broad array of experiments in combining a new technology with many different applications.
"I don't want to chase technology," Howard says, "but I am interested in anything that responds to your gut instinct of what 3D can be. I'm interested in taking 3D in new directions."