Back to selection
Girls Interrupted: Juliet Lammers and Lorraine Price on Last Woman Standing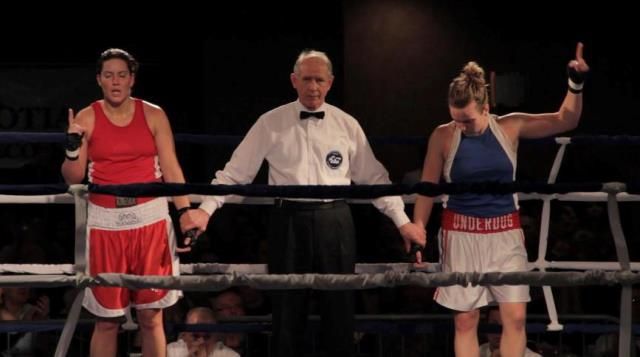 Last Woman Standing
When I met Canadian director Juliet Lammers during the Hot Springs Documentary Film Festival – where we served together on a sprawling panel – her film Last Woman Standing, which made the Hot Docs 2013 Netflix Audience Award top five, wasn't even on my radar. But it certainly should have been. Co-directed by Lammers and Lorraine Price, Last Woman Standing is more than a riveting sports flick (though it's that as well). Unique in approach, the doc focuses just as much on the relationship rift between Ariane Fortin and Mary Spencer, two of the world's best boxers, as it does on their unavoidable rivalry – when the longtime friends are forced to literally fight one another for a sole spot on Canada's Olympic team. Filmmaker spoke with the Montreal duo prior to the doc's January 28th VOD release.
Filmmaker: I know this is your documentary debut. Can you discuss how this film came about, and how you were able to gain such intimate access to your subjects?
Lammers: Lorraine and I met at a boxing club in Montreal. One evening – at our coach's birthday party – we began discussing the debut of women's boxing at the 2012 Olympics. We were both interested in making films, and were both excited by the topic. Our original thought was to follow the first Canadian women's boxing team to London, but as we started looking into who the contenders were, we realized that it was the story between Ariane and Mary that was most compelling and the one we wanted to tell. We wrote to both, explaining our idea and asked if they would be interested, and they agreed.
The fact that we both came from a boxing background really helped. I think they saw us as peers more than they did as filmmakers, especially at first. Lorraine and Ariane had met previously, and Ariane had heard of our gym and knew our coach so there was some prior familiarity. But we also worked really hard to cultivate honest and trusting relationships with both of them. Their rivalry was in full swing by the time we came to the story, so the fact that we were developing relationships with them simultaneously was a bit awkward at times, for them and for us. We really tried to get to know both of them as people and not just documentary subjects. We made efforts to open up our lives to them as much as they were interested. I think Lorraine and I both wanted our relationships with Ariane and Mary to be as reciprocal as possible. Traveling all over the world with them, often driving long distances together, staying in the same hotels, and sharing all kinds of meals helped too.
Price: Though Juliet and I were actually members at the same boxing club when we came up with the idea for the doc, we barely even knew each other at the time. In retrospect it was a pretty audacious thing for us to do, decide to co-direct a film when we were little more than acquaintances. But it wasn't until about a year after that first conversation, when we pitched the idea to John and Aisling at Prospector Films and they came on board, that the ball really started rolling. The more we talked with them, the more we all felt that Mary and Ariane's story in particular had the makings of a great documentary. As subjects they were charismatic and compelling, there was a natural narrative arc filled with tension, the stakes were as high as they could possibly be, and their story was taking place within the context of a historical event that deserved to be documented. The project pretty much snowballed from there.
Gaining access to Mary and Ariane initially wasn't difficult. From the outset they told us that they really appreciated that we came from within the sport. I was a competitive boxer, and Juliet had been doing the boxing workout for several years, so they felt like we understood their community, their sport, and them as boxers on a personal level. That being said, it wasn't always easy. We knew that not only were we filming athletes, but rivals and former friends. We had to establish a kind of additional code of ethics for ourselves. While filming, we never told one what we discussed with the other. We never told one what the other was doing, who they were training with, or who they were fighting. Even when they spoke fondly of each other, and we knew that they would appreciate knowing, we kept it to ourselves. We were very careful to earn their trust by demonstrating that we were unbiased and equally committed to both of their stories. And we were really open about our own lives so they knew our friendship was a two-way street. We nurtured this aspect of our relationship right up to the last shoot. I think that's why we got what we did.
Filmmaker: Could you talk a bit about your choice to distribute widely across all VOD platforms? I was a bit surprised, given that you've already played on CBC's Documentary Channel, and the film seems equally well-suited to PBS or ESPN's 30 for 30 series here in the States.
Lammers: The Documentary Channel was our primary funder and has the Canadian rights to the film for the next several years. Our distributor FilmBuff will definitely sell to broadcasters, but VOD is the best way for us to connect with what we think is an emerging niche audience – women boxers. The debut of women's boxing at the Olympics has caused a surge in the sport so we are hoping there is a big community of women's boxing enthusiasts out there that will be interested in Last Woman Standing. There aren't a lot of films about women boxers out there so we think our film fills a gap. The trick is to get the word out and to let people know that the film exists.
Price: I think there is a real thirst among women – athletes and non-athletes alike – to hear their stories these days. Women's boxing is evolving rapidly now that it's an Olympic sport and there's an entire new generation of young female fighters who need role models. When Mary and Ariane started boxing, there were very few women boxers to look up to, period, let alone as the subjects of documentary film. So we're hoping to tap into that thirsty niche market through VOD and get the film seen by as many people as possible.
Filmmaker: What was the most difficult challenge you faced while filming? The most welcome surprise?
Lammers: The National Championships where Ariane and Mary fought for the 75kg position on the Canadian National Team and the opportunity to go to the Olympics was by far the most complicated shoot and the most difficult scene to edit in the film. It was difficult logistically, emotionally and technically. Logistically, we had to figure out how to cover everything that would be necessary to that scene. We needed to make sure that we followed both fighters into the ring, that we got the coaches in each of the fighters' corners, that we shot the actual fight, and that we got crowd shots of specific people like Ariane's parents and Mary's best friend. Luckily we had four cameras and two cinematographers for that shoot so we put every camera we had to work. We even had one of our producers, Aisling, on a camera. It was the most meticulously planned shoot of the entire film – I'd say it was probably the most rewarding shoot as well. Shooting the Nationals was emotionally difficult because this was the fight that would determine which of our two protagonists would have the opportunity to go to the Olympics – a win for one meant a loss for the other. It was both incredibly exciting and heartbreaking.
Technically, this was also the scene that presented the most challenges in post-production. During their fight, the room was electric and we wanted to do everything we could to convey the tension, the excitement, and the anticipation that created that electricity. It was in the sound edit that the scene really started to come together.
There were also a number of moments that were surprising, and ended up redirecting the story. We spent a lot of time discussing the new directions that the film was taking with our producers. But I don't want to give anything away, so I'll just say, Claressa Shields, and I'll add that the unexpected can sometimes create some of the most interesting stories.
Price: For me personally, the most difficult challenge was shooting with Ariane and Mary moments before their deciding bout in 2012. That was the fight that would determine the course of their lives, arguably the most important fight of their boxing careers. And neither Ariane or Mary were interested in having us and our crew around in the minutes before they stepped into the ring. But we had to shoot because a crucial moment for them is a crucial moment for the film. So finding the balance between getting what we needed to tell the story well, while respecting their need for space and privacy, was a very fine line to walk. By pushing just enough, we were able to get those moments where Ariane is stone-faced and putting on her gloves, and Mary is sitting in a chair biting her nails moments before they step into the ring. The tension between them was intense and physical. I'm really thankful that this comes across in the film.
As for the most welcome surprise, without giving away the film, I will say that the most welcome surprise was something that Juliet and I didn't think would ever be possible. It brought me to tears. And the fact that Ariane and Mary did it uninfluenced by us made it all the more special. But I can't tell you what it is. You'll have to watch the film to find out!
Filmmaker: I distinctly remember a moment during the Hot Springs Documentary Film Festival panel (where I met Juliet), when the discussion turned towards the trials and tribulations of financing docs. Juliet was definitely a focus of filmmaking envy, being the only Canadian present, and thus one of the few directors not lamenting funding woes. So how, specifically, did financing fall into place for you up north?
Lammers: I think there is a misconception in the U.S. that Canada throws money at artists and filmmakers. Maybe that's true relative to the U.S. We do have a variety of funding sources that we can apply to, but the current Conservative government has ensured that funding to the arts is more limited than ever. That said, we were fortunate that our funding fell into place as quickly and easily as it did. We have our producers, John Christou and Aisling Chin Yee at Prospector Films, to thank. They did an amazing job. It only took about eight months for them to pull the budget together. Our first bit of funding came from the Documentary Channel. John and Aisling pitched the idea for Last Woman Standing to the Doc Channel execs at Hot Docs in 2011. They liked the idea and gave us enough money to make a demo of the film. Luckily Doc Channel liked the demo, too, and pledged about half of the budget. Once we had that funding other sources began to come through, and by December of that year we had raised what we needed.
It didn't hurt that it was a pretty easy film to pitch. The friendship-turned-rivalry premise is such a classic storyline that people instantly understood what the film was about. I think that, coupled with the excitement around the debut of women's boxing at the Olympics, and the fact that Canada was home to two of the world's best female boxers, made the film very pitchable. The built-in timeline certainly helped too. There was a very clear end to the story – the Olympics. The arc of the story was already there.
Price: Yes, getting funded was really due to our producers John and Aisling at Prospector Films. We ended up getting the majority of our production funding from Documentary as well. We also received funding from Rogers Cable Network, Rogers Documentary Fund and CMF. I think that our funding luck was also due to the nature of the film we were making. If the film was going to be made it was now or never. By the time we started the project, Ariane and Mary's rivalry was already underway and they were gearing up for their final bout. There was a ticking clock that provided a lot of incentive for funders. We may not have had to lament funding woes for this film, but with the Canadian government hacking away at funding for the arts, it's really only a matter of time.
Filmmaker: I personally think we could use more women helming sports films, as female directors generally tend to be better at listening, and at getting their subjects to open up (and keep their defenses down). Not an easy feat when dealing with athletes trained to transcend heated emotion. Any more sports docs in the works, or was this a one-shot deal?
Lammers: We have started working on our next film and it is far from a sports doc, but I would love to make another one. There is so much drama inherent in sports, and serious athletes often have extreme personalities that make them really interesting characters.
As far as the difference between female and male directors, maybe you're right, I don't know. Like I said earlier, our relationships with Ariane and Mary were very important to both of us, and we were extremely careful in our approach. Our crew also did a really great job of establishing relationships with both women – this was really important, too. I think Ariane and Mary both recognized and appreciated our efforts. In fact, towards the end of the film, they both, separately, teased us because apparently our efforts to make friends with them were at times quite obvious. But the fact that they could tease us about it also meant that we had succeeded.
Price: We don't have any sports docs going right now, but I would love for us to make more. I agree with you that we need more women helming sports films. Maybe women are better listeners, I don't know. I like to think any decent documentary filmmaker has to be a good listener, man or woman. I would be lying if I said that there wasn't something disarming about my and Juliet's presence in a boxing club – though that may also have had something to do with my pregnant belly and later, my infant daughter, who was often on shoots with us. I don't think anyone knew what to make of that! Actually, film and sports (boxing in particular) are both fields typically dominated by men. So we inadvertently undermined the status quo twice by making this film. So to answer your question, it's a big yes to making more sports docs.