Back to selection
Five Questions with Ping Pong Summer Director Michael Tully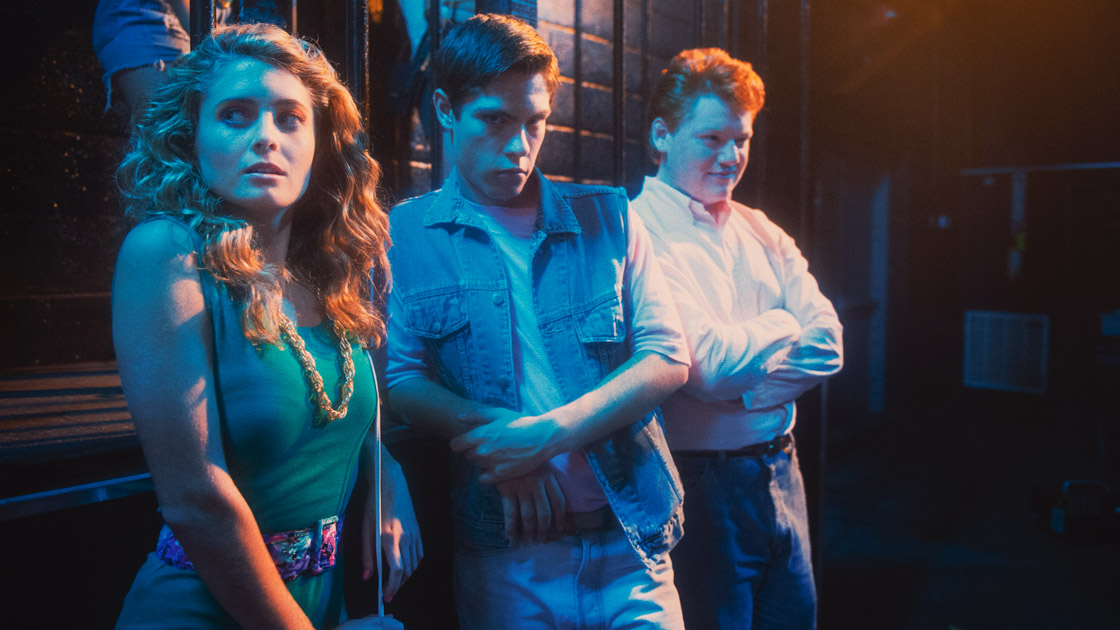 Ping Pong Summer
As much a tribute to the films of the 80s as it is a tribute to the 80s themselves, Michael Tully's Ping Pong Summer is a strangely sweet, knowingly retro coming-of-age story. Set against the unique and colorful backdrop of 1980s Ocean City, Maryland, the film follows the aptly named Radical Miracle (newcomer Marcello Conte) across a summer of old-school arcade games, teen romance, breakdancing, and of course, plenty of ping pong.
Weaving the idiosyncratic style of his previous feature Septien (which premiered at Sundance back in 2011) into a warmer, more universal (yet no less distinctive) tapestry, Tully has crafted a film that seems to exist outside of time. Ping Pong Summer premieres today in Sundance's NEXT section.
Filmmaker: While still chock full of the idiosyncrasies that defined Septien and Cocaine Angel, Ping Pong Summer is your first full-on genre film. And it's an 80s coming-of-age comedy, no less. What was it about this genre that drew you in?
Tully: Ping Pong Summer is directly inspired by my upbringing in pretty much every way imaginable, which of course includes the movies I watched growing up in rural Maryland. While I'd love to tell ya I was a big Godard and Wiseman aficionado at 12, the reality is that I was most predominantly renting Hollywood movies with my family at Erol's Video.
Nowadays, studio comedies are offensively formulaic; it's all connect-the-dots "concept"-based assembly line "entertainment" that is fueled more by algorithms than individual human inspiration. In the 1980s, Hollywood seemed to allow unique comedic voices to flourish — John Hughes, John Landis, Savage Steve Holland, etc. Ping Pong Summer is my way of paying tribute to both my own adolescence as well as the movies that shaped me during those seminal years.
Filmmaker: On this film, you're working with some very well established actors (Susan Sarandon, Amy Sedaris), but you've also cast a first-timer (Marcello Conte) in the lead. How did you come to the decision to balance the cast in this way? And how did the more experienced actors work with the relative newcomers on set?
Tully: When it comes to child actors, I've always been drawn to the energy of nonprofessionals/newcomers. (I've also always hated when 18-year-olds are cast to play 14-year-olds, but I'll save that rant for another day.) As important as it was for me to shoot Ping Pong Summer in Ocean City, Maryland, I felt an equally pressing desire to cast real Delmarva-area kids in the lead roles. I just felt that this would bring an authenticity to the table that would otherwise be lost if we shipped in outsiders from New York or Los Angeles.
As for the name actors, every time I'm fortunate enough to make a movie I assume it's the last one I'm ever going to make, so I figured I should try to work with seasoned pros this time around and experience what that was like. What I realized is that if you find great people like Susan Sarandon, John Hannah, Lea Thompson, Amy Sedaris and Judah Friedlander, it makes your job insanely easy and ridiculously fun.
Filmmaker: This is a period piece to be sure, but it seems as if capturing the look and feel of an 80s movie was just as — if not more — important to you than capturing the look and feel of the 80s proper. Can you speak about how you achieved this aesthetic, as well as some of your chief influences?
Tully: "What Would This Is England Do?" was our unofficial motto — particularly between myself and d.p. Wyatt Garfield. When it came to our other key department heads — production designer Bart Mangrum, costume designer Stephani Lewis, makeup artist Rondi Scott, and hairstylist Sherri Bramlett — I stressed from the very beginning that our inspirations and references should be photographs and documentaries and catalogs from the summer of 1985 and not other movies (especially not American period pieces set during the '80s, for they almost always tend to over-stylize an era that was already pretty much a walking cartoon). A specific example: I risked humiliation by bringing a big stack of my own family vacation photos into the production office.
I could seriously write a book in answer to this question, but for me — in addition to my determination to avoid "hindsight humor" in the script itself — the most important element in preserving our movie's 1985 credibility was that it needed to be shot on film (specifically Super 16). Early in pre-production, a conference call was arranged for our core team to have the dreaded "film vs. digital" discussion, and when I opened by stating, quite simply, that I would personally be insecure presenting a so-called 'legitimate' '80s movie that hadn't been shot on film, that was all the producers needed to hear. The decision had been made.
Digital is great, but in the case of this particular movie — more than any other I'll ever make, perhaps — I just felt 100% certain that if we had any chance at world premiering a film in 2014 that felt like an unearthed artifact from 1985, that mofo needed to be shot on celluloid.
Filmmaker: You spent a lot of time in Ocean City, Maryland as a kid, and thus I have to imagine this film was born as much from your own memories as it was from the 80s movie canon. How has Ocean City has changed from the place you remember in your youth, and what was the experience was like returning there to shoot Ping Pong Summer?
Tully: The beautiful thing about Ocean City, Maryland, is that the city is firmly committed to preserving a feeling of timeless nostalgia (i.e., the only Starbucks you'll find there is across the bridge in the town of West Ocean City). It's why we were able to shoot a period piece for so little money, in fact. I make a joke about how many of the locations we used hadn't changed one bit from when I frequented them with my parents and three older sisters in the 1980s, but it's true — per above, I have the family photos to prove it.
Returning to my childhood wonderland to shoot the movie I'd been dreaming about making for over 20 years in the midst of a dreamy mid-Atlantic Indian Summer is likely as close as I'll ever get to living a waking fantasy — professional, personal, or otherwise. The support we received from the local government and entire community was nothing short of staggering.
Filmmaker: The film is a sports movie, and ping pong is indeed well-overdue for its proper cinematic treatment. What is it about this game that you love, and why did you choose to anchor this story around it?
Tully: I grew up playing ping pong and I love it as much now as I did back then. It's why after 22 years of talking about making a movie called Ping Pong Summer, I never gave up on the idea or grew weary of it. In 1992 I thought ping pong was awesome, in 1997 I thought ping pong was awesome, throughout the 2000s I thought ping pong was awesome, and in 2014 I still think it's awesome.
There appears to be a bit of a renaissance currently happening with it, but this wasn't out of any sort of calculation on our part — if I'd had the money to make this movie 17 years ago when I graduated college, believe me, I would have.
I should also clarify that I never took lessons or went to camp. Mine has always been a casual fascination with the sport — call it "basement" or "garage" style, if you will. This is the type of ping pong I wanted to celebrate with Ping Pong Summer. I didn't want to "fake" the playing to make the characters seem better than the actors actually were.
There would be no CGI employed at any point. All of the action would be practical (even though we were shooting on film — gulp!). Of course, some people might watch the movie and say, "Pshh, these kids aren't even that great," but I trust that most viewers will understand that this was the point.