Back to selection
Producing Shorts into Features: Three Producers and Their Films at Sundance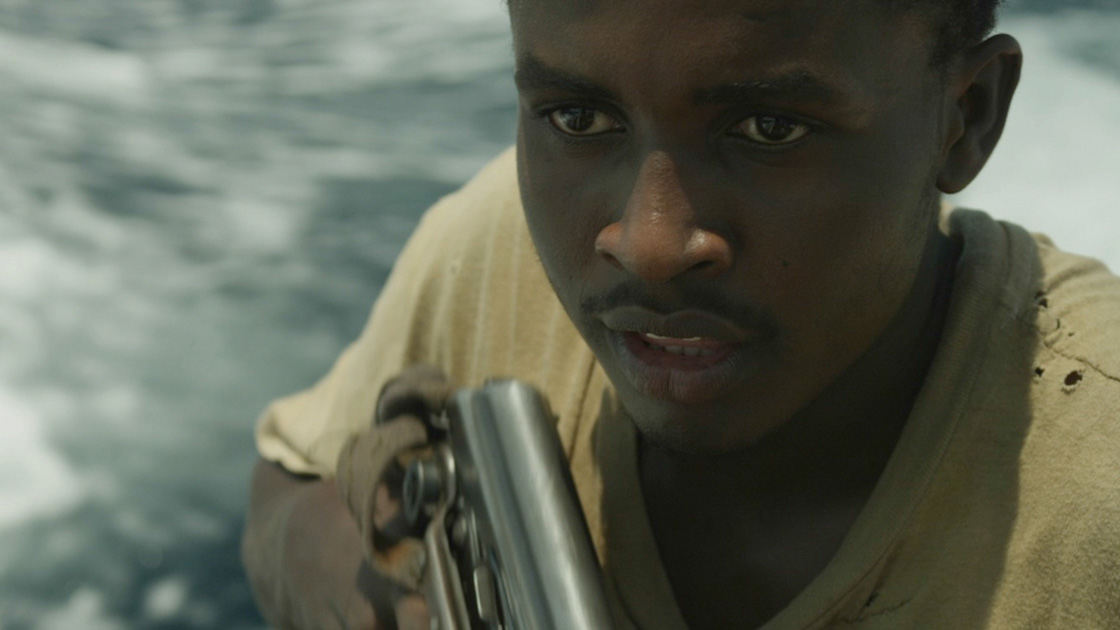 Fishing Without Nets
Curious about the physical process of turning a short into a feature, Filmmaker magazine interviewed the producers of three separate films about their experiences. Each film was originally a short that previously premiered at the Sundance Film Festival and is now a feature making its World Premiere in the U.S. Dramatic Competition section.
Last year director Damien Chazelle's short won the Jury Prize at Sundance. This year, his feature of the same name, Whiplash, is the festival's Opening Night feature. Transformed from an intense 15-minute short into a 105-minute full-length film, Whiplash maintained the same producing team but had to reconfigure its cast and crew to adjust for their bigger endeavor. Producer Helen Estabrook (Labor Day) answered Filmmaker's questions.
Similarly, Fishing Without Nets won the Jury Prize in Short Filmmaking at Sundance in 2012. Director and producer Cutter Hodierne spoke to us about the potential challenges of losing the heart of a short while making it into a feature, as well as the extreme amount of energy and drive he had to make sure it was done correctly.
Kat Candler's Hellion premiered at Sundance in 2012, going on to play at SXSW, the San Francisco International Film Festival, and the Los Angeles Film Festival. Unlike the others, making Hellion into a feature was never the original end goal. The filmmakers were satisfied with the short but also curious to see how the characters could develop into something more. Inspired by new locations and ideas, a feature-length script was written. Hellion's producer Kelly Williams talks about this process.
Filmmaker: How much of the original crew from the short did you get on board or rehire for the feature? What about cast?
Estabrook: The short was such a different experience and somewhat of a different aesthetic than the feature, so we had overlap in only a few key places.
Hodierne: The core actors of the original short film were recast in the feature. Abdi the lead of the film also starred in the short. And Khadir and Mr. Chairman played the same roles in the short film. Lots of extras were also recast. But we grew significantly with our feature film's team. On the short film the crew was me, John Hibey and Raphael Swann (also the main producers of the feature). We had one fixer named Harold Otieno and one locations/weapons coordinator named Tony Rimwah for a few days. All other "crew," were the actors and local food vendors.
Williams: Most of the crew was Austin-based, so, we were able bring over several members from the original team; it was a great opportunity to work with friends again. The cast on the original short was pretty small compared to the feature, but we were able to work again with Jonny Mars (who also starred in Kat's short Black Metal) and Deke Garner, who plays the youngest son in both the short and the feature.
Filmmaker: Developing and producing a short then doing it again on a much larger level for the feature makes the already lengthy producing process much longer. How did you sustain your energy to stay enthused about the movie and avoid burning out?
Estabrook: Damien [Chazelle] is the heart and soul of this project and the reason we have all been able to stay enthused throughout. He has had such a vision from the beginning, and all of us who have had the pleasure of working on this speak often about what a joy it is to just be a part of the film. For me personally, it also is a project that explores many themes and ideas I think about often: the questions of sacrifices for one's work, the problems surrounding the idea of success, and the challenges of creative pursuits.
Hodierne: I just have a fire burning in me to make movies all the time, and with this particular project I just felt like I couldn't help it. I had to make this movie. I just had to get it out. And that desire carried me through four years doing it. Fortunately, I have a lot of energy for making movies and fortunately I work with awesome people who are great to spend time with. With the enthusiasm of our partners, VICE and Think Media Studios, it aided in propelling our momentum since I felt they truly believed in me.
Williams: We actually never intended to turn the short into a feature when we were shooting, it was always intended to be a short film.  The idea for the feature actually came from a discussion Kat [Candler] and I were having on set about what the father character's life outside of this moment in the short was like. Someone on set said they felt like these characters lived in the refinery town of Port Arthur, Texas. I happen to be from there so Kat and I started taking trips there. She fell in love with the area and the people and that's what started the wheels turning for her on the script. Almost two years after that first trip, we were back in that area to shoot the feature. Burnout was never really an issue since we were so determined to make this film, but I think we likely avoided any potential burn out by making the short film Black Metal between making the Hellion short and feature. We also plan to turn that short into a feature soon as well.
Filmmaker: As a producer, what were your biggest challenges with creating a feature from a short?
Estabrook: Shooting the actual scene that we used for the short was quite a challenge. I'm so proud with how the short turned out, but we didn't want to mimic it exactly, and it's hard to not think, "Oh that's not how it's done," when you're hearing a moment you've already heard so many times before. It was also an extremely short shoot, which was a challenge, but an incredible joy to see how everyone came together to make it happen even in this small amount of time.
Hodierne: There are endless logistical challenges that are probably the loudest and most obvious challenges of making a movie. Coordinating such a large-scale film in a place with fewer resources poses challenges in every way. But creatively, my biggest challenge in going from a short to a feature was maintaining the heart of the film, which I'd discovered making the short film. The heart was a small, intimate, ultra-realistic movie. With a larger story in the feature and a step up in terms of resources, it's easy to slip away from the organic methodology that gave the movie life. But the challenge of constantly making sure that reality is in the film was my biggest challenge. And I think ultimately we captured it. But the challenge was in staying with that aesthetic given a bigger team of people involved.
Williams: It was really expanding the universe of the short film and going from a short that took place in one location to a feature that was expansive with lots of locations. Since the story took place in Southeast Texas, we knew we wanted to shoot there — in fact it was extremely important to Kat that we did. Kat really wanted to make the town another character in the film, but this meant no easy access to crew or equipment, we were four hours from Austin. So, shooting on location became a big challenge, but it ultimately added to the film and was worth it.
I was luckily to have my producing partner, Jonathan Duffy, co-producer Andrew Logan and a very devoted crew along to help make things happen. Plus the people of Southeast Texas really got behind the project and were very supportive, we absolutely could not have made the film without their help.
Filmmaker: Your short received major accolades and toured many festivals. Do you think you could have produced the feature without that prior success? How would making the feature have been different?
Estabrook: I certainly think the success helped, of course, and we're very grateful for it. However, I think if the short had been exactly the same but hadn't received accolades, we still would have had the same outcome. Our fellow producers at Bold have been such great creative partners and really saw the vision from the 15 minutes Damien shot initially; I'm not sure it was required to have the public also agree (though it's wonderful they did) when one is lucky enough to have a shared vision.
Hodierne: I think I wouldn't have stopped until I had made the feature no matter what. But that said, the accolades the short film received were the X factor in securing interest in making the feature. It certainly opened a lot of doors and helped the film be seen as a more tangible concept to get behind. I feel very lucky to have had that on our side. That's not there for every concept, even if it does deserve to be expanded to a feature.
Williams: Having the short film be so successful certainly helped get attention we needed for the feature, it was a great way to show off Kat's directing skills and help explain the look she wanted for the feature. It helped get attention of the Sundance Institute, who supported the project through their Creative Producing Labs, which in turn ultimately helped speed up the process of going from short to feature.
However, the process of making the short actually inspired the ideas for the feature, the short wasn't a scene for a larger project or anything like that, so, the feature really would not exist if we had not made the short film.  The feature script was really more "inspired" by the short rather than being based on the short.
Filmmaker: I have recommended that students or inexperienced filmmakers make a short film first before diving into features. If the short is good then it becomes their calling card – evidence their producers can reference and use when assembling their feature. Having now gone through this process, would you agree with this advice?
Estabrook: Absolutely. It's the best way to see the real talent of a director before he or she is able to make a full feature. It is the perfect way to showcase talent and the director's unique voice. 
Hodierne: Oh 100%. I think you should make LOTS of short films first. Fishing Without Nets was more like my 100th short "piece." I think the process of going from beginning to end on film pieces, whether it's 30 seconds, four minutes, or 15 minutes, just the process of generating an idea, planning it, executing it, and finally, being done with it and moving on, is so crucial in giving you confidence in your instincts. Artists rely on their instincts and their own taste. So you use the momentum you're building from your short pieces to roll into a longer story. Film students and younger filmmakers should be just cranking out everything. Even if it sucks. In fact, ESPECIALLY if it sucks. Get it out!
When it comes to making a short piece specific to your feature's concept, I think it makes tons of sense to show what you're going to bring to the movie. I think in my case, actually showing people exactly what the style of the movie was going to be, was key. Scripts and treatments are great. But if they have a short film piece with them, they are even better.
Williams: Absolutely, this is the case no matter what you want to do in film.  I learned so much producing short films that I was able to carry over to making features.  Having those short films to show potential investors is an amazing thing to have, they are great tools when putting a project together, even if the short is not a smaller version of your feature.  People need to see that the team can deliver and shorts are a great way to show that.