Back to selection
10 Tips on Festival and Distribution Strategy From Tall as the Baobab Tree Director Jeremy Teicher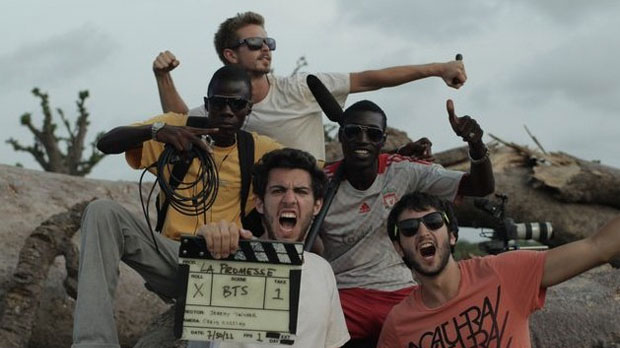 Jeremy Teicher (center) and crew after wrapping Tall as the Baobab Tree
The following is a guest post by Jeremy Teicher, who debut feature, Tall as the Baobab Tree, landed him on Filmmaker's "25 New Faces" list in 2013. A documentary-narrative hybrid, the film was shot in Sinthiou Mbadane, Senegal – a small rural village with no running water or access to electricity – with nonprofessional actors and a four-person crew. Tall as the Baobab Tree premiered a year ago at Rotterdam and is out now on VOD through iTunes, SundanceNOW, YouTube and a host of other digital platforms thanks to Sundance Artist Services and IFFR in the Cloud.
I thought the hardest part of independent filmmaking would be actually making the film. But now, over a year after Tall as the Baobab Tree's festival premiere, I've learned that it's the effort you put in after the movie is made that really determines how your film will impact others and endure into the future.
With a focus on post-post-production, here are some of the lessons I've picked while making Tall as the Baobab Tree:
1. The quality of your film is everything – but that will only take it so far. 
For those of us who started out with nothing more than a DSLR and a dream, we know that the hard work doesn't stop after a festival premiere. Meeting many other filmmakers over the past year, I learned that it's the work you don't read about in interviews – days spent researching, emailing, cold-calling, and endlessly pitching – that really makes a difference when it comes to earning your film longevity on the festival circuit and building a strong base into distribution.
2. Create your own connections to festivals.  
With the huge number of submissions big festivals receive, it's key to find a way to get your screener off the pile and onto a programmer's desk. But here's the thing: you don't need to be in the "in crowd" to make that happen. Many festivals have programmers' contact info right on their websites. Do some research, decide which person would be most likely to connect with your film – maybe you click with something they said in an interview, or on a public blog, or even on social media – and find a way to get in touch! If you can't reach a programmer directly, cold calling the submissions office and asking them to pass along a message never hurts. Remember: you aren't asking them to get you in their festival. You're just asking them to watch your film.
3. Distribution: don't rely on anyone else…
Heading into our festival premiere, I didn't have the first clue as to how we would eventually sell the film. I assumed someone would come along, write a check, and say, "We'll take it from here." I quickly learned that I was wrong. But I knew there was an audience for our story and I didn't want to let it rot while I waited for an imaginary agent to sweep me off my feet. As I did some research, I discovered the myriad of options for selling direct, without getting anyone else involved, and I felt empowered to take Tall as the Baobab Tree's fate into my own hands.
4. …Create your own momentum! 
I also learned that the distribution world was more complex than I initially thought – there are many ways to sell a film. So I took on a multi-pronged approach: I'd reach out and pitch Baobab to foreign sales agents, educational distributors, and anyone else who seemed like a good fit – but at the same time, I'd work on building a community around the film and plan on self-releasing directly to them.
Then, as the film began gaining traction over our first few months on the festival circuit, we eventually built a few non-exclusive sales and non-theatrical partnerships with some of the more traditional groups I had contacted. But! This only happened after I started building momentum on my own.
Sundance Artist Services and IFFR in the Cloud, to me, feel like the best of both worlds: I've been able to control how we release the film, I can offer the film directly to our community, plus we have awesome guidance and brand support.
5. Identify your audience, and then take it beyond social media.
Indie films need a supportive community in order to thrive. But there's more to audience-building than just garnering likes and retweets. The festival circuit is a great time to build your audience city by city, grassroots-style. When your film is playing in an upcoming festival, reach out to like-minded local interest groups and personally invite them to the screenings. If you have the budget, offer to mail them posters and flyers and ask if they'll pass them around town. Rinse and repeat for your next festival. It's hard work, but I found that local grassroots outreach often correlated with sold-out screenings and new names on our mailing list.
6. Build mutually beneficial, cross-promotional partnerships around your film.
Connecting with individuals and small groups is important, but it's also not the entire picture. Don't count out larger organizations that may be able to find value in your film. For instance: when Tall as the Baobab Tree was in production, I reached out to Girls Not Brides, a large international organization that focuses on child marriage advocacy. Although Baobab was not made as an advocacy film, its story does shed light on child marriage in a unique and powerful way. The film supports the organization's vision. Our relationship with Girls Not Brides has evolved slowly – what started as a few supportive tweets has grown over time into a worldwide cross-promotional effort.
7. Good press doesn't have to be expensive. 
If generating positive press (especially around your festival debut) is one of your goals, nothing beats a good PR agent. However, if you don't have the budget to hire a press agent, you can absolutely handle it yourself. The majority of large festivals have lists of all registered press along with contact info. Once you're a week or two away from your film's screening date, ask your festival contact for the press list. Then write up your own press release and get emailing.
8. It never hurts to ask for what you want.
Don't assume anything is impossible! Ask, and then ask again (nicely). As long as you're not too aggressive, the worst that can happen is somebody says "no." I found that this approach applied to everything from nailing the perfect shot on set to snagging a discount on our DVD printing. Remember to say thank you, no matter what.
9. Bond with your fellow filmmakers.
I wholeheartedly recommend making an active effort to get to know other filmmakers at every possible opportunity. As you form connections (and hopefully friendships) with other filmmakers at similar stages in their careers, you'll be building a support network that you can turn to at key decision points along your film's trajectory. What are your peers doing with their work? What would they do in your position? This perspective becomes especially valuable during the journey towards festival premieres and distribution, as you'll most likely be faced with mutually exclusive choices to make for your film.
10. Don't beat yourself up. 
Mistakes should be seen as inevitable learning experiences. While this is more easily apparent during production and post, try and keep this mantra in mind during your festival and post-festival stages. Your mistakes will change shape – instead of cutting too early and annoying your actors, you'll be botching a phone call and sending a half-written email. But just remind yourself that it's all part of the process. Try and remember to have fun.