Back to selection
Caveh Zahedi's CineMart Diary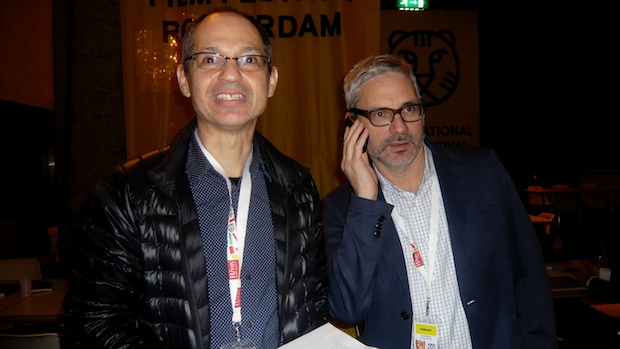 Caveh Zahedi and Arnold Barkus
Filmmaker Caveh Zahedi attended the 2014 International Film Festival Rotterdam CineMart with a film seeking financing: The Sky is Blue Like an Orange, about the artist Joseph Cornell. For three days he and screenwriter Arnold Barkus met with assorted financiers. Zahedi's diary is below.
December 10, 2013
I receive an email informing us that our project about the artist Joseph Cornell's relationship with a waitress in the early '60s, has been accepted to Cinemart.
January 21, 2014

We receive our list of meeting requests. We have 37 meetings scheduled over a three-day period. The last time I was at Cinemart (in 1994), I had three meeting requests.
January 25, 2014
7 am. Jan, my astrophysicist friend who recently calculated the age of the universe to be 13.8 billion years old (give or take 138 million), picks us up from the airport and drives us to Rotterdam.
8 am. The hotel receptionist informs us that we can't check in until 3 pm. Bummer. I had been looking forward to catching up on some sleep. Jan offers to let us sleep at his house in Amsterdam so we drive all the way back to Amsterdam and go to bed.
2 pm. Jan drives us back to Rotterdam.
4 pm. We check in at Cinemart headquarters where we run into Gabe Klinger, who tells me that Jim Jarmusch is executive producing his next film. I feel a surge of envy.
6 pm. My friend David, who lives in Amsterdam, brings us a week's supply of weed, but the hotel receptionist informs us that we can't smoke pot in our hotel room because it's a non-smoking room and all the smoking rooms are taken.
David asks her where the nearest coffee shop is.
"Dutch coffee shop or regular coffee shop?" she asks.
"Dutch coffee shop."
We enter a "Dutch coffee shop" and are greeted by a variety of cannibis for sale. I ask the server to describe the different highs. She tells me that the more expensive the weed, the higher you get.
We purchase the most expensive kind and get very, very high.
January 26, 2014
10 am. The Cinemart staff introduce themselves and do a Powerpoint presentation on what to expect.
11:30 am. Two Cinemart staffers sit down with us to go over our meetings list and give us background information on the various companies that have requested meetings.
1 pm. Arnold and I spend the afternoon reading through the industry manual. We contact another dozen or so people to set up additional meetings.
5 pm. We get stoned and work on the script.
10 pm. We go see the new Jim Jarmusch film.
January 27, 2014
9:30 am. The first sales agent we meet with likes the idea of casting John Hawkes as Joseph Cornell but is less keen on Jeremy Irons.
10:30 am. The second sales agent we meet with likes the idea of casting Jeremy Irons as Joseph Cornell but is less keen on John Hawkes.
11:00 am. The person from the West Sweden film fund explains to us that if we do our post-production in West Sweden, we can get the regional film fund to cover all of our post-production costs. And if we hire any West Swedish cast or crew, the West Sweden film fund will pay their salaries as well. West Sweden, here we come.
11:30 am. A French distributor tells us she gives advances on films when she loves the script. She seems very taken by the story of Joseph Cornell but dislikes our title, The Sky Is Blue Like an Orange.
12:00. The producer from Rohfilm explains that if we shoot our interiors in Germany, we become eligible for German regional film fund subsidies. West Sweden? Germany? How to decide?
12:30 pm. I love the British Film Institute representative because, unlike most of the people we've been speaking to, she seems to get my jokes. Unfortunately, we don't qualify for BFI money because 1) I'm not British 2) my writing partner is not British 3) Cornell was not British 4) Jeremy Irons is British but one British actor isn't enough to qualify 5) Carey Mulligan is British but two British actors aren't enough to qualify 6) Cornell was a Francophile.
We decide to make our next film a biopic of William Shakespeare.
2:00 – 4:00 pm. Jet lag is starting to set in and I'm having a hard time staying awake. As a result, the afternoon meetings are a blur. I can't remember much except that we should consider shooting all of our interiors in Belgium.
Arnold tells me that my low energy isn't making the best impression on would-be investors and he manages to procure a Ritalin pill for me. I've never taken one before but am happy to try it. It wakes me up and makes me uncharacteristically chatty and gregarious.
4:30 pm. A British sales agent explains to us that having our project invited to Cinemart is the kiss of death because they tend to pick uncommercial projects.
5:00 pm. We request a meeting with the representative from Agnès B's production company with the assumption that Agnès B. finances the films she likes (Harmony Korine, Gaspar Noé, etc.) out of pocket. The representative from Agnès B. explains to us that they apply for government money just like everyone else and that when people ask for meetings with them because they think Agnès B. has private money to spend, it's a real turn-off. Oops.
5:30 pm. We meet with a British producer based in Cologne. I love this guy. Unlike most of the people we've met with, he's willing to try to find private financing and thinks outside the box. I shake his hand and tell him it's a deal. Cologne, here we come.
6:00 pm. Still high on Ritalin, I start walking up to random people at the cocktail party and making small talk. This is very unlike me but it feels great. I've never been this friendly in my entire life.
7:30 pm. I befriend a bunch of Israeli filmmakers, including the guy who directed The Band's Visit, a film I loved. I also hook up with an Israeli producer who agrees to partner up on my supernatural thriller set in Jerusalem. Ritalin is fantastic!
10:30 pm. The thing about Ritalin is that when you come down, you come down hard.
January 28, 2014
9:30 am. We meet with a producer from Pandora, the German production company that produced the new Jarmusch film. I like him right away. He has deep, sad, world-weary eyes and a gravitas that is rare in the States. He tells us that if we shoot in Berlin, he can probably raise about $500,000 total, but that we need to have the rest of the budget already in place.
10:00 am. We meet with another producer from Cologne, which apparently has the largest regional film fund, even bigger than Berlin's. Back to Cologne.
11:30 am. We meet with Antoine Simkin, a French producer who did the special effects for Delicatessen, City of Lost Children, and Amélie. He raves about I Am A Sex Addict, and I take an instant liking to him. He looks a lot like Godard so I pitch my Godard/Anna Karina film project. He seems interested and offers to look into the rights issues involved. I've got a good feeling about this guy.
12:30. We meet with a sad-eyed French producer. I keep thinking. "He looks so sad." I like people with sad eyes but I can't help wondering what he's so sad about and find it hard to concentrate on what he's saying.
2:00-3:00. I'm falling asleep from jet lag. I ask Arnold if he can get me more Ritalin.
3:30. We meet with someone from Kickstarter. I explain to her why I think Kickstarter is the latest manifestation of capitalism's encroachment into every aspect of life–even friendship–and how Kickstarter has pushed the commodification of friendship to a new low. She does a masterful job reframing Kickstarter as the antidote to capitalism–as a way for people to join together and support each other without reliance on market forces. She completely changes my way of thinking about it. Kickstarter, here we come.
4:00. We meet with Keith Griffiths, the legendary British producer of the Brothers Quay films. He's occupied a place in my imagination for over 20 years so I am thrilled to finally be meeting him. I do my very best to charm him into coming on board as a co-producer but he seems charm-proof. At one point, I ask him. "Are you not finding me incredibly charming?" He says: "You're very charming, but I'm not charmed."
5:00. Cinemart offers two cash prizes (30,000 Euros for best co-production and 5,000 Euros for best project), so every project has to pitch to the jurors. It is the end of the day so I can't tell how much of it is exhaustion and how much of it is directed specifically towards me, but rarely have I encountered more unfriendly interlocutors. They just stare blankly with their arms folded and studiously refuse to laugh at any of my jokes.
I'm noticeably less charming when I feel unloved and my pitch quickly devolves into incoherence. Arnold tries to step in to do damage control but I interrupt him to try to engage them in a meta-discussion about how we're flailing here in the face of their seeming hostility. They insist they are just being neutral but I beg to differ. Their hostility deepens. Finally, they declare "Thank you very much" which means "Goodbye, we've had enough of you."
5:30. We meet with the representative from Soda, a British arthouse producer and distributor. She laughs at all my jokes, and I love her right away.
6:00. We get stoned and work on the script.
January 29, 2014
9:30. We meet with a Danish producer who explains to us that if we cast a Danish actor in the lead, we might be eligible to qualify for Danish Film Fund money. I mention to him that Mads Mikkelson had been on our list to play Cornell. He informs us that Viggo Mortensen is also Danish. Viggo was the first person we had thought of for the role but his agent had told us that he wasn't reading any scripts that weren't already financed so we had moved on. Suddenly, he's back on our list.
10:30. We meet with Koyo Yamashita, a Japanese theater owner and art film distributor. He is a fan of I Am A Sex Addict and asks me to send him a link to The Sheik and I as well as to the box set materials that Factory 25 is releasing sometime this century. I like this guy.
12:00. We meet with a potential co-producer from New Zealand who talks us into shooting the interiors in New Zealand.
3:30. We meet with a potential co-producer from Nottingham and crack Robin Hood jokes. I like this guy. Nottingham it is.
4:30. We meet with an American representative from a sales agency that had rejected The Sheik and I so I arrive at the meeting still holding a grudge. He does an excellent job persuading me to let it go. This guy is straight-talking and to the point. He tells us "John Hawkes is worth nothing" vis a vis foreign sales. I tell him that other sales agents we've spoken to were excited at the idea of having John Hawkes in the film but he insists that's because they've never tried to sell a film he stars in. Hmm. Could it be that the film he tried to sell had other deficiencies?
5:00. We meet with a delightful Danish producer with whom we hit it off right away. She mentions that she is currently producing a film that stars Viggo Mortensen. Arnold and I look at each other, incredulous. She tells us he's wonderful to work with and asks us to send her the script right away. Danish co-production here we come.
6:00. I'm exhausted from three days of meetings and decide to cancel my multiple dinner plans, get stoned, and work on the script some more so we can send it to the Danes tonight.
9:00. Arnold needs to eat something so we go to the mediocre Chinese restaurant in the lobby of the hotel, where we run into the delightful Danish producer and her equally delightful Swedish producing partner. We like them both a lot and they seem to like us too and, for a brief moment, all is well in the world. We return to the hotel, finish the script, and send it off.
January 30, 2014
8:00 AM. I hate to throw away our remaining pot and contemplate taking it with me back to the States, but Arnold talks me out of it. With a heavy heart, I flush it down the toilet at the Amsterdam airport and board the plane.