Back to selection
The Women of SXSW: Que Caramba Es La Vida Director Doris Dörrie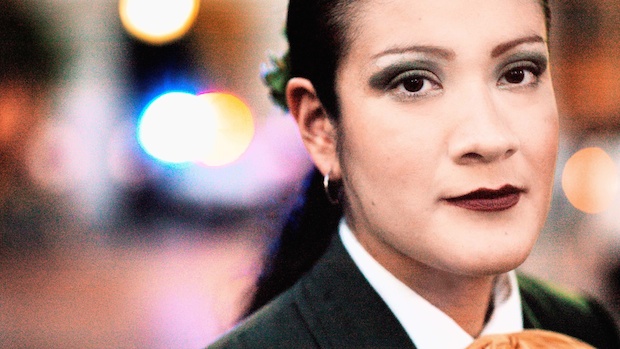 Maria del Carmen in Que Caramba Es La Vida
Following "The Women of Sundance" article in our print and online additions, Danielle Lurie continues her coverage of female filmmakers with a series of pieces highlighting women directors at SXSW. In this email interview, she talks with the director of Que Caramba Es La Vida, Dorris Dörrie.
Filmmaker: Why this movie? Why did you decide to do it?
Dörrie: I have spent some time in Mexico and found that the only association that we (in Europe) have is drug war and chaos. I wanted to tell a different story of Mexico, and I became very interested in mariachi music, especially played by women. I wanted to show in this film their passion for their art and their difficulties juggling family life and their profession in the midst of the rather complicated conditions of living in Mexico City. 
Filmmaker: How did you go about raising funding for it?
Dörrie: My producer Helge Albers financed the film with the typical (German) mix of state subsidies, TV money and a distributor.
Filmmaker: What is an anecdote from the making of this film that should be legendary?
Dörrie: I don´t think anyone has ever spent every single day of six weeks straight on the PLAZA GARIBALDI in Mexico City. At the end I knew everyone of more or less 150 mariachi musicians pretty much by name.
Filmmaker: How much of your crew was female?
Dörrie: My executive producer Ruth Stadler, my head of research  Ana Alvarez and me, so we were three out of six crew members on the set. 
Filmmaker: Was hiring women a consideration for you?
Dörrie: No, it is not something I consider. It's a personal need.   
Filmmaker: Do you think a male director might have handled the making of this film differently?
Dörrie: Yes. I don´t think he would have been interested in the subject matter. 
Filmmaker: In your opinion, how did being a female filmmaker affect how this film got made?
Dörrie: Maybe the very flexible style in my approach which directly reflected the problems my women protagonists had to deal with. No plans or concepts that were ever followed thru entirely, but my attempt to always stay open, to go with the flow and find the heart of the matter.
Filmmaker: In what ways do you think being a female filmmaker/actress has helped or impeded your trajectory in the film industry?
Dörrie: When I was very young it certainly helped me in getting attention, but now that I am older I can see that I might not have been taken as seriously as my male colleagues, and that the critical and, more so, the financial success of many of my films are seen as rather threatening.
Filmmaker: How can we get more women making movies?
Dörrie: We have to get women more interested in becoming producers, TV bosses, studio heads and to deal with the financial side of filmmaking, because the money is still in the hands of a boys' club.
Filmmaker: Of the big blockbuster movies out there, which do you wish you had directed?
Dörrie: Gravity, maybe, but the sheer boredom of shooting in 3D would have put me off.
Filmmaker: What's next?
Dörrie: My new feature film All Inc. is coming out in Germany next week and I have just finished a new screenplay that I might be able shoot in the fall. Also I am working on a new novel.
Filmmaker: What do you hope to gain from being at SXSW? Who would be your dream person to meet while there?
Dörrie: I hope to meet a curious and passionate audience. 
Filmmaker: What should you always carry with you as a woman filmmaker?
Dörrie: A lipstick. At the end of a shooting day instead of shouting ,"It's a wrap!" I take out my lipstick and paint my lips and everybody knows: back to the civilized world!