Back to selection
The Women of SXSW: The Great Invisible Director Margaret Brown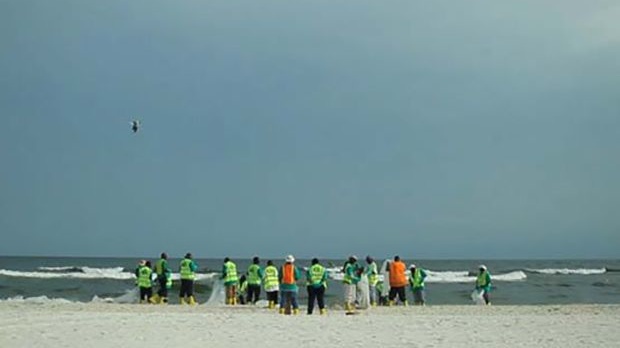 The Great Invisible
Following "The Women of Sundance" article in our print and online additions, Danielle Lurie continues her coverage of female filmmakers with a series of pieces highlighting women directors at SXSW. In this email interview, she talks with the director of the Documentary Competition title, The Great Invisible, Margaret Brown.
Filmmaker: Why this movie?  Why did you decide to do it?
Brown: After the [Deepwater Horizon] spill, my dad started sending me pictures of our bay house in Alabama surrounded by boom, which BP was using to prevent the oil from getting in our marshes. Seeing my childhood invaded in this way was horribly depressing. I actually had started work on a narrative feature that I wanted to do, but I put it on hold. I felt like if I could do anything in this situation, it was to make a film. It was a very powerless feeling, watching all that oil creep toward our shoreline. But picking up a camera was something I could do.
Filmmaker: How did you go about raising funding for it?
Brown: My last film The Order of Myths had received a Peabody Award. I was going to the awards in New York, and I brought a proposal with me. At that time, the oil well was still flowing into the Gulf of Mexico, and would continue to for months. Lois Vossen, from Independent Lens, was receiving the award with me, since the film had shown on PBS. I gave her my proposal and she turned the money around within days. Also Cinereach, Sundance Institute, and Chicken and Egg chipped in during those early days to make sure we had the support we needed to hit the ground running. I felt really supported, and was able to get a crew on the ground in Alabama within a week.
After filming for a year and a half, I met Diane Weyermann of Participant Media at the Sundance Lab. She was excited by what we had shot so far, and so they ended up coming on board to help me finish.
Filmmaker: What is an anecdote from the making of this film that should be legendary?
Brown: I remember most just the characters we hung out with in the bayou. A lot of the filming was just the DP Jeffrey Peixoto and I driving around the bayou in our subjects' trucks, seeing what would happen. You couldn't schedule an interview or a shoot from Austin, Texas, where we were living. You'd have to drive 11 hours and show up in the bayou and figure out what to shoot that day. I remember one of our subjects pulling a knife on Jeff –  I think more as a joke than anything else – to underline how he liked to protect himself when "shit went down." And I remember hanging out in Rodnockers, which is a combination bar/shrimp shop and drinking beers and filming the shrimp boats coming in.
Filmmaker: How much of your crew was female? Was hiring women a consideration for you?
Brown: I would say about half the people I work with at least. Many of my producers are women, and my main editor, Robin Schwartz, as well as a bunch of the other rotating crew. It is much harder to break in as a woman, so I'm very conscious of this when hiring and will always try to give women a leg up. But above all I just want the best person.
Filmmaker: Do you think a male director might have handled the making of this film differently? In your opinion, how did being a female filmmaker affect how this film got made?
Brown: I'm not essentialist in that way – I think it's very individual and based on your personality as a director, and I don't like to generalize. That said, I think I'm making a movie about oil, and most oil workers are men, and happy to talk to a woman in a largely male-dominated field.
Filmmaker: In what ways do you think being a female filmmaker/actress has helped or impeded your trajectory in the film industry?
Brown: I know this is about women in film but I want to say first I have a hard time with questions like this, since it ignores other factors that are much harder to deal with. Like, I was lucky enough to go to college, and I'm white, so….
In a lot of ways I think it's easier to be a female director because you aren't perceived as a threat to other men you might be filming or interviewing. So people open up to you.
Filmmaker: How can we get more women making movies?
Brown: Demystify it. Have apprenticeship programs. For example, I would love to follow Jane Campion around on set, if someone can hook this up… But seriously, I see a lot of really great women coming up in the Austin film scene, and I think we just have to keep being nice to each other and looking out for each other.
Filmmaker: Of the big blockbuster movies out there, which do you wish you had directed?
Brown: Top of the Lake. It's not a blockbuster or a movie but it's my favorite thing this year.
Filmmaker: What's next?
Brown: A surf vacation, more attention for my boyfriend and a narrative feature.
Filmmaker: What do you hope to gain from being at SXSW? Who would be your dream person to meet while there?
Brown: I hope my film is well received there, it's been nearly four years in the making.
There's no one person, I just hope I get a little time to see my friends. I live in Austin a lot of the time, but I've been finishing my film in LA for six months so it will be great to get back and see people.