Back to selection
The Women of SXSW: Ukraine is Not a Brothel Director/Producer/Editor Kitty Green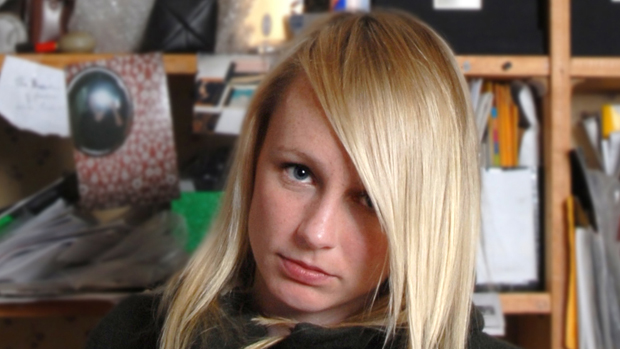 Director Kitty Green.
Following "The Women of Sundance" article in our print and online additions, Danielle Lurie continues her coverage of female filmmakers with a series of pieces highlighting women directors at SXSW. In this email interview, she talks with the director of the SXGlobal documentary, Ukraine is Not a Brothel, Kitty Green.
Filmmaker: Why this movie?  Why did you decide to do it?  
Green: Ukraine Is Not A Brothel is a feature documentary about the topless Ukrainian feminist movement FEMEN. The film follows these "titillating" activists as they wage a war against patriarchy in a corrupt and poverty-stricken Ukraine. I came across a discarded tabloid newspaper article about FEMEN on the floor of a Melbourne train. The photograph featured a scantily-clad blonde girl holding a sign that read, "Ukraine Is Not A Brothel." I was fascinated by the contradictory nature of the image. Whilst travelling in my grandmother's native Ukraine, I filmed my first FEMEN protest in the Maydan in Kiev. I was immediately intrigued by this provocative movement and stayed with the FEMEN girls in their crumbling Soviet apartment for 14 months in order to complete the documentary.
Filmmaker: How did you go about raising funding for it? 
Green: There was no funding for this film. It cost me very little to live in Kiev with the girls. I stayed in a two-bedroom apartment on the outskirts of the city with six FEMEN activists. The film was shot on a small DSLR, and I would fly my cinematographer in occasionally from Holland to light the apartment and the interviews. It was edited in my bedroom on my computer in Melbourne, Australia.
Filmmaker: What is an anecdote from the making of this film that should be legendary?
Green: During a trip to Belarus to shoot a FEMEN protest, I was abducted by the KGB. I was detained for over 12 hours in a dark, empty room and then subsequently deported to Lithuania. I was terrified as I'd heard terrible stories about journalists going missing in that country and had no idea what these men were capable of. I receive a birthday card from my KGB translator each year reminding me never to return to Belarus.
Filmmaker: How much of your crew was female?  Was hiring women a consideration for you? 
Green: I have a very small crew. My cinematographer is male and my co-producers are male too. They were both close friends. I operated the camera, produced and edited the film myself.
Filmmaker: Do you think a male director might have handled the making of this film differently?  In your opinion, how did being a female filmmaker Affect how this film got made?
Green: I don't think a male could have made the film that I made. I lived with the girls. I became their trusted friend and confidante. I conducted their interviews in their bedrooms and often on their beds. They trusted me and weren't afraid to open up to me about the contradictions in their movement. They allowed me to tell the true story. A story filled with deep, dark truths that hadn't been reported in the press.
Filmmaker: In what ways do you think being a female filmmaker has helped or impeded your trajectory in the film industry?
Green: I studied narrative filmmaking but I think I turned towards documentary because the idea of directing a large crew intimidated me. I was worried that they wouldn't take me seriously because I'm a young woman. I know now that it was my own fears that were impeding my trajectory. Since premiering my film at Venice Film Festival, I have gained a lot more confidence. I'm not afraid to boss the boys around anymore.
Filmmaker: How can we get more women making movies?
Green: Women filmmakers really need to support other women filmmakers. It is true that the film industry can be a bit of a boys' club and as a young female you can't just "hang out" with the boys freely. My advice is to seek out the strongest women in the industry (any way you can) as they will often go out of their way to help you. I had friend hand a working cut of my film to Jane Campion while working on her series Top Of The Lake. She watched the film and called me up and gave me the advice and support that I needed to get through post-production. It was such a generous act on her behalf. I wouldn't have gotten this far without her guidance.
Filmmaker: What's next?
Green: I'm working on a hybrid narrative-documentary project that will hopefully make it easier for me to make the leap into narrative projects. I still have a great passion for documentary, though, and want to continue to make them as often as I can. It's going to be hard to find a better story than this one though!
Filmmaker: What do you hope to gain from being at SXSW? Who would be your dream person to meet while there?
Green: I'm really excited about SXSW. I cancelled an interview with a journalist because the scheduling conflicted with Lena Dunham's keynote presentation. Don't tell my sales agent.