Back to selection
The Women of SXSW: Crystal Writer/Director Chell Stephen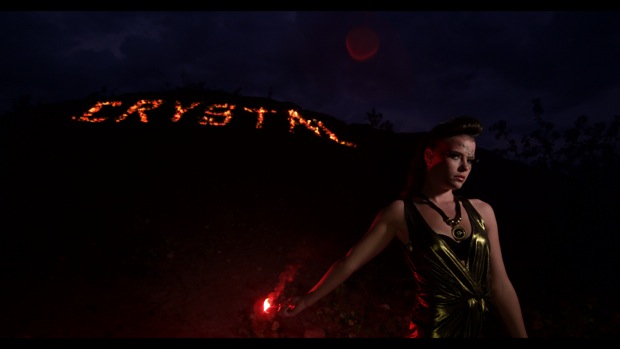 Crystal
Following "The Women of Sundance" article in our print and online additions, Danielle Lurie continues her coverage of female filmmakers with a series of pieces highlighting women directors at SXSW. In this email interview, she talks with the writer/director of the narrative short, Crystal, Chell Stephen.
Filmmaker: Why this movie?  Why did you decide to do it?  
Stephen: An image of the character Crystal came into my head a few years ago, and I could see her so clearly. After directing music videos in New York for a few years as a part of filmmaking collective Think/Feel, I knew I wanted to make a short. It felt like the next natural step and to be totally honest, the challenge of it scared the bones out of me, which assured me it must be what I should do. I played around with some other script ideas but kept arriving back at this image of Crystal. One night I just dove in and hammered out a draft — I wanted it to feel weird and funny and a little dark because I guess that's how the world looks from inside my head. That's why making films is the best: "Here's what the inside of my brain looks like! Check it ouuutt!!"
Filmmaker: How did you go about raising funding for it? 
Stephen: I funded the film almost entirely myself using the money I make on editing jobs in NYC. My elder sister donated a fraction of the budget as well; she's an executive producer in more ways than just the cash ones. 
Making the film on this budget would not have been possible without the generous donations of many: music & sound, VFX, credits animation (friends! gratis!), time (I can't afford my genius Think/Feel squad's day rates, but they came on board because they believed in this script, my vision & that's how we do. We bartered for a lot of the gear — I traded editing days with a friend to rent his Red Epic camera. All the favors: I currently reside very deeply inside the Favor Hole. And it's not bad in here! 
Filmmaker: What is an anecdote from the making of this film that should be legendary?
Stephen: On the evening of our third day of shooting we had plans to light 7′-tall cardboard letters on fire — they spelled CRYSTAL! We propped them on the side of a mountain/quarry edge and slathered them in something called Flame Paste as crazy storm-filled clouds gathered behind us. I very badly wanted this shot — Fantasy-Crystal in front of her own name in flames… When the rain did hit the whole squad was on it — literally on top of a letter each — clinging to the mountain trying to pull garbage bags over the letters as the PAs tossed them down to us from the plateau above. I was crying laughing, covered in mud screaming, "It's gonna pass it's gonna pass!!" And it did! And the pink clouds were unreal post-storm. Our team was an all-in solid unit after that experience. I'm laughing at the image still, right now. Too fun. 
Filmmaker: How much of your crew was female?  Was hiring women a consideration for you?  
Stephen: We had a female co-producer, Chi Pilon; production designer Alice Tang; and two glam gals, one of whom was my sister, the executive producer. Two out of three PAs who helped out were of the female persuasion.  I think it was nearly a 50/50 male female split. 
Honestly we needed people who were down, had the right attitude and right skills — male female or otherwise. I have two sisters and was raised by my small-business owning mom — I've always been surrounded by a ton of powerful ladies, but in a way that has seemed to come together naturally. This experience was no exception. 
Filmmaker: Do you think a male director might have handled the making of this film differently? In your opinion, how did being a female filmmaker affect how this film got made?
Stephen: Hmm… Like you said in your women of Sundance piece, I think I'm just now starting to identify as a "female filmmaker" as opposed to just "filmmaker." I have a tendency to want to make sure everything and everyone's "ok" on set, which can sometimes feel like a womanly distraction, but other times I think it fosters the kind of set I want to be on: one where people are smiling, laughing, know they are valued and feel taken care of. I say "sorry" and "thank you" a lot, which may have more to do with me being Canadian than being a woman. It's hard to say what Crystal would have looked like in the hands of a male director. Shooting some of the sexier dance sequences might have felt a little creepier? The film is very much about experiencing the world through our protagonist's eyes — a teenage girls eyes! I naturally have my own senses and memories of what that's like, which surely informed the film. Without a doubt this film was meant to be made by me, a female, with my team Think/Feel, made up of both talented men and women.
Filmmaker: In what ways do you think being a female filmmaker has helped or impeded your trajectory in the film industry?
Stephen: I alternate between feeling like my ladyness is the least relevant thing and being totally emboldened by it. I can't think of instances where I've felt my trajectory impeded by the fact that I'm a woman… I do think it's a personal struggle. If you are willing to embrace the most YOU parts of you, then you'll make your strongest work, I believe. As a woman, this means embracing my perspective and using it to my advantage whenever possible. 
Filmmaker: How can we get more women making movies?
Stephen: I've read some great suggestions from eloquent folks who seem to have a much better handle on the scope of the issue than myself. There are brilliant ideas of how to do things differently being talked about right now. I suppose we just need people to take a chance on actually DOING the things differently. I personally plan to: keep making films, keep paying to see fellow female filmmaker's projects, and keep supporting my colleagues in executing their visions whenever possible. 
Filmmaker: Of the big blockbuster movies out there, which do you wish you had directed?
Stephen: Batman?! Tim Burton obviously had to do that one though… This year – Gatsby looked like it was a lot of fun to make. 
Filmmaker: What's next?
Stephen: We're so thrilled to be bringing this project to SXSW and Atlanta following that. If things go the way we'd like, we'll have a fun and successful run on the festival circuit, trying to get our gal in front of as many eyes as possible. I'm developing an idea for a new feature script now and also can't help feeling that the Crystal story is not done being told – there's no end to the misadventures of this particular charming asshole, and I'd kind of love to see it as a series. 
Filmmaker: What do you hope to gain from being at SXSW? Who would be your dream person to meet while there?
Stephen: I'm excited to meet all the people doing what we do & see their work!! Seeing what the insides of all Y'ALLS brains look like! So many talented people worked so hard on the projects that will screen this year, I just want to soak up all that energy and knowledge while shaking hella hands and kissing mad babies, if there are babies…. You know, film babies!! Making this short has been a non-stop learning process of the most awesome kind, and I expect this phase will be similarly enlightening! 
I want so badly to meet Jeff Nichols. I think he's just killing the game right now. I love the way he tells stories. In A World was one of my fave films of this year; I'd love to pick Lake Bell's very very talented brain. Also who doesn't want to meet Lena and Mindy!? 
Filmmaker: What is a question I should have asked but didn't that you think is relevant to your film?
Stephen: Q: What was it like directing your little sister in the titular role? 
A: Awesome! So fun. As sisters we can communicate on a different level than others. I wrote this role for her and she crushed it gamely.