Back to selection
Red Giant's New Effects Library and Community – Universe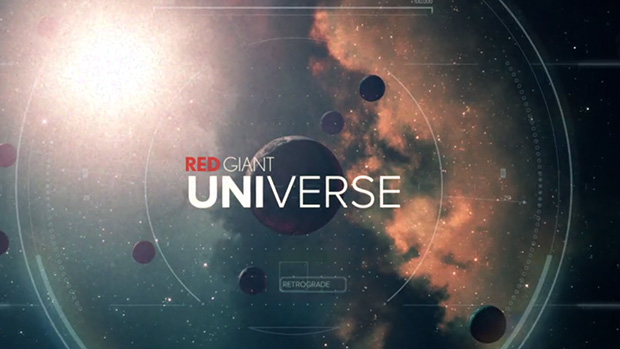 Visual effects software developer Red Giant today announced the public beta of Red Giant Universe, a new environment for building as well as distributing filter and transition effects. The effects and transitions are GPU-accelerated, work on both Mac and Windows, and support After Effects, Premiere Pro, Final Cut Pro X and Motion.
Red Giant says they are releasing 50 new free and premium tools as part of Universe, but prior to release did not specify how many of them are free. Universe's Premium option provides access to more tools as well as existing Red Giant tools that will be ported to Universe, including Knoll Light Factory EZ, Holomatrix, Retrograde, and ToonIt. Taking a leaf from Adobe's book, Red Giant is offering subscriptions of $10 a month, and $99 yearly, but they are also offering a $399 lifetime subscription.
Also taking a leaf from Adobe's Cloud, Red Giant says that there will be frequent updates throughout the year.
A demo video shows a tool called Supernova, which seems to be an easy way to build new effects based on the basic effects in Universe. It's unclear from the video whether Supernova will be available to members of Universe, or whether it's only an internal tool for Red Giant's use.
I haven't been able to try the beta yet, but I did get to watch two explanatory videos which look intriguing but also left many questions unanswered. What's included? Can end-users build effects? What is the community aspect of this? The only community feature mentioned are that members will be able to help choose effects and transitions Red Giant builds, and Premium members will get early betas of new products.
The public beta should answer most of those questions today, so you might want to take advantage of it now; Red Giant's public betas usually last only a month or so.
http://vimeo.com/87001310