Back to selection
Leah Warshawski on Connecting the Rwandan Film Industry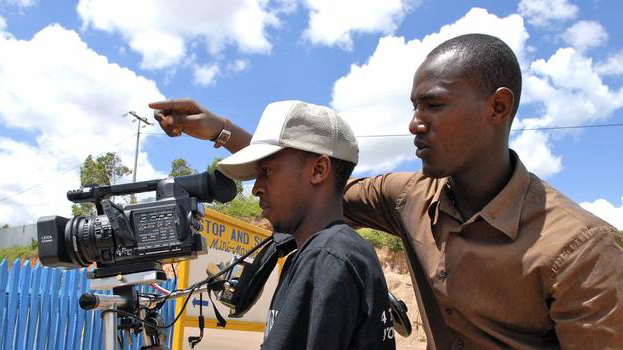 Last Friday the African news site AllAfrica.com published a lengthy story on the growth and maturation of the Rwandan film industry since the Tutsi genocide of 1994. Coming from a place of inter-tribal distrust and decimated infrastructure, filmmakers, like others in the country, got to work rebuilding their country, their pride, and their national image. In the immediate aftermath of the genocide many films understandably dealt with it as subject matter (think Italian neorealism springing up in the wake of the Allied tanks), but in the ensuing 20 years filmmakers have created a space to tell other stories and redefine what it means to be Rwandan (think, perhaps, of New German Cinema arising two decades after the Holocaust).
Rwanda, though still beset with many problems, has become one of the most stable countries in Africa and boasts one of the fastest growing economies in the world–sometimes to the amazement of Western observers. Cinematic visionaries like Eric Kabera wanted to make sure a film industry was part of that growth: in 2001 he created the Rwanda Cinema Centre (which soon included an internal Rwanda Film Institute to foster  education and other initiatives) and in 2005 he followed that with the annual Rwanda Film Festival, fondly referred to locally as the "Hillywood film fest."
Then a few years ago an American film producer, Leah Warshawski, found herself at the festival. She knew the rise of the Rwandan film industry had to be told in a documentary, and in August 2007 she began working on what would become Finding Hillywood, her feature-length directorial debut. The film is now touring in theaters–Warshawski just completed a tour through the American South–but in and of itself it's not enough to truly foster the growth of film work for local Rwandans that Warshawski wanted to help create. Thus last year she launched the website RwandaFilm.org to create an online hub for local and international talent to connect, to find locations, and to catalyze long-term growth in the country's production industry.
Filmmaker: You're not from Africa. Why the interest in the Rwandan film industry?
Warshawski: For my "day job" as a producer I have been lucky enough to film in more than 30 countries around the world. There was something different about Rwanda — and all of the filmmakers I met had a passionate underdog spirit I can identify with, and they don't let anything stop them from making films. This spirit is what inspired us to create Finding Hillywood and RwandaFilm.org. I think all filmmakers (and film lovers) are intrigued by what the "Hillywood" festival stands for. When thousands of people in rural communities show up to see a movie in the jungle on an inflatable screen, it's powerful to be a member of the audience. For many Rwandans, the Hillywood festival is the only time they see movies (in their own language) all year. The first time I saw the festival in action (and the first time I met Ayuub) I knew we needed to make a film about the festival and the inspiring pioneers who make it all happen — rain or shine. Members of the Rwandan film industry tend to be underdogs — just like most documentary filmmakers. The challenges and triumphs are relatable around the world, but I have never been somewhere quite as unique as Rwanda!
Filmmaker: So what is the state of the Rwandan film industry? Various portions of the country's government and infrastructure have made great improvements since the mid-'90s, but isn't there still a great deal of work to be done in that regard?
Warshawski: The Rwandan film industry has grown quite a bit since we first started filming Finding Hillywood. Actually, the Rwandan film industry is now dubbed the "film economy" by some government officials and organizations within Rwanda — so that is a great improvement. People are starting to understand the monetary potential of local films and more Rwandan films are showing up at international film festivals: The Pardon, Grey Matter, Behind the Word, Fora, and Intore (coming this spring) are a few that have had international success. There are more training programs in Rwanda teaching a wide variety of skills including very technical postproduction training. We learned in July 2013 (when we went to Rwanda to screen our film) that there will soon be a small green screen studio for rent in Kigali. In addition, we met some inspiring and passionate female filmmakers who are making their own films and breaking down traditional gender barriers. So the industry seems to be growing, but there is still a lot of work to do in terms of distribution and actually paying filmmakers for content. Like with all filmmakers around the world, fundraising is always a challenge, and I'm not sure there is an easy solution.
Filmmaker: How does RwandaFilm.org fit into the mix? Who's been involved with it besides yourself?
Warshawski: One of our goals from the beginning of production on Finding Hillywood was to help find Rwandan filmmakers work in the film industry. During production (over six years) each time we filmed in Rwanda we hired local crew and interns, but we wanted to have a lasting and continued impact. During postproduction I reached out to the Business Council for Peace (Bpeace) because I was familiar with some of their projects in war-torn countries, and their mission is similar to ours: "creating jobs creates peace." They organized a brainstorming session in New York for ways we could fulfill this mission in Rwanda using our film as a tool, and what came out of that session was the rwandafilm.org website. Ultimately, the site was developed through a partnership between Bpeace, The Academy of Motion Pictures Arts & Sciences, and Inflatable Film. We are working with the Republic Ministry of Sports and Culture (MINISPOC) and the Rwanda Development Board (RDB) to transition the site to a Rwanda institution and grow it into a well-trafficked international filmmaking marketplace. We are incredibly grateful for these partnerships and all of the people who have donated countless hours to develop the site and maintain it. Every time we screen Finding Hillywood we talk about rwandafim.org and how to support and contact filmmakers in Rwanda.
Filmmaker: What kind of results have you had so far?
Warshawski: We have had good results so far and are always trying to grow our metrics. The rwandafilm.org website was officially launched on July 22, 2013. As of today we have 219 registered users and over 100 film locations posted on the site. 55% of visitors to the website since its launch live outside of Rwanda. On Facebook, we have 681 likes and 84% of these come from outside Rwanda. We have 120 followers on Twitter so far. Please "like" our Facebook page to stay up-to-date. Our Project Coordinator Joseph Njita is working to have jobs posted on the website and also boost conversation on the discussion board to create a better sense of community and networking opportunities on the site.
Filmmaker: So you have a social media presence. How else are you getting the word out?
Warshawski: We've gotten the word out through our Finding Hillywood screening in October at the Academy Lighthouse Theater in New York, outreach to organizations working on film projects in East Africa, and Facebook and Twitter, plus our on-the-ground project coordinator attends relevant events to promote the website and increase Facebook traffic. He also keeps our Rwandan stakeholders (RDB and MINISPOC) updated regularly. We received a positive response from Rwandan filmmakers during our launch party in 2013 in Kigali, and international producers and coordinators have expressed interest in using the site for future projects. We have also been doing a lot of outreach to international journalists as well since this year (2014) marks the 20th anniversary of the Rwandan genocide. Since the site is very new, we understand it is going to take a little while for people to learn about it and start using it.
Filmmaker: Is there an eye toward increasing 100% internally produced Rwandan films or does the financial reality dictate that most productions, or at least financing, will still be coming from outside the country?
Warshawski: Obviously we want to promote both locally-originated content and outside productions. For the film industry to thrive we hope that there are both in the future. We absolutely promote everyone being able to "tell their own stories" through film, but the larger challenge is finding ways to monetize this and find distribution for local content that allows the filmmakers to sustain their careers.
Filmmaker: What do you envision as your own long-term involvement with the project? What else will you be working on soon?
Warshawski: We would love to return to Rwanda every year for the Hillywood film festival and to keep promoting and growing rwandafilm.org. The only thing standing in our way is funding to get there and spend a few weeks in Rwanda. We will stay involved as much as we can to promote the site for as long as the site is online, hopefully for many, many years to come! Every time we screen Finding Hillywood we talk about rwandafilm.org and how to support and contact filmmakers in Rwanda. Our next project in development is called Big Sonia, about an 89-year old Holocaust survivor who is living a very unique life.