Back to selection
Tenba Builds First GoPro Camera Bag for Pros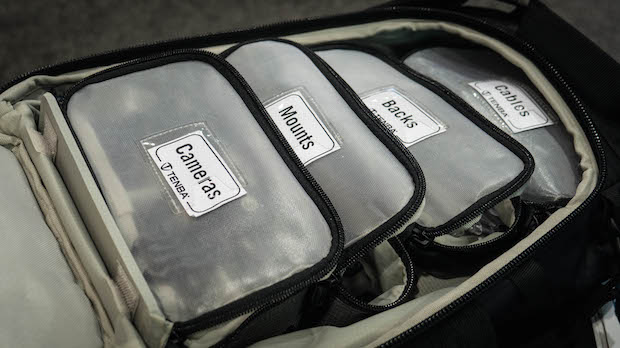 Tenba showed off the Shootout 14L Action Pack – a bag specifically built to carry all your GoPros and rigs to remote locations. It's a small backpack that opens up to a series of small cases to organize all your gear (a bunch of labels are included so you can organize it however you like). The bag is built to hold 4 GoPro bodies with accessories, but you can obviously configure it with more or less.
In the open flap are some removable sleeves for batteries and media cards. The outside has some more pouches, one big enough to hold an iPad Mini. Since the bag is built with remote and adventure shooting in mind, it's also got a slot and opening to accommodate a CamelBak bladder with hose (not included).
The bag will sell for around $200, available later this year. They will also sell the GoPro pouches found inside the bag separately if you'd like to use them in your own bag.