Back to selection
5 Questions for Traitors Director Sean Gullette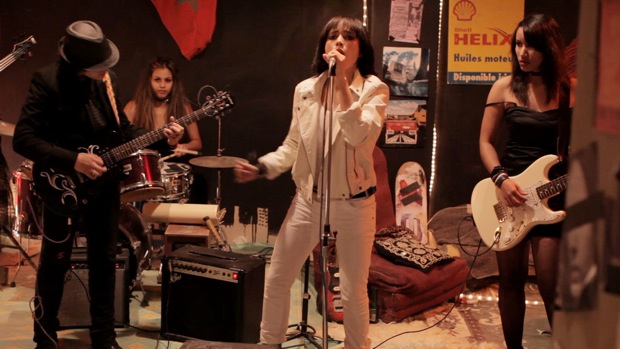 Traitors
From 2005 to 2010, Sean Gullette (still most commonly ID'd as the star of Pi) lived full-time in Tangier, Morocco. Expanding on a 30-minute short made in 2010, Gullette's feature directorial debut Traitors tracks a Clash-esque femake punk rock band (their big chorus is "I'm so bored with Morocco") stuck in Tangier. When frontwoman Malika (Chainmae Ben Acha) decides to pay for a demo recording session with a one-off drug run, the film's second half takes her out of the city and up to the Rif Mountains. The Tribeca Film Festival is the latest stop on an extensive festival circuit tour that began at Venice last year. In advance of his film's first Tribeca screening tonight, Gullette spoke about his musical background, the arthouse theater he helped build in Tangier and watching social discontent spread in Morocco.
Filmmaker: How much involvement do you have with the Cinematheque Tangier?
Gullette: My wife Yto Barrada is an artist. She was going home to Tangier when we met in 2004, because her project "The Strait Project: A Life Full of Holes," was about the city and, at that time, sort of painting it as a kind of existential waiting room and jumping-off place for the hopes of would-be emigres. You can see Europe 13 kilometers away across the Strait of Gibraltar and it creates this strange condition in the city. At that time the city — which is one of the oldest populated cities in the world, since the Phoenicians — was sort of abandoned by culture. She found this old movie theater which was about to go out of business, the Cinema Rif, which is an Art Deco cinema on the main square of Tangier, between the 14th century casbah and the colonial new city. A few boys smoking hash in the dark, watching Bollywood films subtitled in eight languages. The Rif was gonna be torn down. Being a crazy artist she started a non-profit, took over the lease, did two years of fundraising, then we did two years of construction (where I was pretty hands-on) and then she created an artist-run institution with this whole group of people, and the programming now compares favorably with any arthouse in a big capital city. They have a great film collection, filmmakers come and present their work, they run workshops, programs for kids.
I founded a nonprofit called the 212 Society — the telephone country code of Morocco is 212 like NYC — and we have done fundraising here to support the CdT and another amazing nonprofit, Darna, which works with women and kids at risk.
Filmmaker: Do you get tired of traveling the festival circuit?
Gullette: Oh hell no. It's incredibly nourishing, rewarding, very important for us. Film festivals are like bees for cinema: no bees, no pollen, no flowers, no honey. Especially in this distribution climate, face it, the festival is one way for films to reach their audience.
Filmmaker: How heavily were you involved with shaping the band's music?
Gullette: The band in the movie doesn't exist— an all-girl punk band in Tangier was pure science-fiction. We created this song — which is really about the stuff everybody knows is fucked up in most countries in the developing world — got a local garage band that I worked with to record a rough demo of "I'm So Bored," and then the girls played along to that. And Chaimae did her own singing, which was great.
In real life, Chaimae is the most square, calm, conservative girl, whose idea of music was probably Celine Dion on Facebook. and when you see her play you get the range this chick has. She unleashed her actor instinct on it and figured out what she had in common with Malika, which turned out to be a lot: personal integrity, this complete inability to compromise on anything. And they are both artists.
Filmmaker: What's your musical background like?
Gullette: My relationship with music is that I grew up in Boston driving around a shitty, fucked-up Honda with a hole in the roof listening to The Clash and Sex Pistols.
When we opened the Cinematheque, the first unintended effect was that all the local kids — who were kind of the hip teenage kids that never had a place to go in Tangier — they all went there. And how could they not? It's a good, high ceiling space, free wireless, you can nurse a Coke all day. So they would come in, smoke a million cigarettes and go on YouTube. Some of them would have guitars and they would play Ben Harper songs and hold hands under the table. So I'm like what the fuck, you know? These kids who are in a society with deeply ingrained social injustice should be pissed off, fired up, riled up, you know? They should be punk rockers. I grew up in Boston, we're pissed off, and these kids are so apparently mellow.
Well, I misjudged that badly. We made the 2010 short as science-fiction, and then we had our cast and crew screening on February 20, 2011. Today, the Moroccan movement for social justice is called the February 20th movement. That was the night that punk broke in Morocco. So the kids had to climb out the windows of their parents' apartments through a city where the mothers had been marching in the streets against the high prices of the French electrical monopoly, and then the soccer game let out and there was some hooliganism and all the windows in the storefronts were smashed and the ATMs were smashed up. There were cars burning in the streets and all of a sudden it looked like Brixton in sleepy old Tangier. The whole country had woken up overnight. I was wrong, I misjudged them completely. It turned out there was a deep level of righteous anger and of social awareness and readiness to speak and change, at least at the level of constitutional reform. It was a strange coincidence that we made a movie about a fictional young woman speaking truth to power, and then just as we finished it, thousands of them were in the streets.
Filmmaker: Was shooting in the Rif Mountains logistically the hardest part of the shoot for you?
Gullette: It was a pretty intense shoot. We were a very small crew, and shooting in a very small car with actresses driving, no disrespect to the actresses but they're not terribly great drivers. (laughs) Two girls and me and my two cinematographers — Benoit Peverelli and Niko Tavernise — and sound in the trunk, on cliff roads, high in the Rif, trying to get matching takes. So it's pretty hairy.
Up there we're shooting in a village which nobody has ever shot in, which is the real live dope mecca, the hub of the $2 billion a year hashish trade. We had very good introductions there, we were with the right people, so we experienced nothing but hospitality up there. But there's some things you can see and some things you can't. Making a film in a production model where you are surrounded by reality means you have to constantly adapt and stay on top of the wave and not fall off or you'll get your ass kicked. So yeah, it was righteously exciting, and it was such a treat to come back to New York and hook up Audrey Rosenberg, my amazing producer, with all these great, calm, focused, seasoned, adorable post geniuses, like our editor Sabine Hoffman and Nathan Larson who did the score and the song at the end, and Jacob Ribicoff at the sound controls, and take apart these piles of footage and feel like OK — hamdullah! — we got something.