Back to selection
dana.io Debuts with a New, Low-Cost Crowdfunding Model for Filmmakers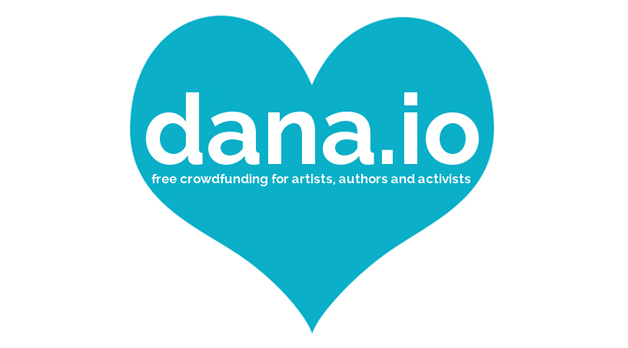 Crowdfunding your film can be fraught with many potential dangers, but one of the most common issues overlooked by first-time crowdfunders is the cost of running a crowdfunding campaign. These costs are varied but can include: the production of promotional assets like campaign videos; the cost of your time for marketing the campaign and supporting your backers; the cost of fulfilling your campaign rewards; and finally the costs of using your crowdfunding platform of choice, Kickstarter, IndieGogo etc.
The price of using crowdfunding platforms can be broken down into two key costs: credit card processing fees (normally something between 2-4% of your campaign total); and a fee to the crowdfunding platform for use of their technology (normally between 5-10%). Combined these can represent quite a large percentage of the total revenue from your campaign so it's important to budget accordingly.
With that in mind, it was with interest this morning that I read about the launch of dana.io, a new crowdfunding site that takes no fee for its services. The news of the launch came to me via Peter Broderick's email distribution bulletin with the subject "Crowdfunding For Free." Understandably, this piqued my interest.
Put simply, dana.io provides similar functionality to that of IndieGogo and Kickstarter but requires the campaign organizer to hook up their own payment processor. In practice this means that filmmakers will sign up, apply for access, connect their PayPal or Stripe (coming soon) account to dana.io and then set up and launch their campaign. Unlike its more established competitors dana.io does not have delayed payment functionality; instead, the payment gateway processes the credit cards in real-time at the moment the backer pledges. This is because dana.io do not involve themselves in the financial transaction, meaning money passes directly from the backer to the campaign organizer via the payment processor.
While this approach has obvious benefits, it also presents certain limitations: for one, it means that "all or nothing" campaigns are out of the question. Instead dana.io campaigns will all be "flexible funding campaigns," as IndieGogo calls them. This will understandably limit the platform's appeal to certain campaign organizers who must hit a funding threshold to realize their project. Some users may also be concerned about using a platform with no immediately obvious means by which to support/sustain its infrastructure.
That said, dana.io does have a solution. They plan to crowdfund their crowdfunding platform. In a unique move the site's founder Alan Clements has decided to use crowdfunding to sustain dana.io. This is a bold and interesting decision and the company's plans for crowdfunding education initiatives and partnership, consultation, and affiliate programs are impressive. However, the success of the platform and its ability to carry out these plans are reliant on campaign organizers and users alike putting their hands in their pockets and donating to keep the platform alive.
This model really appeals to my sense of community and my interest in the interdependence of indie film. The platform has already attracted 150 project applications. While it's early days as the platform grows, they expect to become increasingly selective. Unlike dana.io's major competitors, the costs associated with scaling the platform are decoupled from the revenue they receive. While dana.io can perhaps project increased donations to their crowdfunding campaign as the number of projects on their system grows, unlike Kickstarter and IndieGogo there is no direct correlation between successful campaigns and revenue.
In short, they need to be extremely careful to manage their infrastructure and running costs in relation to the number of projects they accept. With this in mind, it would seem unlikely that the platform will ever become completely open but rather a selective community-driven platform supported by the sense of interdependence felt within the indie film community. dana.io's lack of "all or nothing" campaign model will mean that it isn't for everyone, and unless they are ruthlessly selective with the campaigns they accept, and receive strong support from their users, the costs of running and supporting this kind of platform can run away with themselves.
The benefits of a model like this are self evident, particularly its focus on sustainability over commerciality and its seamless financial connection between backer and filmmaker. Ultimately, I think it's going to be the prospect of a platform that lives or dies at the hands of the community and offers a truly direct connection between creator and audience that could prove to be attractive to filmmakers.