Back to selection
Reviewing the ProAm Taurus Jr. Crane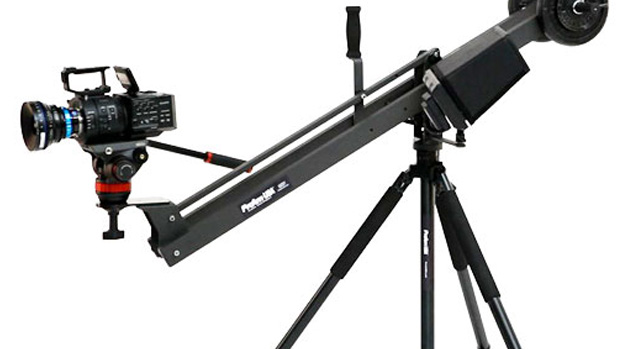 With all the attention on brushless gimbals it's easy to overlook cranes — pieces of equipment that can add cinematic motion to any shot. Cranes can also be large, difficult to move and hard to operate. The ProAm Taurus Jr is a small crane that solves most of those problems; its only limitation is that its range of motion may not meet every need.
The Taurus Jr is 50" long and 5 ¾" wide and constructed primarily of two parallel rectangular tubes that are 2" x 1". It is primarily constructed of powder coated and anodized aluminum. The only item that felt at all lightweight was the manual tilt handle, which the manufacturer says is rated for 10 lbs. Movement of the crane, both up and down, and rotating around the base, is smooth.
The company's website states that the reach of the crane from the fulcrum is 36 inches. I tried to measure the maximum vertical distance I could comfortably move the camera from its lowest height (below the tripod mount) to its highest, and got a measurement of about 46."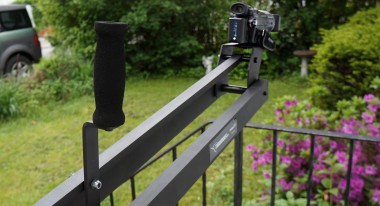 Despite its small size you'll need some solid tripod legs to stand this crane on and weights to act as a counterbalance. It uses weights with a 1" center hole, and two clamps are included to keep the weights in place. Don't overlook those weights, as despite the crane's small size it feels like a heavy piece of gear at 12lbs, and the camera end is much heavier than the balance end. The crane is attached to legs using a 3/18" -16 threaded screw.
There's no remote control tripod head, but that's hardly needed as the range of movement is so short that you'll be able to control the camera yourself by holding on to the camera as you move it. That's unless you put the crane on very tall legs.
The camera can be attached to the mounting plate using a 1/4" -20 screw, or you can attach a small tripod head. A camera plate extension is included for longer cameras. The camera plate of the crane head is kept level by means of a smaller bar running between, and slightly above, the two support bars.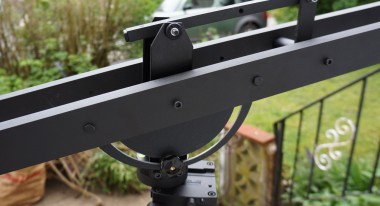 One huge advantage of the Taurus Jr is that it doesn't require any assembly. All you have to do is attach the weights, and mount it to the tripod. This can be a little tricky due to the weight of the crane; you might want a second pair of hands to help you while you are doing that.
While its small, this crane is built to heft a serious amount of gear; it supports up to 30lbs, which explains its solid construction, though if you are always using smaller cameras you might consider something of lighter construction.
The ProAm Taurus Jr is a simple, solidly made crane that includes a tilt handle, bubble level and a pan and tilt brake. There's also a mounting bracket for a monitor. The company provides a lifetime warranty on defects.
Pros: Solid construction, practically no assembly required, supports 30lbs.
Cons: Even on long legs it has a limited range. It may be heavier than you need.
ProAm: Taurus Jr