Back to selection
The 20 Best Non-Fiction Films on Netflix Instant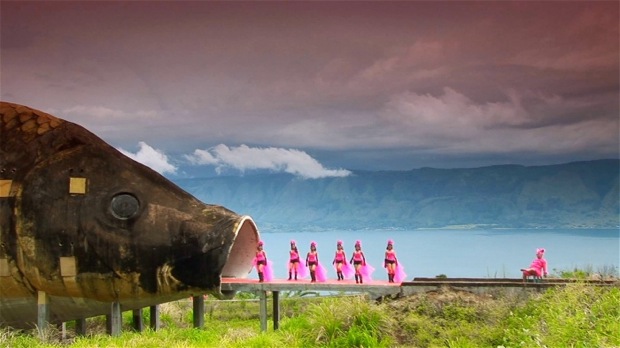 The Act of Killing
Netflix's ever-shifting catalog is subject to sudden deletions and additions, the latter skewed far more to recent fare than a balanced sampling of all film history. Still, careful mining reveals a decent selection of titles to catch up on if you're one of the company's 35 million+ U.S. subscribers, including some relatively slept-on films. I cleared away the underwhelming underbrush to find (in alphabetical order) a semi-idiosyncratic selection of the 20 best non-fiction films available for current streaming on Instant.
The Act of Killing (2012)
Joshua Oppenheimer's elegantly disturbing investigation into the determinedly suppressed legacy of Indonesia's 1965-66 mass killings has been discussed at length here and elsewhere. Note that Netflix has both the two-hour theatrical cut and the less-circulated director's cut, which runs 159 minutes.
Aileen: Life and Death of a Serial Killer (2003)
Netflix stocks six films by the sometimes-disreputable Nick Broomfield, including such lesser-loved titles as 1998's controversial conspiracy-mongering Kurt & Courtney and 2011's Sarah Palin: You Betcha!, roundly derided as a too-easy attack job with no new information. On the plus side there's Broomfield's 1992 documentary Aileen Wuornos: The Selling of a Serial Killer and its even more morbidly compelling follow-up, 2003's Aileen: Life and Death of a Serial Killer, which boasts the final interview conducted with its clearly unwell subject and some not entirely satisfying but queasily arresting self-interrogation by her documentarian.
And Everything is Going Fine (2010)
Steven Soderbergh's portrait of the late Spalding Gray is assembled entirely from pre-existing footage of the monologuist narrating his life in various contexts. A devastating film about depression hidden and expressed, it's almost as hypnotized by the juxtaposition of different digital sources indelibly of their time as it is by Gray's eloquent words.
The Autobiography of Nicolae Ceaușescu (2010)
Another archival compilation, this time from rigorous Romanian master Andrei Ujică (co-director with the late Harun Farocki of Videograms of the Revolution). A thousand hours of archival footage (mostly state-made propaganda supplemented towards the end by amateur video of the captured dictator's final hours) were edited down to three. A challenging but hypnotic journey through decades of ossified official rhetoric, Ceaușescu copmiles the self-deception of a leader and his snowballing of an entire nation over a decades-long span, avoiding easy ironies and capturing the political and social flavor of an era.
Best Worst Movie (2009)
In this documentary look back at the legacy of so-awful-it's-beloved cult movie Troll 2, its now-grown child star Michael Stephenson goes beyond enthusiastic fans and easy laughs to consider the movie's real effect on its hapless makers, who could never have predicted its strong aftermath. There's a wide, fascinating gulf between star/dentist George Hardy's initially enthusiastic, soon-weary discovery that he's a cult star and director Claudio Fragrasso's stubborn insistence that he doesn't understand how his movie could function as a subject of derision. Best Worst Movie is an inquiry into the precise manifestations of its subject's value for makers and fans alike rather than a simple tribute to it.
Brother's Keeper (1992)
Netflix doesn't have Joe Berlinger and Bruce Sinofsky's Paradise Lost trilogy agitating on behalf of the since-freed Memphis Three, but it does have their first work together. Brother's Keeper tells the story of the Ward brothers, four siblings living together near Syracuse whose murder trial brought the local community together against outside media interlopers. It's another immersive portrait of a small community dealing with death, less scabrous and activist than the Paradise films.
How to Survive a Plague (2012)
David France's history of the AIDS crisis shows how TAG and ACT UP responded. Culled from long-unseen amateur footage of fiery meetings, demonstrations and strategy sessions, Plague is an on-the-ground look at people responding to a crisis whose scale quickly became evident, a community record of a necessary response to fill a shameful official absence.
Leviathan (2012)
The most widely-attention-getting film yet from Harvard's Sensory Ethnography Lab, Lucien Castaing-Taylor and Véréna Paravel's Leviathan turns the oft-grim spectacle of life on a commercial fishing vessel into a full-on metal show, one as assaultive and rigorous as the boat's workers' music of choice. Capturing the perspective of everyone from a night worker to a dead fish head sliding around on the floor, Leviathan's adaptive approach to capturing multiple subjective realities is galvanizing and novelly bracing. Scale especially matters with this one, but better Netflix than never.
The Order of Myths (2008)
Margaret Brown's underseen documentary looks at Mobile, Alabama, where words like "culture" and "tradition" become excuses to cover up de facto segregation. That's the only way to non-euphemistically explain the city's separate black and white Mardi Gras festivities. Brown is in for the observational long-haul rather than quick indictments, capturing the minor insidious gaffes as intrinsic to perpetuating systemic racism as more flagrant demonstrations of same.
Paris Is Burning (1990)
Jennie Livingston's time capsule look of LGBT balls is an acknowledged classic, inclusively incisive in its portrait of a NYC diaspora of a marginalized community building bonds within itself without glossing over racism, gender identity and other perpetually germane concerns.
Room 237 (2012)
A pretty divisive movie: some, including Kubrick's associate Jan Harlan, were unamused or took this anthology of varyingly improbable theories about The Shining as nothing but a bad joke that runs too long. I found Rodney Ascher's doc an enjoyable excuse to look at a lot of great Kubrick shots in quick succession while having a familiar film shaken up, however unconvincingly (I'm inclined to agree with the "it's about Native American genocide" theorist, for what it's worth).
Seven Up! (1964)
A stand-in for the entirety of the Up series, initiated here by Paul Almond and subsequently continued by Michael Apted, in which the lives of a class cross-section of not-otherwise-particularly-remarkable British people are revisited every seven years. The entire run's available on Netflix for this wanting to mainline visible aging in one sobering dose.
Severe Clear (2009)
Less celebrated than Armadillo or Restrepo, Kristian Fraga's documentary takes Marine Mike Scotti's on-the-ground Iraq footage as his almost-only visual resource. Adding a strong narrative and profanely honest voiceover viewers can take as understandable, disturbingly self-indicting or both, Severe Clear is an uncomfortably watchable war diary.
Sick: The Life and Death of Bob Flanagan, Supermasochist (1997)
The title sells itself, though upon initial release the inevitable main talking point seemed to be the scene where artist/cystic fibrosis sufferer Bob Flanagan nails his penis to a board, which may be an annoyingly reductive shorthand scene for a tough-minded profile of a complicated personality.
Sound and Fury (2000)
This documentary invites you to watch as two married brothers make different decisions about whether to allow their deaf children to get cochlear implants that will allow them to hear. Though that's seemingly a no-brainer, Sound and Fury asks us to consider the POV of parents who worry their child will lose her connection to "deaf culture," and by extension to them; these are some of the most painful family arguments that have been ethically captured and are unusually necessary to watch.
The 10th District Court: Moments of Trial (2004)
Observing 12 hearings in the courtroom of Parisian judge Michèle Bernard-Requin, master photojournalist/documentarian Raymond Depardon finds moments of attempted social rank-pulling, hints of France's xenophobic attitude towards migrant laborers, broad comedy from misguidedly aggressive defendants, and much more. It's a bracingly comic cross-section of an idiosyncratic legal system at one of its mundane working levels.
These Birds Walk (2013)
Omar Mullick and Bassam Tariq's first feature doesn't flinch when capturing Pakistani orphan boys at their emotional lowest, including a hard-to-watch fight between a trash-talking small kid being extendedly pinned down by a larger boy. Sometimes the camera runs away as fast as the kids, speeding towards momentary solace, but this is a commendably locked-in, soberingly empathetic group portrait,
The Thin Blue Line (1988)
For Errol Morris on Netflix, this or Vernon, Florida are your best bets; otherwise you'd be stuck with the comparatively underwhelming late works Tabloid and The Unknown Known. Noted as the investigative documentary that actually got a wrongly convicted man off of death row, Blue Line also inaugurated Morris' extreme-slo-mo and exploratory lyricism modes.
¡Vivan las Antipodas! (2011)
Sometimes lumpy and often silly, Victor Kossakovky's anthology of stylistic showboating is consistently full of amazing shots. Enabled by the excuse of visiting eight cities that are antipodes (diametrically opposite each other on the globe), Kossakovsky brings on elaborately choreographed shots, stunning landscape helicopter views and deadpan tableaux of people not doing too much against imposing landscopes. An upside-down gaze from a moving car's rear window of China in motion looks like a Fifth Element-lavish future world found right here and now.
VIVAN LAS ANTIPODAS! (2011) Official Excerpt from Richard Lormand on Vimeo.
Whores' Glory (2011)
An increasingly disturbing triptych of prostitution around the world, Michael Glawogger's final feature journeys through Thailand, Bangladesh and Mexico, finding different degrees of (attempted) dignity in labor and all-out exploitation while remaining counterintuitively gorgeous to look at.