Back to selection
Camera Moves with the Freefly Tero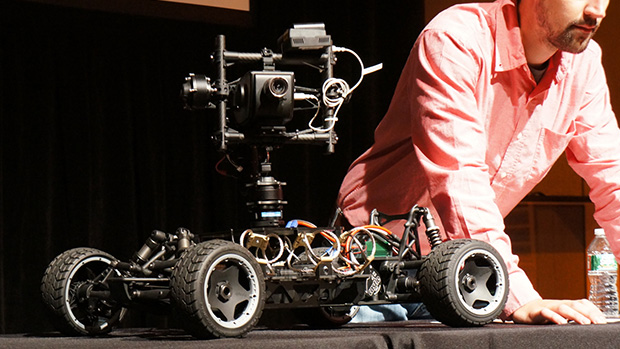 Freefly made a splash with their MōVI brushless gimbals, and now they have a remote controlled car. The Tero is a remote controlled car that has had a "full overhaul." This includes run flat wheels, larger shocks, and wire rope isolators between the mounting cheeseplate and the car to further reduce vibration.
At the recent Massachusetts Media Expo, Dylan Law, the in-house Freefly MōVI tech at Rule Boston Camera, talked about the car and even did a short demo. The car can reach speeds of up to 55 miles per hour and is literally plug-in and go.
The car was fitted with the M5 gimbal, which can hold up to 5 lbs. With the M10 attached, the largest camera you can use is a fully-built RED Epic. When Freefly ships their M15 at the end of October, Law says you'll be able to put a Sony F55 on the car.
The gimbal is mounted upside down on the car relative to the way it would be handheld. Perhaps the only downside to the Tero is the height limitation; camera height is limited to the height of the gimbal. While you can't raise the camera, you can reduce the low-height appearance of the frame by using a wide-angle lens. This will mostly work as long as you don't have a subject very close to the lens.
Law said that the acceleration of the car seems to be hardly impacted by larger cameras. However, if you accelerate rapidly there is some noticeable sway backwards of the camera deck, during initial acceleration, so you'll want to allow for that in any shooting.
If you're using a MōVI gimbal on the car you'll have two controllers; a regular RC controller for the car, and a separate controller for the gimbal. That makes it at least a two person operation to work effectively unless the shot is very simple.
The car is 31 inches long, 18 inches wide and 10 inches high and weighs 20 lbs without gimbal or batteries. According to Law, only 20 units have been made so far, and Freefly is talking of limiting production to about 45 units. The car costs $5,000 (without a gimbal.) Rule is renting the car for $450 a day without the gimbal.
In addition to being cheaper to operate than most car mounted camera systems, the Tero has the advantage of being usable in small locations and inside buildings. The only downside might be that it's motors are quite loud.
Brooklyn Aerials has shot some footage with the Tero and posted a teaser trailer of behind the scenes from their work.
Brooklyn Aerials: Testing the Freefly Tero
Video: The Tero at the Massachusetts Media Expo, Brooklyn Aerials footage shot with the Tero, and a teaser for the Behind The Scenes video that Brooklyn Aerials produced.
http://youtu.be/mh0_PjQ-X7k