Back to selection
Euro-Pudding and Look Books: Takeaways from Day One at IFP's Filmmaker Conference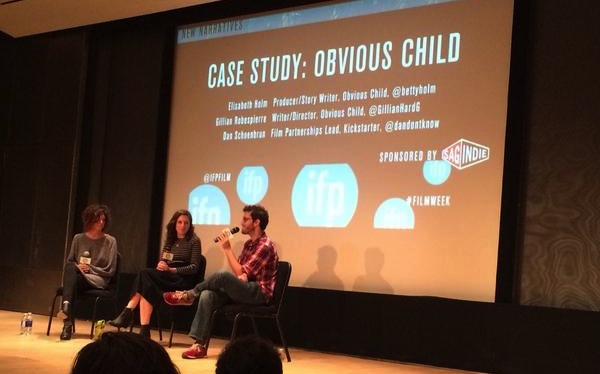 Elisabeth Holm, Gillian Robespierre and moderator Dan Schoenbrun
After sitting through the majority of the New Narratives presentations on day one of the Filmmaker Conference at IFP Film Week, my brain is almost too awash with content to compile anything but a listicle. From conversations with cinematographers like Reed Morano and producers like Mynette Louie to an Obvious Child case study and Kevin B. Lee's mini-keynote, here is a handful of the major takeaways I gleaned from yesterday's Conference.
1. For co-productions, don't assume hiring local crew is the cheapest option. Arriving to the Icelandic set of Land Ho!, producers Mynette Louie and Sara Murphy realized they were sharing ground with a slightly larger production: Christopher Nolan's Interstellar. Because the majority of films shot in Reykjavik and the surrounding countryside have a budget slightly upward of $1 million (see: Noah, Game of Thrones), local crew members have a much higher going day rate. As such, it was cheaper for Louie and Murphy to bring in an American-based crew and put them up for the duration of the shoot, which also allowed the production to bypass any visa issues since they were being paid through the American company and in town for less than three weeks.
2. Beware the "Euro-pudding." When fashioning co-productions, it may be tempting to tap into as many country's resources, funds, and tax credits as possible. However, in partnering with companies based in each of those countries, your costs go up astronomically. Don't forget, you're having to pay the Spanish producers, the German producers, and so forth, for their work, which Louie says often outweighs the government benefits: you may just end up in the red. Instead, consider taking advantage of stateside tax credits. Louie says they chose to do post in New York, even though directors Katz and Stephens are L.A. and West Virginia-based, because of the 30% tax credit.
3. Always budget for deliverables and festival fees. This may seem like a no-brainer, but more often than not, filmmakers scramble at the last minute to put together funds for a DCP. Louie began to rattle off Land Ho!'s expenses for their Sundance premiere — $10,000 for deliverables, $8,000 for a publicist — when moderator David Hinojosa of Killer Films chimed in to say they had just returned from Toronto with a $30,000 hole in their pocket. Of course, a solid chunk of that went to putting up a film's A-list star, which is where those helpful pre-sales can rear their head.
4. Distill every scene to its essential purpose. In a visual storytelling panel, director John Krokidas and d.p. Reed Morano spoke about their collaboration on Kill Your Darlings, and how having a strong command of the essence of each scene can save you time in a pinch. If you're shooting a three-person scene from the perspective of one character, for instance, you don't necessarily need to go in for coverage on the other two. "Finding what happens emotionally in each scene informs what I do as a cinematographer," said Morano.
5. The infinite possibilities of look books. Look books are a common enough concept for financiers — as Krokidas says, they can actualize your tone and offer a clearer idea of your script. But I hadn't realized that they're also a matchmaking device between directors and d.p.s. Morano says she immediately compiles a look book after reading a script (using TextEdit and the app Grabit, which illegally downloads images), and carefully considers the director's reaction to her findings at their first meeting. Nine times out of ten, she says, their visions match up, but if she senses they disagree on her visual interpretation, she knows their collaboration probably won't work out.
6. When everyone is a filmmaker, how do you make your film matter? In his "blitz wisdom" talk that went a bit over its 15-minute runtime, Fandor video essayist Kevin B. Lee spoke about his "desktop documentary" Transformers: The Premake, and how his examination of a Hollywood production played off the masses. Surveying the making of Michael Bay's latest from inside a Starbucks in Chicago, Lee realized he was just one in a hundred wielding his cellphone in the near vicinity. Pushing himself to carve his own path, Lee used the 355 videos uploaded to YouTube that documented the worldwide Transformers production to explore the notion that "a camera is not necessary to make a film," resulting in Transformers: The Premake.
Once the desktop doc was complete, Lee struggled with its promotional rollout. Eventually deciding to release it on YouTube, "back where [he] found it," Lee was again faced with how to set his work apart, this time amongst the 100 hours worth of content uploaded each minute. So, he went to his network: film critics. After several sites ran the piece (Filmmaker's Vadim Rizov included), he conceded he made the right choice. His takeaway? To always deliver your work in the way it will achieve its maximum impact, even if that means working outside the festival circuit. (Although, it's worth noting that The Premake will screen at the Viennale in the next couple of months. Best of both worlds.)
7. People only read your script once. Breaking down the production process behind this year's independent success story, Obvious Child producer Elisabeth Holm and writer-director Gillian Robespierre stressed the importance of a polished script. That may seem like a given, but any screenwriter should strive to get as many trustworthy, friendly eyeballs on a script as you can, before shopping it around to financiers. You only have one opportunity to impress. The pair, who formerly held day jobs at Kickstarter and the Directors Guild of America, also suggested being consistently present in the world of film, one way or the other. Filmmaking may be a nights-and-weekends gig, but having one foot in the industry you aspire to never hurts.
8. Five out of 365 is worth it. Discussing the setbacks that befall any writer, House of Cards showrunner Beau Willimon recounted a bit of pseudo-optimism from his pal Tony Gilroy: 360 days out of the year, your work will be terrible and derivative. But five of those days, you'll tap into something utterly original and true, and those five will make it all worth it.