Back to selection
Nick McCarthy Talks The Tank: a Grassroots Screening Venue, Open to Submissions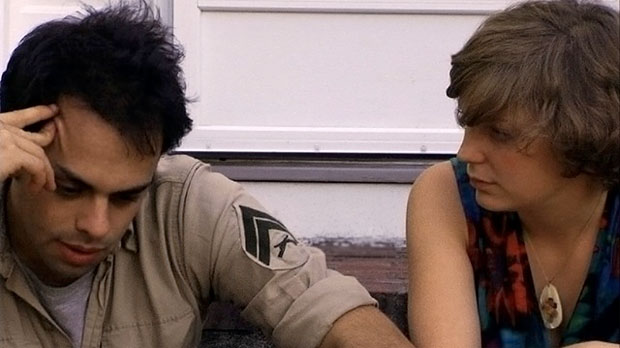 Exit Elena
New York City may not want for nascent filmmakers, but said filmmakers are certainly in need of more grassroots screening venues. Fortuitously, The Tank, a Midtown West arts presenter that specializes in comedy, dance, music and storytelling, is rebooting its film program, dubbed Filmmaker Breakthroughs, this October. Headed up by critic Nick McCarthy, the programming seeks to showcase exciting new talent across short and long form narrative, documentary and animated formats.
A one-time haven for Andrew Bujalski's Funny Ha Ha, as well as Hal Hartley and Jem Cohen's early works, McCarthy hopes the latest iteration of The Tank's film arm will become a launch pad for thrilling, underseen and underappreciated talent. Though the series kicks off on October 2 with Drew Tobia's See You Next Tuesday, followed by Nathan Silver's Exit Elena and Soft in the Head later in the week, McCarthy is accepting submissions and in search of titles with even less exposure. Filmmaker spoke to McCarthy about starting fresh and why he views the space as a counterpoint to festival politics. [Edit: Here is a supplementary video interview with McCarthy where he discusses his programming intentions.]
Filmmaker: How did you get involved with the Tank and its new film initiative?
Nick McCarthy: I've been attending theater, dance, and storytelling events at The Tank for the past few years. I've always admired their nonprofit, multidisciplinary moxie and their foster-based focus on new and emerging artists. They're at once old-fashioned in their respect and care for the artist and modern in their adventurous programming. When I discovered that The Tank, which was co-founded in 2003 by now-household names such as Pulitzer Prize finalist Amy Herzog, had shown the works of Andrew Bujalski and Jem Cohen, I knew it was time for a rebooted film program that addresses the new landscape of filmmakers out there.
Toward the beginning of this year a good friend of mine, Rosalind Grush, joined The Tank as the Executive Director after her tenure with The Civilians. When I noted that she and Artistic Director Emma McMullin had a great space but no current support for nascent and promising filmmakers, they asked me to come as a Film Curator. I was headed to SXSW–a boundless breeding ground for new talent–at the time to cover the film portion for Slant Magazine, so it was all a matter of brilliant timing. And I was just excited by the idea of showing promising new works to a wider audience.
Filmmaker: As the Tank is a place for emerging artists, how do you envision your programming? What is the ideal work to showcase?
McCarthy: Given the innovative and playful programming the other curators at The Tank (such as theater, storytelling, and music, among others) present, I first considered the program as a platform for bold, intelligent movies that offers the audience a constructive look into the new era of independent filmmaking. And that movement starts all with the artists themselves. The Tank is very loyal to the artists it selects and wants only to offer a safe haven and a community of other artists in times when film festival charge large amount of money to submit and distribution platforms (especially with the introduction of VOD) are becoming even more complex and alienating. So in developing this new program with The Tank's staff, the question we were asking is, what do film artists in particular need, and what can a non-profit whose primary resource is space do to be meeting that need? And we landed on the idea that there are tons of incredibly talented emerging filmmakers who are getting good attention yet have very few options for places to show their work here. We are using this opportunity to highlight the work of filmmakers at that very point in their careers: where they're about to burst on to the scene but just haven't quite locked down the next step after festivals yet.
The type of films I will be programming have a strong perspective and exude an original spirit while still showcasing immense talent behind the camera. And what's really brilliant is when the filmmakers already possess such confidence in their understanding of the medium. I think by launching the Filmmaker Breakthroughs program with a series that includes Drew Tobia's See You Next Tuesday and Nathan Silver's Exit Elena and Soft in the Head, we've already accomplished that. And I'm looking forward to seeing more films that represent a unique and intimate style and sharing those works with curious cinephiles in NYC.
Filmmaker: What will the program look like? How many screenings per month, will it run for an indefinite period?
McCarthy: At the moment we're launching the first series on October 2nd through October 5th. We're screening in The Tank's theater and headquarters on 46th Street. The program is launching with three narrative feature films, but I'm planning to incorporate documentary, shorts, and animations in future programs. The first series, which includes two of Nathan Silver's early films, also has a story behind it; I hope audiences can see Exit Elena and then go on to see his subsequent film, Soft in the Head, and become aware of Silver's evolution as an artist.
We have confirmed dates for mid-November for the next installment of the series and are hoping to firm up the films very soon. In addition to having The Tank's space, we're also looking into ancillary venues and working out a partnership with Videology–where some of The Tank's storytelling events have taken place–as another venue for screenings of the programs I'm curating at The Tank. Although we have our own space, there are other disciplines that use the theater, and it's even more interesting to stretch The Tank community to other areas more familiar to independent film lovers to ensure we have consistent, solid programming.
Filmmaker: How are you coming across the films you select? Are you accepting submissions?

McCarthy: It's a fairly organic process since I watch countless films by new filmmakers through screeners and film festivals, whether I was assigned to write about them or just attending as a casual spectator enjoying movies and the festival atmosphere. Oddly enough, I caught the premiere of See You Next Tuesday at the Chicago Underground Film Festival (where it won the Audience Award before going on to numerous other festivals) when I was just coincidentally visiting my brother in Chicago. And I have friends who write about film and program at festivals around the country that are kind enough to recommend certain films that they found interesting. I also took a brief survey of what I was hearing about particular filmmakers that showed promise but weren't given the space to have their work seen and commented on in a theater setting. So it's a bit of happenstance and a bit of research. I must admit I even scrupulously read through Filmmaker's last issue on the 25 New Faces of Independent Film.
We are also accepting submissions, and filmmakers who are early in their careers can submit to film@thetanknyc.org.
Filmmaker: What is your goal with the series, beyond exposure for those who participate?
McCarthy: The main goal is to show impressive films and to also have the artists (whether the program is focus on emerging directors, animators, or cinematographers) be present to witness their work being seen by more people, as well as become involved in a talkback process after the screening. With this first series, we're lucky enough to have two filmmakers who are willing to moderate each other's Q & A's, so you can get a perspective on both artists as they discuss their respective work.
There's a massive community of talented filmmakers in NYC and, with the glut of festivals that tend to favor larger names and already established filmmakers, we hope the The Tank will provide a comfortable home to continue the dialogue of what kinds of films are being made today and the really promising artists behind them. And, of course, delight and challenge both the audience and the artist in the process.