Back to selection
Wroc and Roll: 5th American Film Festival, Poland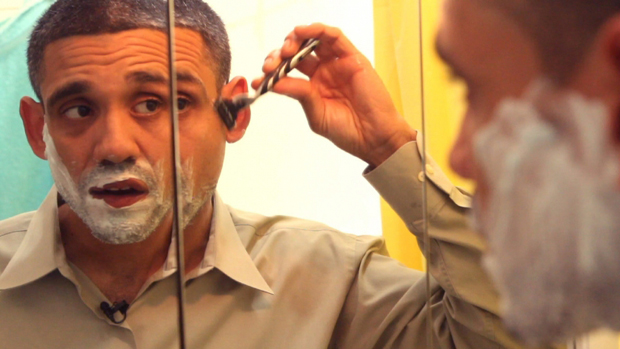 Bronx Obama
Recently announced as a European Capital of Culture for 2016, the picturesque western Polish city of Wroclaw (actually pronounced Vrotz-wav, thus rendering the title pun sadly unworkable) welcomed an extremely distinguished guest for its fifth annual American Film Festival: none other than flying POTUS Barack Obama. Well, it seemed so for a moment, but appearances can be deceptive. A closer look revealed the man to be Louis Ortiz, top Barack-alike and star of Ryan Murdock's enjoyable Bronx Obama, which screened as part of the festival's documentary slate. The personable Ortiz's social ubiquity made for a pleasingly incongruous addition to a festival which, to many, might sound precisely that. "Why is there an American Film Festival in Poland?" I was asked by more than one friend upon telling them of my travels.
It's a valid question, and one I'll answer briefly, since I covered the same event for this publication last year. It's the brainchild of Polish distributor/producer Roman Gutek, who launched the Warsaw Film Festival in 1985, owns one of the largest independent arthouse distribution companies in Poland (Gutek Film, est. 1994), and in 2001 started the arthouse-heavy New Horizons Film Festival in Wroclaw. A major fan of Soderbergh, Jarmusch and van Sant, Gutek initially intended for NH to promote US independents, but its slate became international and is still going strong. In 2010, the American Film Festival was born. Alongside Moscow and Deauville, it remains one of the few European festivals solely dedicated to exhibiting American cinema.
If you think this sounds a somewhat whimsical endeavor, you might have a point — Gutek, an unsolicited cultural ambassador, has apparently still never traveled to the US. Yet there can be no denying the quality of the programming — this year's impressive line-up included the likes of Damien Chazelle's Whiplash, Bennett Miller's Foxcatcher, David Gordon Green's Manglehorn, and a full Orson Welles retrospective — nor the audience demand, even for lower-profile titles. Each screening I attended at the vast, impressively-furnished New Horizons multiplex was full, or close to it. No biggie for the Foxcatchers of this world, but exhilarating for, say, microbudget affairs like Keith Miller's bruising Brooklyn-set docudrama Five Star or Joel Potrykus' impressively grimy Buzzard.
Euro Trip
As per last year, I spent the majority of my time covering the festival's US in Progress sidebar, in which six low-budget American indies in post-production are screened over two days to a private audience of sales agents, distributors, programmers and media, who then offer feedback in a series of intensive one-to-one sessions. Co-run by New York-based Black Rabbit Films, USiP received forty submissions this year, around the same as the 2013 edition. Since 2012, US in Progress has held another annual event, which takes place at the Champs Elysées Film Festival in Paris in June.
Alongside the post-production prizes offered to winning filmmakers, the core aims of USiP seem to be to encourage international co-production, and help American filmmakers reach audiences who may be more receptive to challenging, unorthodox work. Speaking at an industry panel, IndieWire contributor Sydney Levene spoke fairly damningly of general American audiences: "[They] are so insular", she warned. "They don't wanna read, they just wanna hear. And forget about dubbing."
At the same panel, a recurring topic of conversation was the importance, for American independent filmmakers, of researching and targeting international film festivals, and more specifically the need for them to disabuse themselves of the notion that Sundance — where, according to Levene, only 10% of films strike deals — is the be-all and end-all. Though suggestions of suitable European festivals were fairly thin on the ground at the panel, at least two — the extremely well-attended New Horizons and American Film Festival — were staring us in the face.
Feeding back
What, then, did the participating filmmakers expect from the USiP experience? "When we were contacted about showing our film at a US indie-focused festival in Poland in a city we had never heard of, it's safe to say we had no idea," Fidel Ruiz-Healy, co-director (with Tyler Walker) of wartime comedy-drama The Homefront told me, "but after many emails and some research, we learned how committed to film Poland was." Kelly Daniela Norris, co-director (alongside Travis Pittman) of lyrical, Ghana-set drama Nakom, was in a similar position: "I had only a basic idea of what to expect, which was the opportunity to screen a rough cut of our film to a select group of professionals with an interest in American indie."
Rodrigo Ojeda-Beck, co-director (alongside Robert Machoian) of dark family drama God Bless the Child, was simply relieved to have a rare, sponsored platform at this early stage: "When an American makes a low budget feature, they constantly have to cut corners due to budget concerns. Something I never had time or money for is a test screening, let alone one attended by industry professionals and fellow filmmakers." Ruiz-Healy, meanwhile, describes the industry feedback he received as "thoughtful and straightforward – really helpful," and Norris as "earnest." Matt Sobel, here with off-kilter family saga Take Me To the River, praised it as a "rare and valuable prize."
The hothouse nature of the process is its most intimidating element, even for more seasoned filmmakers. Brooklyn's Nathan Silver (Exit Elena and Uncertain Terms, which screened in AFF's main slate) arrived with Stinking Heaven, an uncompromising docudrama set in the early '90s among a commune for recovering addicts. It's shot, in a manner reminiscent of Pablo Larraín's No, on a vintage Ikegami HL-79EAL Professional Video Cam. "It's extremely nerve-wracking to show an unfinished film to anyone, let alone a group of sales agents and festival programmers," he told me, "but every aspect of getting your film out into the world is nerve-wracking, so I guess it's just par for the course. We came here to get feedback, and we got it. We knew from the get-go that ours is a tough sell, but it's good to be able to duke it out with sales agents as to what can be done with the film."
Branching out
Stinking Heaven's producer Rachel Wolther spoke of events like Wroclaw as a window of opportunity: "The funding opportunities for artists in Europe are huge, especially compared to what's available at home. It's almost like they have too much money and not enough filmmakers: pretty much the opposite of Brooklyn. And since a lot of the low budget films from the US have value across borders — for example Nathan's films have had great success in Europe and South America — it would make sense to do funding by coproduction, especially if that is where the audiences are."
The question of funding, obviously a vexed and pressing one, resurfaced repeatedly in conversation. Director Michael Tully (whose Ping Pong Summer screened at the Champs Elysées USiP) revealed that he's making the most of his Irish passport in an attempt to secure money from the Irish Film Institute for his next feature. He described these lengths as the "most disturbing reminder of how hard it is to find financing in the US" beyond a handful of institutions, among them Tribeca, San Francisco Film Society, and Austin Film Society.
As I can attest from my regular (and, of course, strictly professional and teetotal) attendance at the official festival bar, the social element of AFF was more important than one might expect. This thread was picked up by Malcolm Murray, who directed Thailand-set drama Pangea (produced by Liz Tran, his wife): "The networking side is pretty incredible because it's so much more intimate than a normal film festival. At larger festivals I don't always know where to start, since I'm newer to the scene. In Wroclaw, we are a small group and are together from 8:30am breakfast until 3am most nights." And the biggest difference between something like USiP and a normal co-production market? "Just how much time all the filmmakers and industry participants spend together. The short speed-dating type meetings after our screenings are ostensibly why we're all here but the real value is in the longer conversations later that night, at breakfast." Kelly Daniela Norris agrees: "From a personal standpoint, the most rewarding aspect of the program was connecting with the other filmmakers and experiencing an intensely supportive sense of community in our short amount of time together."
Keeping up
While the positive vibes are heartening, initiatives such as USiP live and die on what they deliver. It's good, then, to report that a number of USiP alum have made strides. Onur Tukel's Summer of Blood, which played last year and had its sound mixed at Poland's Soundflower Studios, has since gained a theatrical release and played in the AFF's main slate. Another 2013 film, Lawrence Levine's Wild Canaries — the beneficiary of a Polish acquisition award — screened at a host of prestigious festivals and secured a theatrical release. Daniel Patrick Carbone's Hide Your Smiling Faces, a big winner in 2012, is still seen as USiP's major success story.
At the risk of repeating my conclusions from last year, the project's groundwork is laid, its infrastructure undeniably — at least as far as the eye can see — solid (it's among the best organized festivals I've attended), and its intentions absolutely laudable. It is to be hoped that its profile will continue to grow, and American indie filmmakers will continue to venture into new territories.
The full list of winners
Audience award for Best Narrative Feature ($10,000) went to Gillian Robespierre for Obvious Child.
Audience award for the Best Documentary Feature ($5,000) went to Steve James for Life Itself.
The Indie Star Award: Whit Stillman
US in Progress
Homefront, dir.Fidel Ruiz-Healy & Tyler Walker, prod. Sofia Rosenzweig, Fidel Ruiz-Healy & Tyler Walker, will receive color correction by Chimney Poland, sound mix by Alvernia (worth up to $10,000 each), plus an allowance of 3000 PLN for the flight to Warsaw (from Film Commission Poland).
God Bless the Child, dir. Robert Machoian, Rodrigo Ojeda-Beck, prod. Robert John Thomas, Laura Heberton, Robert Machoian, awards: creative sound design by Soundflower, and promotion through the Europa Distribution network.
Pangea, dir. Malcolm Murray, prod. Liz Tran, an award: soundtrack composition by Soundflower.
Take Me to the River, dir. Matt Sobel, prod. Nick Case, Matt Sobel, awards: acquisition from Ale kino+ channel and a free pass to the Producers' Network Pass at Cannes FF 2015.