Back to selection
"There are No Restrictions, Except For Pornographic Material:" Ben Sinclair and Katja Blichfeld on High Maintenance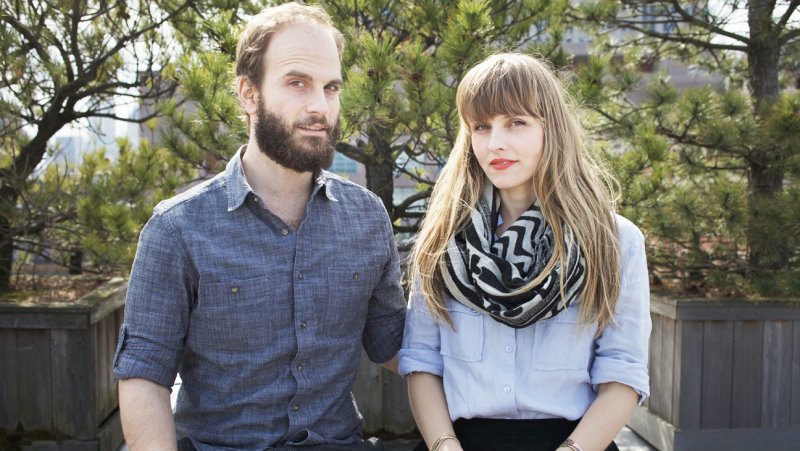 Ben Sinclair and Katja Blichfeld
High Maintenance, the widely reputed, gold standard of web series, began as an experiment of sorts between Ben Sinclair and Katja Blichfeld. When interviewed for our 2013 25 New Faces issue, the pair expressed the foremost need to "get out all these weird stories that have happened over the years." Now Vimeo's first venture into original programming, the husband and wife team are pushing the envelope in a whole new way. With episodes nearing a 20-minute runtime and tonal highs and lows as accomplished as any feature film, High Maintenance challenges the very serial format it calls home.
As of today, all three episodes from the latest cycle are available to download on Vimeo for $1.99 a piece. What Sinclair calls "a la carte TV," would seem to also straddle the Netflix model of releasing an entire season at once, though that sort of frontloading has always been High Maintenance's custom. Indeed after interviewing Sinclair and Blichfeld at Vimeo's Chelsea office last week, it seems that not much has changed since they came under the video-sharer's banner. First and foremost, they're still retaining absolute creative control — enough that they can get away with the inclusion of "non-sexual" genitalia.
Filmmaker: So do you all work in the offices?
Ben Sinclair: For pre-production and production, we spent a lot of time here.
Katja Blichfeld: We were so happy to get out of our workspace at home. We felt like we were marooned on the island of Ditmas Park.
BS: For post, we tried working here, but there wasn't enough room. Even since we've been here, the company has grown so much — from 35 to 200. It's very impressive and it's cool to be here, but it's also a tech office. We've always felt a little bit like we're intruding, because it's this big open space and we're shouting "No! We need 13 feather boas!" It's been interesting to be artists in residence, basically.
Filmmaker: The self-defense scenes in the third episode, "Ruth," were shot here, right?
KB: It's all here. We cheat this office for all kinds of space.
Filmmaker: How does that work with everyone else here, trying to get their own work done?
KB: Well, once we shot on a Saturday, but a lot of other times they just sit there and work.
BS: We heard that they liked the experience. It's a tech office, there's going to be a beer cart at 4 pm. They know how to have fun.
Filmmaker: Working with a more ample budget, did you feel like your approach changed at all? The scope of the episodes feels a lot larger to me, more locations–
KB: You're not just in someone's apartment the whole time.
BS: It did change. We used to shoot only on weekends. It would be two episodes in a month, and each episode got three days. We kind of cross-boarded those, but we would do a week pre-production, a week on, then a break, and then a week of pre-production and a week on. We did have more money, but it was still a micro-budget scale.
KB: It was like making a film for a very small amount of money. It was enough to get it done, enough that we weren't insulting people, hopefully. We were able to pay people, and that's the major difference, but people weren't making their regular rate. There were still plenty of things we couldn't afford, it didn't feel like we were coasting. It did make things harder in some ways, because there was knowledge of a budget. You couldn't just say, "This is for fun, and no one's profiting," anymore. Often we'd find that people would donate just because everyone was doing it. But when there's money on the line, that changes. But we personally felt better that paychecks were going out to our crew. We didn't feel that we could ask for anymore free work.
BS: Especially if we were planning on selling the product. But it was just as difficult to shoot all day in one location with a crew of six, as it was shooting in 15 to 20 locations with a crew of 25.
Filmmaker: How did you guys get hooked up with Michael Gottwald [producer of Beasts of the Southern Wild]?
BS: I was at a bachelor's party at Jumbo's Clown Room in LA. It's a burlesque club where everyone feels very empowered to dance. It's a legitimate burlesque establishment. He was in town for the BET Awards with Beasts of the Southern Wild, and he approached me because he had seen the show. We had drinks back in New York and he said, "Why don't you come down to New Orleans for the film festival?" We were writing and had some time on our hands, and we went to New Orleans for 10 days and hung out with the Court 13 people. When the Vimeo deal started, we originally brought him on as a consultant, because he lives in New Orleans.
KB: We just thought he was going to sit in a room in New Orleans and pick up the phone, but he surprised us by deciding to relocate for the production. He just said, "I'll be there on the ground with you guys." He had also recommended Willy Freedman to us a while back, and we met him and have worked with him ever since.
BS: He's a lifer.
KB: He was our AD and a producer and did both jobs beautifully. He made a dollar stretch, I feel like it's wizardry.
BS: I would not be surprised if he sunk $40,000 of his own money into the project.
KB: If he's some weird shadow investor.
BS: Those guys, with our other executive producer Russell Gregory, and Emi Irikawa, our production coordinator, were really our support system. We just got to be more creative this time and not worry about logistics as much. At first it was scary, but I can't thank those people enough.
Filmmaker: Now that the show's a little bit longer, you guys have more breathing room to try stuff out. "Ruth," in particular, is incredible to me, because it's both melancholic and gross-out, and you see the reliance on the drug in a whole new light. It's melding tones in a way that you don't ever see in this format. When people speak about web series, there is the notion that it's solely comedic territory, because audiences don't have the so-called attention span to handle anything else in the format. Tonally, you're really pushing the envelope.
BS: We're always trying to do that.
KB: We don't ever want to be hemmed into one genre, because that's boring to us.
BS: I remember early on when we were writing these episodes, it occurred to us that this is the internet. There are no restrictions in this deal. Except for pornographic material.
Filmmaker: But you guys had a dick in that episode.
BS: But it was non-sexual! Kerry Trainor, the CEO, walked by when we were writing it, and I said: "How do you feel about balls?" And he said, "Is it sexual?" "No." "Then go for it!" Before the premiere, we showed Vimeo a rough cut of "Genghis," and, you know, they control the website, so I assume they can watch the videos whenever they want to, but they never asked to see the episodes before the premiere. And that is huge. They really took a big gamble on us, and that kind of trust just invigorates our relationship.
KB: It's all we wanted. We just wanted to keep doing what we were doing. If we were at a network, we would probably be told this is too weird or niche. I just know from my work in television, that scripts lose jokes and weird references, because network execs feel that not enough people will get that joke. I enjoy that we don't have to worry about that. They were very respectful and hands-off.
Filmmaker: You have three episodes coming out now, and then another cycle in January, through a subscription model: $7.99 per cycle, or $1.99 an episode.
BS: Well, it's not really a subscription model that we're approaching. It's a la carte TV. You can pay to watch High Maintenance on Vimeo, but you do not have to buy the entire library 10,000+ titles that they have on Vimeo On Demand. After a couple of decades of having to subscribe to hundreds of cable channels that you'll never even watch, this a la carte system is what we feel a vast majority of people are gravitating towards. But Vimeo's only stipulation on the deal was that we release episodes before the year was done, and we've always done them in cycles of threes. We finished six episodes at the end of September, and we figured three in November, three in January was a timeline we could work with. Because post-production is just me, an assistant editor, and a sound guy. We're just giving ourselves enough time to make it as best as we can make it.
Filmmaker: Can you speak a little bit about your process when it comes to creating a character? Do you draw up back stories, or just plop them into scenarios and let the characteristics work themselves out?
BS: All of our characters embody a vibe more than anything. We develop composites of thoughts, feelings, and situations that float around in our everyday life and try to let them coalesce organically. We like to give the audience credit and just show them a few visual indicators of a vibe that we hope they will recognize from their lives.
Filmmaker: Do you already have the next cycle planned?
KB: We know the six stories we want to tell. The kernels are there.
BS: High Maintenance as a series could last for a very, very long time, if we're given the proper breathing room. We're just two people, it takes time.
Filmmaker: I imagine it's hard for you, though, to write a character and be done with it after one episode.
BS: Of course. But when we think of a new one, it gets very exciting.