Back to selection
Five Questions for Ann Marie Fleming and Sandra Oh About Their Indiegogo Project, Window Horses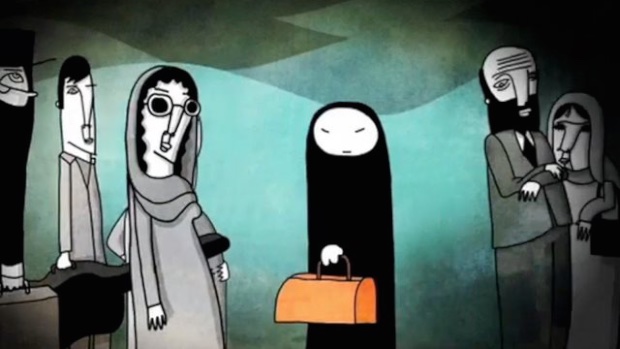 Window Horses
Currently raising funds on Indiegogo is an ambitious animated feature by filmmaker Ann Marie Fleming, Window Horses. With a lead character voiced by Sandra Oh, the film uses the medium of poetry to explore ideas of cross cultural exchange. From their Indiegogo page:
In this coming-of-age story, Rosie Ming, a young Canadian poet, is invited to perform at a Poetry Festival in Shiraz, Iran, but she'd rather be in Paris. She lives at home with her over-protective Chinese grandparents and has never been anywhere by herself. Once in Iran, she finds herself in the company of poets and Persians, all who tell her stories that force her to confront her past; the Iranian father she assumed abandoned her and the nature of Poetry itself. Rosie goes on an unwitting journey of forgiveness, reconciliation, and perhaps above all, understanding, through learning about her father's past, her own complicated cultural identity, and her responsibility to it. It's about building bridges across generations and cultures through the magic of Poetry.
We asked Fleming and Oh five questions about the inspiration for the film, engaging the Iranian diaspora and the role of crowdfunding in Canadian independent film production. Please learn more at Indiegogo and consider donating.
Filmmaker: Ann Marie, you've said your story was inspired by time you spent at an artists' retreat in Germany. How did the setting for your film then transpose to Iran?
Fleming: In the mid-'90s I was invited to an artist residency in Germany, the Akademie Schloss Solitude, where I was surrounded by artists from different cultures and countries, and they told their stories of exile, migration, and homeland. I am an immigrant myself and was deeply touched by tales of generations who did not speak the same language, live in the same place nor know each others' stories. Also, I learned a lot about the experience of the German diaspora after the Second World War, especially in North America: the discrimination, the difficulty, the schisms between generations. Also, while I was in Germany I was introduced to the poetry of Rumi. Rumi and Rilke share a special relationship. And learning German — as I later learnt a little Farsi — taught me how deeply both languages and cultures are about poetry. Several years later, back in Canada, I became deeply involved with an Iranian family, and as I learned about the culture through their stories I realized that many of the issues Germans faced after WWII were the same as those faced by the persian diaspora after the Islamic revolution. I thought that by moving the story to Iran, I could contemporize it, and by having so many cultures within the story, people could connect the dots that although we are talking about Persian culture we are actually talking about everybody. We are not defined by our wars. We are defined by our art. And, at its core, Window Horses is the story of a daughter searching for her father, searching for her own identity. Trying to find her own voice. And she finds it in Iran.
Filmmaker: Both in its making and in its crowdfunding rewards, the project makes an effort to draw in other artistic voices. What was behind your approach to building community, and how are you drawing other artists and collaborators into the project at different levels?
Fleming: This is an art project. Truly, it seeks to shed a little peace love and understanding on our increasingly complex world and bridge gaps between generations and cultures through the magic of poetry. It is animated, and the original inspiration came from the paintings of the Edo period, where Persian and Chinese art made their way in to and influenced the artists of Japan. The Persian miniature is influenced by Chinese painting, and the styles all lend themselves very well to 2D animation! The calligraphy of China and Iran takes a code and turns it in to another art form, and nowhere is there more of a blending of cultures than in music… the instrumentation and sounds of the Far East to Central Asia. Long story short… I wanted to bring in different artists from different disciplines and cultures because they are another layer of the storytelling. Also, because there are many poems and historical storytelling sections, I am having different animation artists create each piece, so there will be a weaving of styles, lots of voices, though Kevin Langdale is the lead animator and designer. We wanted the campaign rewards to reflect the film, as well. So we have animation, graphic novel, poetry, storytelling contests, rewards. It's a lot of work!
Filmmaker: Sandra, what attracted you to this project? What personal interests does it touch?
Oh: Tttere are several reasons why I fell in love with this project – firstly I've know Ann Marie for years now, and we've been trying to work together off and on for all that time. I love Stickgirl and all she represents and to voice her in such a heartfelt and deep emotional story was something I knew I had to do. Window Horses hits all the things that are important to me – it's pro girl, pro tolerance, pro diversity and PRO ART!! My nieces are mixed race, and it's very important to me that they see themselves represented in this society. It cannot be understated how important it is for people who do not see themselves reflected either at all or negatively on a regular basis that there is a place for them to exist, truthfully and in a whole complex way.
Filmmaker: How are attempting to target members of the Iranian diaspora, whether in Canada or elsewhere, with this project?
Fleming: There are a lot of members of the Iranian diaspora who are participating in this project, from the conception stage to cultural consultants, musicians, artists… and we have also been reaching out to the Iranian community in the U.S. and Canada on a grassroots level — from having tea at people's houses to presenting to the Iranian-American Chamber of Commerce in L.A. I have Iranian film programmers who are championing this. We've approached Iranian American philanthropic foundations. We are also trying to get Farsi media to cover us: print, radio, television. We are just starting to work on this. Sure, some people wonder how this strange film that takes place in Shiraz made by a non-Iranian about poetry and love fits in to their own agendas. But people have approached us, thanks to Sandra's profile and passionate work publicizing this project, and asked how they can help. and the amazing actors — Navid Neghaban, Omid Abtahi, Shoregh Aghdashloo have all made themselves available to help spread the word. They want this story to be told. I have also been in contact with animators in Iran. Anyway, the point is… we are trying to reach out to the Iranian community. Without their interest and support this film could not be made.
Filmmaker: Crowdfunding is now a standard practice in the United States, but how does it fit into the plans of Canadian independent filmmakers? How does it co-exist alongside other Canadian modes of funding, and what role does it play?
Fleming: In Canada, we have several different sources of government funding for the arts. But these funds are being cut back, every year, while there is more and more competition. It's true, we don't have the same tradition of private financing, nor are Canadian filmmakers as a whole as entrepreneurial as our American cousins. (I don't speak for us all). But crowdfunding is becoming more and more where filmmakers are turning to try and get their projects going. I think other funders are looking to it as being a piece of the pie. In fact, because the perks over a certain limit include a DVD of the finished film, it acts as a presale. Quite apart from the financial aspect, the promotion that is required to run one of these campaigns is intense, and the profile and outreach that it can lead to is amazing. You get to engage with your audience before you make the film. You know where they are. You know why they are interested, what they are thinking. Having this information helps with raising more funds, beyond the Indiegogo campaign. It is also truly humbling to know that people are taking money out of their own pockets to help you realize your vision because they see themselves in it, too, and they want to be part of it. Pretty heady stuff!