Back to selection
Red River Vallée: Wild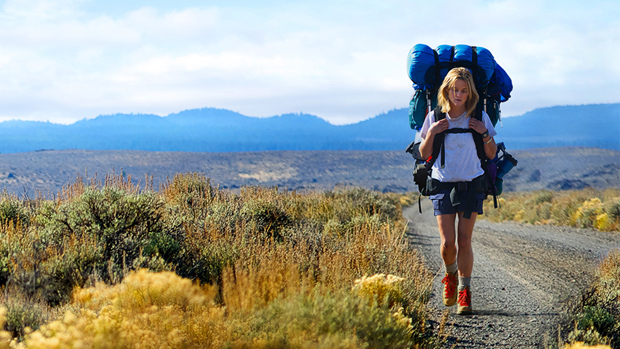 Reese Witherspoon in Wild
It is Day 80 of a tremendously difficult, three-month, 1100-mile trek up the Pacific Crest Trail, from the Mojave Desert to the Bridge of the Gods that spans the Columbia River at the Oregon-Washington border. On a narrow path in a lush Oregonian rain forest, Cheryl Strayed (Reese Witherspoon) runs into an elderly woman and her grandson — an angel-faced child of no more than five — accompanied, perhaps not so strangely, by a pet llama.
The precocious boy politely offers her a tune. His rendition of "Red River Valley" is as innocent as the nostalgic lyrics, so pure it topples the last vestiges of defense Strayed has sustained to cope with the early death of her beloved mother — the hardest-hitting of the tragedies that have recently befallen her, causing her life to unravel and precipitating this desperate journey. The moment the trio passes, she falls to her knees, overwhelmed. "God, I miss you!" she shrieks to the elements.
We do not gaze with Strayed into the kid's unblinking eyes. Instead, director Jean-Marc Vallée (C.R.A.Z.Y., The Young Victoria) and cinematographer Yves Bélanger, his collaborator on The Dallas Buyers Club, treat us to a visual feast, a montage of magnificent surrounding vistas, sanctified by the boy's unspoiled, uninflected melody — as if a direct clandestine exchange between filmmaker and spectator bypasses both character and A-list star. The actress does not much matter, except as a requisite mediator.
To be fair, ground zero for the production is not only an interior expedition couched in a grueling physical ordeal, but a thoroughly narcissistic one. The film's "Cheryl Strayed" is based on the memoirist of the same name, whose best-selling 2012 book about her adventure 17 years earlier has been hailed by many, including Oprah, a proven admirer of the self-salvaging narrative. As in the book, our heroine has slipped into a gutter full of syringes and cock — the word choice here echoing imagery the filmmaker has chosen to reflect the frank coarseness of her writing. For other readers, she crosses the line into extreme self-indulgence. I see her as a remnant of Tom Wolfe's early '70s "Me Generation." From book and film: "My life…all belonging to me. What if I was never redeemed? What if I already was?"
In a Guardian review, author Frances Stonor Saunders aptly describes Strayed's unapologetic solipsism (she changed her name legally from Nyland):
What follows is a thoroughly artless transcription of personal history, a kind of anti-Kerouac memoir where the heat of immediacy is sacrificed, maddeningly, to the cooler demands of meaningfulness. A bear appears on the trail, runs off when Strayed blows her emergency whistle, but in which direction, ahead of her or behind? […] The bear is significant. For her. It exists, like everything else in what might otherwise have been a striking landscape, only as a subdivision of her own concerns.
Ah, yes. Symbols. Cliches. Literalizations (a fork in the road?) Self-absorption. They're all connected.
The endgame of the film might well be the merger of the sublime essence of natural exteriors with the healed, reintegrated interior state of a woman who has masochistically pursued salvation by the linear act of hiking unprepared, her self-involvement displacing her lack of foresight. (The PCT is America's longest through-trail.) While Strayed's personal growth over 90 days is marked by verbose interior monologues and pretentious journal entries quoting literary greats, Vallée and Bélanger appear from on-screen evidence to be more engaged in capturing the primordial beauty of the natural world and the irregular contours of memory. Screw New Agey self-evolution: surface matters.
With a small crew, they filmed Wild in widescreen, mostly in long takes, with almost every outdoor shot utilizing only available light. The ARRI ALEXA camera was handheld, with Zeiss Master Prime lenses giving utmost detail to faces in both close-ups and panoramas. The urban scenes at the beginning (Strayed lives in Minneapolis) have a slightly marred texture, unlike the clean outdoor shots that appear once the mobile rehab stint begins. Then, in the editing room, under the pseudonym John Mac McMurphy (a nod to One Flew Over the Cuckoo's Nest), Vallée and fellow-Dallas Buyers Club alum Martin Pensa fragment and accelerate several scenes.
The filmmaker also dices the music, songs by pop artists from the '60s and '70s (Simon & Garfunkel, Joni Mitchell, Leonard Cohen, the Shangri-Las) — an era shared by Strayed-the-child and her mother — which are sometimes heard as merely a few words, at other times only inside her own head until she suddenly finishes them off aloud. Cosmic consciousness seems to require a great amount of dissociation.
There are spots where the star system and the director-as-aesthete cordially collide, with positive results. After all, Vallée is a filmmaker-for-hire here, engaged by Witherspoon's production company as a vehicle for her following his success directing two Oscar-winning actors in The Dallas Buyers Club. As in that film, the assorted kindred spirits and rotten apples Strayed bumps into in this walking road movie are, with the help of screenwriter Nick Hornby (An Education), nicely sketched out and surveyed. Witherspoon is good at the give and take, especially with the one woman she meets and the gentle experienced hiker she takes a bit of a shine to. Vallée makes sure they are shot around and about, literally, so that they are not tossed off as two-dimensional constructs. They are full-blooded searchers in their own right, probably more real than Strayed.
Wisely, Hornby plays her tinhorn tendencies for laughs, but it's easy stuff, like schlepping a gargantuan backpack and running out of food on account of taking the wrong cooking oil. Strayed and Witherspoon herself are almost interchangeable; both are poseuses. There is Oscar talk about the star's work here, but she is just that, a star, a presence that muddies her face and musses her hair, which looks as if it was greased with peanut butter cups. She alters her facial expressions to suit the situation, but does little that takes her beyond a few slight stretches along the way. Wild is said to be a comeback for Witherspoon, but she just may be stuck in a black hole lying somewhere between Election's teenage Tracy Flick and the youthful-looking 38-year-old mother who famously yelled at a cop doing his job last year, "Do you know who I am?" Stars can be precious (handlers make them that way). In an excellent production story in Outdoors, Tim Neville writes at some length about his observations on set, incidentally recounting that, even when they shared a vehicle, he was forbidden to speak to Witherspoon. Nu?
Cheryl carries novels and books of poetry which she reads in her tent at night. You can't fault an aspiring writer for gobbling up Faulkner, Michener, and Flannery O'Connor, among others, but you can when they quote them in their journal and add their own name following the famous person's. "Robert Frost and Cheryl Strayed?" I think Vallée might find relief in his next project, Get It While You Can, a film about a better artist played by a more diverse actress: Amy Adams as Janis Joplin.
One memorable performance breaks your heart. Laura Dern portrays Strayed's mother, Bobbi, dead at 45, one of the most loving and giving moms, certainly among dirt-poor moms, committed to screen. She is, of course, drawn in flashback, according to Strayed's recall and only in relation to her. Bobbi's other object of affection is a mare, the mercy killing of which following her death has left a deep memory-stirring scar in her psyche, enabling Vallée to create one of the more successful trigger sequences. Bobbi is all warmth, but Dern plays her with nuance. Her interpretation certifies Cheryl's fierce attachment to her legacy.
Mom is loving even when on the defense. "Don't you get it? We have nothing, Mom," Strayed scolds her. "There's nothing I don't get," Bobbi responds with measured tartness, "but then what?" Bobbi has survived an abusive alcoholic husband and raised two children on her own. She even found the time to attend college with her daughter, reading some of the same consciousness-raising feminist poetry of the day by the likes of Adrienne Rich. Lines from authors of her ilk sound more sincere coming from the mouth of grounded Bobbi than in voiceover from the pages of her daughter's travel diary.
Vulgarities, literary giants, significant altered names: few films have placed so much importance on the word. The spate of movies about books or language and love over the past few years are jejune by comparison. But here it is: a picture ostensibly concentrated on nature and memory, reality and the imprint it leaves behind succeeds in honoring this basic unit of communication, of expression of our innermost thoughts and emotions. Vallée may have pitched his tent onto a different subject — a metaphysical creation of temporal leaps and human intervention — but the real-life Cheryl Strayed, narcissist or not, talented scribe or not, is on to something. Hornby takes it for his screenplay, Vallée manages to maneuver the concept in the shooting and editing, and in close-up, Witherspoon writes and articulates meaningful terms. Everyone is on the same page.