Back to selection
"Creation is Still a Great Adventure": 5 Questions for Salt of the Earth Director Wim Wenders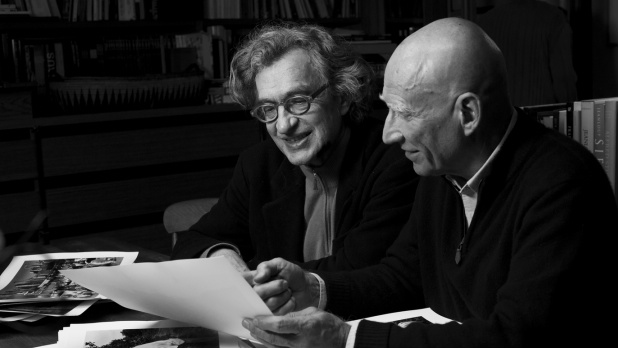 Wim Wenders and Sebastião Salgado in Salt of the Earth
Few modern photographers have covered as much of the planet as Brazilian photographer Sebastião Salgado. For several decades, he travelled the continents to document major events shaping history: genocide, war, starvation, and exodus. Deeply affected by the intense trauma he witnessed, he put down his camera. He picked it up again for Genesis, a hugely ambitious project dedicated to the earth's beauty, where he photographed areas of the planet untouched by humans.
Filmmaker Wim Wenders joined forces with Salgado's son, Juliano Ribeiro Salgado to co-direct this intimate portrait of one our greatest living artists. The film won the Special Prize in the Un Certain Regard section this year at Cannes and is one of 15 feature documentaries shortlisted by the Oscars. We sat down with Wenders at the Rome Film Festival, before the film's Italian premiere, to discuss the methodology behind the film, how Wenders got so close to his subject, and his fascination with documenting other artists.
Salt of the Earth will be released by Sony Pictures Classics in the U.S. in April.
Filmmaker: How did this project come to life?
Wenders: I knew Sebastião's photography for more than 30 years and he had become my favorite living photographer. And I thought, "What a pity I had never met him." So, a few years ago, with the help of an Italian friend, I got his address and I met him in Paris with no intention to make a movie. I just finally wanted to see this man because his photographs mattered so much to me.
We became friends. We talked and he showed me his new work. He was still in the middle of Genesis. I met his family. I also met his son, who had started a project with his father, but they were both not so sure what it could possibly become. We started to talk, the three of us, and Sebastião was curious to find out from me if I thought that his photography, especially the Genesis project, could exist in some other form other than an exhibition with prints or books. He wondered whether this experience could somehow also be shown on a screen.
We talked a lot about it and I finally came to the conclusion that he shouldn't do that. It would become like a slideshow. He continued to show me more work of Genesis and each time he showed me something, he told me the story that went with it. So I realized he was a fantastic storyteller. Eventually I told him, "Sebastião, there's one way that you could show your photographs on the big screen. If you show them with the stories that you've just telling me, then I think they could survive on a movie screen."
Filmmaker: What did you learn from him in the process of making the documentary?
Wenders: There's no one concrete thing that I learned from him, but still there were a number of enormous lessons. To be so radical, and once you've made a realization, draw your conclusions and then change your life, that was something amazing. This man had a great career as an economist ahead of him, and then realized he had a gift for photography and completely changed his life and started from scratch. I don't think many people do that today. And then 30 years later, he gave up that photography because he realized he couldn't handle it anymore. He put his camera down and said, "That was the last picture I've taken. I can't do it anymore." That too is radical.
Then through the encounter with nature, he realized he had a different gift — not just to witness suffering and misery, and become a voice for the underprivileged people, but that he also had a gift to make you see the beauty of our planet. And then he reinvented himself as a photographer again. I think his radical nature really impressed me a lot and was a great lesson together with the fact that there's a man who always dedicated a lot of his life into his work. Genesis took him 12 years, Exodus or Workers took him eight to 10 years. There's somebody really obsessive to go to the bottom of something and not just scratch it.
Filmmaker: What was the collaboration like with Juliano Ribeiro Salgado?
Wenders: All the journeys to Papua New Guinea or to the Amazon or to Siberia, all these journeys are shot by his son. I did these interviews and everything concerning the Instituto Terra in Brazil. In the end we edited the film together and it didn't matter who had done what; we really treated it as the film that we were going to do together. We had to learn how to do this, because in the beginning I was editing mine and he was editing his, and then we realized this would never become a movie. We had to really sit down and treat everything alike and become the co-authors of one film, not of two different films.
Filmmaker: What attracts you to making films about other artists?
Wenders: I think the artistic process is one of the great adventures left in our modern times. There are very few adventures left to be done by traveling anywhere because everyone has already been everywhere, but creation is still a great adventure. And I have always been interested in how the creative process works in other craft and other arts. I made a film about a fashion designer. I made a film about musicians, about a choreographer, and now about a photographer, trying to understand the process and also trying to understand what their language has in common with my language of filmmaking.
Filmmaker: What was your secret to getting Salgado to open up so much about his work?
Wenders: I really made this film twice. Once I shot it for several weeks in a more conventional way. Sebastião and I would be sitting at a table and we would go through books and he would tell me the story of each picture, or we had huge stacks of photographs and we would talk about each and every one.
I realized that when he was with that photograph and when he was really going deep into his memory, it was much different than when he was looking up and telling me the story, because then it became indirect and almost a routine for him. So, I realized I had to find a different way to do this movie, and I had to find a way that he could really only be confronting his photographs.
We invented a dark room, which is already a privileged space for the photographer. He was completely in the dark. He didn't see anything else but his own photograph. It was in front of him on a semi-transparent mirror. In television it's called a teleprompter; that's the same instrument except that we didn't give him text like speakers on television but his own photographs. He saw nothing else, he completely disappeared in his memory, and looking at his photographs he was also looking into our camera. The camera was behind that screen, except that he didn't see the camera and he didn't see me. He only talked, and at the same time he had very direct contact with the audience, looking into the camera. And that became then the film.