Back to selection
Collaborating with James Franco on The Color of Time: Five Directors Discuss the C.K. Williams Adapation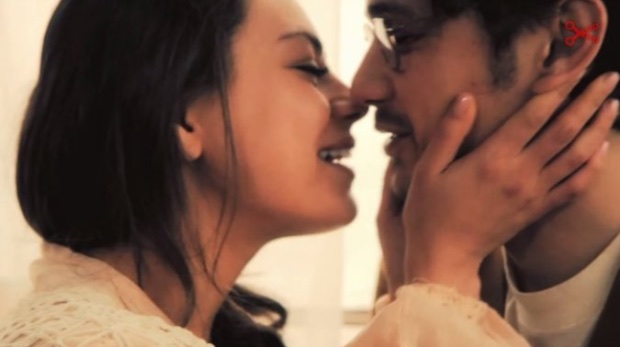 Working nights and weekends while in Detroit shooting Oz the Great and the Powerful, James Franco turned what started out as directing exercise into an unusual anthology film directed by a dozen students from his NYU Graduate Film School class. Based on the life and poems of C.K. Williams, The Color of Time is unlike most anthology films in that its sections are intercut with each other, and it's unlike most film school-derived works in that it stars A-list talent like Franco, Mila Kunis and Jessica Chasten. The film itself, however, is no by-the-numbers biopic; instead, it seeks to translate Williams' cadences into fleeting bursts of memory and feeling.
Below, we talked with five of the film's directors about working with Franco, anthology film successes and failures, and how they managed their collaboration. The Color of Time is in theaters today and is available on digital platforms like iTunes.
Filmmaker: What are your thoughts on anthology films — which have worked, which haven't worked, and how did you adapt your practice for the format?
Gabrielle Demeestere: I've always liked movies like Paris, Je T'aime and seeing how different filmmakers come up with different short films around one idea or location. But The Color of Time feels like a different project than other anthology films I've seen in that it eventually became about actively connecting the short films to each other and creating a single, unified piece centered on the book of poetry itself.
There was actually something a little dissatisfying about seeing the short films back to back at the beginning of the edit, and the film as a whole took a more radical turn once we decided that it would be an interesting experiment to intercut the short films together. We gave ourselves the license to play around with time and snippets of memories, so that the film became an exploration of one man's memory, unified by C.K. Williams' poetry in voice-over.
Bruce Thierry Cheung: We were hoping to create a film that flows the way memory does. Sometimes we remember stories as a whole, and sometimes our memories are hazy and disjointed. Each director in The Color of Time tackled a different poem and phase in our main character's life. Our approach in the edit is to make a film that was fluid, not as episodic as most anthology films. We sought to blend them together, almost like a collage, jumping from one film to another and then back again. We wanted to blur the past and the present, capture the feeling of how the past and the present are sometimes one, merged on an emotional level.
Pamela Romanowsky: For The Color of Time, each writer/director made a self-contained vignette, but the intention was always to weave them together into something more unified and cohesive. Short Cuts and Nashville are favorite references for me. Altman has such organic elegance in the way he handles ensemble narratives.
Knowing that we wanted to integrate our shorts extensively, our group found places at the script stage where each vignette could blend into another, kept a shared visual style and aesthetic in mind during production, and then shot additional footage to serve as narrative connective tissue.
Virginia Urreiztieta: There are many different kinds of anthology films. Some of them share a theme, or a character, or maybe even just a location or a city. In a way, anthology films are the most experimental form in feature films we see today. Structures, rhythm, and the storytelling can be very different to the traditional ways. Some of them fail, some of them work by accident. 
As for The Color of Time, there was sense of what the overall character's journey was. And the DPs had a lot to do with unifying different visual styles. But other than that, it was just an attempt to make a small story work within itself.
Shruti Ganguly: I actually enjoy anthology films and I like the "I Love" series from Paris Je T'Aime to New York I Love You, but that being said, these are all so separate, while being connected through a common theme. I would look at Todd Haynes' I'm Not There as more of a reference as we were telling different chapters of one person's life.
Filmmaker: What degree of interaction did you have, if any, with the other directors?
Demeestere: We were all in the class together during the writing stages of the film. We started out writing short scripts based on the individual poems from Tar and sharing them with each other for feedback. It was interesting to see the scripts grow organically and respond to each other in unexpected ways: we eventually decided to create a timeline of the poet's life together in which we identified repeating themes and characters.
And then James suggested we shoot the entire scripts during one-day test shoots, which was an amazing preparation for the actual shoot and a great lesson in filmmaking in terms of learning how to react in the moment to unforeseen circumstances. It also allowed all of us to see each other's footage ahead of time and get a clearer sense of how these films might exist side-by-side and fit together. By the end of this process, we were able to leave our egos aside and try to make something in response to something larger, which were the poems themselves.
The pre-production followed by the shoot in Detroit was a bonding experience. We stayed in an Extended Stay hotel, where we took over the breakfast room with our production office and an enormous printer that took up half the room. We became very close. A lot of us stayed on past our production time to help the other directors on their shoots; I worked in the art department for several weeks after my shoot was done. And a lot of us still work as a team to this day. I worked with the same producers, DP, production designer and actors on my first feature, Yosemite, last year and frequently go to the other directors for feedback on scripts, rough cut screenings, life advice etc.
Cheung: It was super collaborative! We went to Detroit and lived in the same hotel. It was a new, exciting city for all of us, and we scouted it together and discovered a lot of interesting new ideas together. I feel like each of our movies captured a sense of the director's individual style while blending together in an unpredictable way.
Romanowsky: We worked together extensively. We had a lot of development time and a great leader in James Franco. One thing he really excels at is collaboration and he inspires a great foundation of communication and trust in the people he works with. Our group of writer/directors met weekly during development to read new work, give each other notes and develop the network of shared images, themes, characters and arcs that we would use to understand and assemble the film as a whole. My fellow directors are an insanely smart and talented bunch, and we had a great time working as a collective brain. During production, we all lived together in a hotel in Detroit, and we worked as crew members on other directors' sets. It was a blast.
Urreiztieta: From the beginning we all understood that one way or another all of our films together needed to feel like one cohesive piece, so interaction among the directors was crucial. I guess something that really helped us understand the madness of getting a bunch of films to flow like one was when we did our directing exercises, which basically meant shooting a full version of each script without the real locations, actors or crew, but instead a few friends acting and filming. After that, we watched one film after the other to try to see if the magic would happen. So, obviously instead of magic, we were left more confused and concerned on how our pieces would ever come together as one. So, we (all the directors) began to have weekly discussions in order to find the elements, characters and anything else that would help the film flow as one.
Ganguly: 
We interacted non-stop, all the time, and that's how we were able to make a movie like this. The Color of Time has been built on the foundations of collaboration and communication, which is always necessary to make any film, but we really took it a step further… To craft one single feature with 12 unique perspectives and voices, on one life. We had open discussions about references, aesthetics and styles, and found a unique middle ground in which to operate!

Filmmaker: Why did you select the poem you selected?
Demeestere: I liked the mood of the poem "Neglect," which is about the decay of a small industrial town in Pennsylvania in the early 1980s. As a poem, it's not driven by a single narrative but by small, shocking narrative images (a young boy reading a porn magazine unsupervised in a convenient store, the wasting industrial hills etc.), which allowed me to tell a more mysterious and looser story by using these strong poetic images as a guiding force.
In the poem, the narrator stops in this town on a bus ride to somewhere else, but it made sense to make it a road trip once we decided to shoot the film in Detroit. This road trip ended up being the drive that partly triggers the memories that make up the film, but we didn't discover this as a structuring device until later in the editing process.
Cheung: I chose the poem "From My Window" because of how precise it was. It places the reader in a single moment (a man at his window), but that one moment can be stretched out almost infinitely as his mind wanders through time and memories.  
Romanowsky: I adapted "Tar," which was the latest poem in the film chronologically. In it, C.K. spends the morning with his wife and young son, watching a pair of roofers instead of processing the pending nuclear disaster at Three Mile Island. One of my cinematic obsessions is memory, the fluid and unpredictable way it behaves, and how it affects our experiences in the present. There's a line in "Tar" that summarizes that experiences with such emotional clarity, and it just gripped me by the heart:
I think I know, though I might rather not, why my roofers stay so clear to me and why the rest, the terror of that time, the reflexive disbelief and distancing, all we should hold onto, dims
Urreiztieta: I chose "The Gas Station" because I was immediately drawn to the only female character in the poem: "His whore, his girl, or his wife or his mother." And how everything said about her and her actions was so simply raw, brutal:
"She was like a machine. When I lift her back to me now, there's nothing there but that dark, curly head, working, a machine, up and down…"
Those images, that woman, her complexity compelled me and at the same time created the challenge to make her real.
But, what struck me the most about this poem was that it portraits two states of consciousness through which C.K. experiences and recalls that night and that morning at the gas station. The first is the one described by C.K. as:
"How pure we were then"; "I don't think there were three words in my head yet"
This state is led by instincts and emotions: "a kind of being in the world spontaneously."
The other is a state of contemplation. So, I thought that it would be great that in the film, instead of being the older C.K. to have this reflection about his past that it should be him as a teenager at that exact moment that he's with the "woman" to be suddenly struck by the question: "What am I doing?"
I thought it had more impact to have such a young person having the power to see himself in a different light, to question what an hour ago felt natural, to be present at his probably first moment of self awareness.
Ganguly: I was to direct the poem "Soon," where the poet walks by a decrepit building and he imagines the space from years ago where a teacher taught her hopeful elementary school class, but now he realizes that promise may have been futile. The elements of education and opportunity connect with me greatly and I enjoy teaching. We had shot half the film in Detroit but then one of our main actors dropped out last minute, and we had to scrap that whole chapter. I then ended up directing James as he reads the poetry collection Tar to a group of listeners, which acts as a source of glue for the other pieces, which we ended up filming in New York.