Back to selection
Sundance '15: Cinematographer Sean Price Williams on Shooting Christmas Again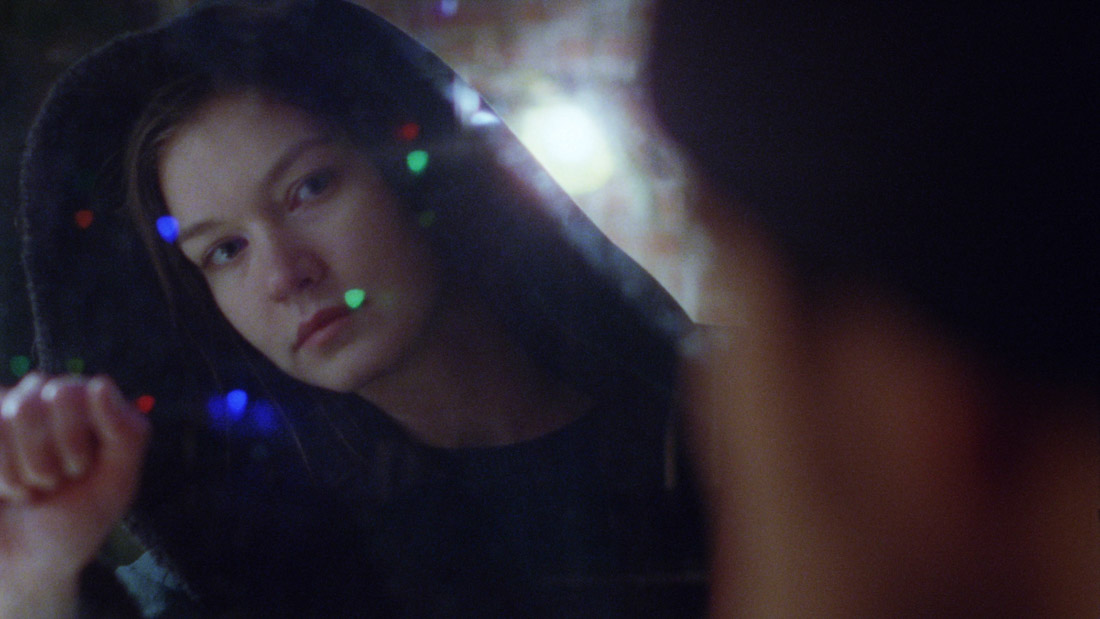 Christmas, Again
In an interview elsewhere on this site, director Charles Poekel said he wanted his feature Christmas, Again to look like a "Christmas tree ornament from your attic." With that directive, what better D.P. to hire than Sean Price Williams? His love of and delicate touch with celluloid — its textures, its organic feel — shine through in such films as Listen Up, Philip and The Black Balloon. And his mobile camerawork and ability to shapeshift to whatever the production environment dictates made him an ideal collaborator for Poekel, who was shooting his first feature in his own Christmas tree stand during the New York holiday season.
Christmas, Again, screening in Sundance's NEXT section, stars Kentucker Audley and Hannah Gross in a melancholy romance set in the wintery shadows of the holiday lights. Below, Williams discusses those lights as well as film stock, loneliness and '80s Godard.
Filmmaker: How and why did you wind up being the cinematographer of your film? What were the factors and attributes that led to your being hired for this job?
Williams: I have known Charlie [Poekel] for years and was excited about the project when he first talked about it so long ago. He was very insistent that we would shoot on film which was another way to my heart. We did a test back then, to relieve his concerns of shooting 16mm in a primarily night exterior film. I assured him that film was very flexible and would, in fact, yield the most lovely results in that situation.
Filmmaker: What were your artistic goals on this film, and how did you realize them? How did you want your cinematography to enhance the film's storytelling and treatment of its characters?
Williams: The film has a very lonely feeling to it. I wanted the tree stand to feel like a bright island surrounded by black night. People come into it from the darkness. From black. We don't know where they came from nor where they go. Daylight provides him his only escape, but it is also unwelcome and harsh.
Filmmaker: What were the biggest challenges posed by production to those goals?
Williams: We had nowhere to escape from the cold except inside the tiny trailer, which was also a major set, and Charlie's apartment which was about five minutes away. I am into shooting in extreme climates as long as it appears in the film. So I was just hoping the lead actors looked as uncomfortable as all of us felt.
Filmmaker: What camera did you shoot on? Why did you choose that camera? What lenses did you use?
Williams: We shot on an Aaton Super 16mm camera. There is no reason to choose any other camera if one is shooting on 16mm in my opinion. I had used the same exact camera in Cuba the year before so I had faith in it entirely. We shot with some older Zeiss lenses. I had just been watching all the Godard films during the retrospective that fall, and I just love his '80s films. And the triangular bokeh of those particular lenses made even more sense as they look like little Christmas trees…
Filmmaker: Describe your approach to lighting.
Williams: I asked that Charlie and Trevor [Peterson] put up two or three times the amount of Christmas lights than normal knowing that it would be not only prettier art direction, but that it would provide most of our practical light. We had no film lights. Just the practicals and a few clamp lights with tungsten bulbs that we would move around to fill in. We also had a china ball in the trailer of the stand to enhance the existing light in there.
Filmmaker: What was the most difficult scene to realize and why? And how did you do it?
Williams: There were a few challenging scenes. Whenever there is action outside of the stand at night, I didn't want to really light much as I was afraid it would ruin the effect of the emptiness beyond. So I would take some risks. I am pretty happy with how they turned out, but at the time of shooting I was a little nervous that it would be a mess. Shooting the scene with Kentucker and Hannah waiting for the tea flower was tricky for a few reasons, lighting and space/coverage. But I couldn't be happier with how that turned out as to me it is clearly the most wonderful part of the film.
Filmmaker: Finally, describe the finishing of the film. How much of your look was "baked in" versus realized in the DI?
Williams: I would say 100% of the look was baked in. The dailies were gorgeous. I was in Greece when the film had to go to color correct. I told the guys at Metropolis (where I always try to do post) and Charlie to just make it look like the dailies. So Charlie and Jason Crump did it without me, and when I watched the film in Locarno, I forgot that I wasn't even there for that often crucial step. I always try to get it as close to right as possible in the shooting. I am still old fashioned, maybe, plus you never know where you will be when the film has to be finished all of a sudden for a goddamn festival.