Back to selection
"I've Made it a Priority to Not Be Afraid of Evolving": Jennifer Cochis on Producing, Programming and Directing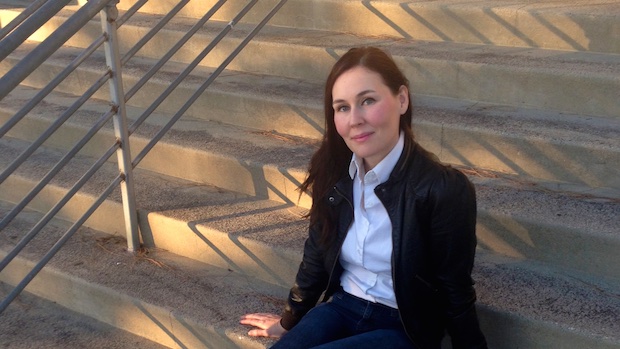 Jennifer Cochis
My German teacher in Berlin has been hacked. In class, she violates her "no speaking English" rule to explain that for nearly a year, a hacker has tracked her digital life in order to stalk her in real life. I've never been personally hacked — or so I think — but, the inconvenience of it seems rather minor compared to the sense of intimate violation. The Sony leak, the stolen photos of Jennifer Lawrence, and my teacher's less gossip-worthy admission all underscore this pervasive reality of digital fragility.
This is a topical conversation, but it's also a really abstract one. It's difficult for me to understand how my digital existence can sometimes feel like a fractured representation of reality. It's a strange sensation to curate my digital self on Facebook and censor it in work-related emails. I find my virtual persona to feel more like an elusive façade than anything else. I think this is why I'm uneasy — what once was a bifurcation of our private and public selves is now an ambiguous trifurcation with our digital ones. For me, the intersection of these multiple personas feels duplicitous. On one hand, I represent myself in three distinct forms, and on the other hand, I am a hollow version of all three.
I've probably maxed out my Bergman quota in this column, but no film better conveys the breakdown of fractured identity than his 1966 film Persona. I can only imagine how Bergman would envision today's digital identity disorder. Fortunately, many great contemporary films, such as Spike Jonze's Her, are exploring the digital landscape's impact on our identities. In my conversation with Jennifer Cochis, she describes film as a cultural barometer. She cleverly observes, "Filmmakers are the canaries in the coal mine." I'm unsure if filmmakers are regularly linked to this idiom or if she invents it on the spot — either way, it resonates.
Jennifer Cochis is an award-winning producer, a Sundance Creative Producing Lab alum, and a Sundance Sheila C. Johnson Fellow. All the films she has produced have played the most prestigious film festivals in the world, and they have all won awards. In addition to her accomplishments as a producer, Cochis is a writer, soon-to-be director, and the Senior Programmer at the Los Angeles Film Festival. In thinking about inhabiting personas, I wonder how Cochis manages to cohesively present and protect herself. Her jobs, while all film-related, each require different strategy and positioning. But Cochis is anything but disjointed. She says that the revealing process of who we are is bound to be complex, and that feeling at odds with sharing or self-censoring is part of finding our way. To me, she's found her way. During our interview, she says she talks to her mom the same way she'd talk to Prince William, which is the same way she speaks to me. She's joking, but I believe her.
I've spoken with Cochis in the past, but we don't meet face to face until our Skype interview. Nine hours apart in the universe, we say our goodbyes — she is heading to a ballet class, and me to bed. After we hang up, I try to browse her Facebook life only to bittersweetly realize she doesn't have one.
After years of indie producing, how does it feel to be starting a new position as the Senior Programmer of the Los Angeles Film Festival?
I'm really excited to be watching and discussing films. I don't know how I could nerd out any harder.
What about the job most excites you?
Outside of the watching films? It'd be bringing people together. Festivals give filmmakers a unique platform to personally connect with an audience. Also, programming jobs at film festivals rarely open up, so what's happened at the Los Angeles Film Festival is very exciting in terms of new staff and our mission. It's pretty extraordinary actually. I'm really looking forward to working with Stephanie Allain (Festival Director), Roya Rastegar (Associate Director, Programming and Curated Content) and Elvis Mitchell (Film Independent Curator). The whole team is so passionate, so diverse, and just inspiring.
This isn't your first glimpse into the world of festival programming. You used to work for Geoffrey Gilmore when he was the Director of the Sundance Film Festival.
I did, I learned from the best. Having spent years as Geoff's assistant, I got to see so much and work alongside some of the most wonderful people I know. It was that job that completely cemented my love for storytelling. I will never stop thanking Geoff for hiring me.
Starting your new job fresh in 2015, are there any particular resolutions you have in mind?
To watch and to learn. Do those even count? I'm not a big fan of New Year's resolutions. I tend to just check-in with myself regularly because if I set out to do something, no matter what time of year, watch out.
This is probably why you are a good producer. Now that you are programmer too, perhaps you'll have to adapt and learn new or different sets of skills.
I hope so. With producing it's always about how many plates I can very elegantly spin at once. Not long ago, I had two films in competition at Sundance [2012, Smashed in Dramatic Competition and The Other Dream Team in Documentary Competition]. I split my focus between them, while also having another film in post that was about to start its festival run. I developed skills during that time that I didn't even know I had. I'm looking forward to what my six months of programming at the Los Angeles Film Festival and working at Film Independent is going to teach me.
Do you still want to produce?
Absolutely, I was good at it and I look forward to returning to it. But right now, I'm ready for a change. I live and breathe for change. We aren't our parent's generation, where if we're lucky we plug away at the same job for our whole lives to get a gold watch at the end. I've made it a priority to not be afraid of evolving. This business is funny. When people identify you as something they're like, "Do that! Forever!" And as a creative person, I can't imagine living my life that way.
Do you think you'll ever work outside of the film industry?
Not anytime soon. What's important to me about filmmaking above any other medium is that it's collaborative. The work of hundreds, sometimes thousands of people go into telling a story. And that story might go on to make someone laugh, or cry, or sing 50 years from now. It lives. That's pretty magical. I don't know if I could ever leave that behind.
You spent last year in Europe, traveling and writing. How did you decide to try your hand at screenwriting and directing?
I've been very quietly and deliberately going about it. I started saying no to producing projects and got as far out of L.A. as I could. If I were to sit around and wait for someone to tell me that I'm ready to direct, I might be waiting for the rest of my life. I didn't know I could be a producer until I went and did it. This is no different except it's time for me to go and direct my first feature.   
This also goes back to your comment about multitasking. Do you think it will ever feel chaotic to simultaneously wear the programmer and the filmmaker hats?
I don't think my eye as a programmer will compete with my voice as a filmmaker. It's right-hand, left-hand. It'll make me a better filmmaker to see all the work out there. Likewise, it'll make me a better programmer to have my practical knowledge of filmmaking to draw from. I think they'll compliment one another.
As a young producer, was it isolating to work without direct guidance or mentorship, at least in the beginning?
As a producer you're actively overseeing everything so it's complicated when you run into something you didn't even know could be a problem. And each film is entirely unique, so there will always be something you've never encountered before. Prior to the Sundance Creative Producing Lab, I felt really isolated, just totally reinventing the wheel, never knowing if there was a better way. It was through the Sundance Feature Film Program that I found my first allies to confide in and learn from, that was incredibly important. It was the missing piece.
Today, what does camaraderie look like for you?
A small group of us email each other when we need crew recommendations, or want to know about another's experience with a particular distribution company or financier. We're living resources that are non-competitive, and we're all charting new territory and reporting back what we've learned. We visit each other on our sets, give notes on scripts and rough cuts, and go to each other's films when they come out. We even Tweet in support of one another, it's a pretty great group.
What is most important in your friendships?
The usual stuff I suppose. Listening. Showing up, even when it's inconvenient. Being honest. Loyal. And also knowing when it's time to shut it all down and have a dance party. With my girlfriends, we get so much negativity from every direction for essentially existing, so being each other's advocates is our way of combating some of that. And for my friends that are in the business, it's all about support. Rooting for each other. Hiring each other. Getting each other on those lists.
Beyond publically supporting one another, how else do you think women can move forward?
Most of the people I know wait in dread for the annual release of data reports that break down the number of women and minorities working in key roles in entertainment. We all know it's going to be grim, but how grim? Year after year, those numbers are published and they're never acceptable, but we persist. That's why creating a community of empowerment is so vital in a business where inequality is institutionalized. It isn't up to women alone to move forward. On an individual level, my approach is to keep going in spite of those statistics. I'm ambitious, and I don't try to make other people feel comfortable by appearing to want less, or by minimizing my intentions. I have work to do.  
  
Does that ambition ever distract you from enjoying the present?
It's a big part of who I am. But if tomorrow somehow becomes more important than today, that's when I make readjustments.