Back to selection
Five Questions for Welcome to Leith Directors Michael Beach Nichols & Christopher K. Walker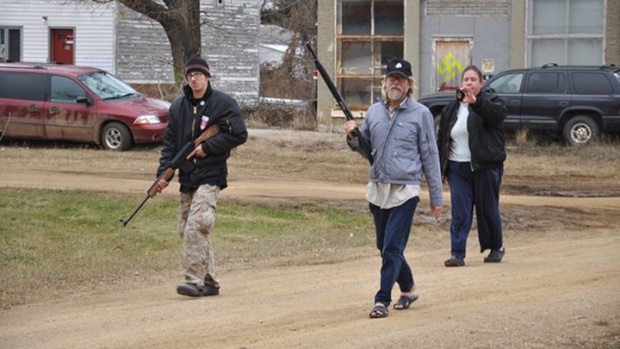 Welcome to Leith (Photo: Gregory Bruce)
Documentary has a rich history of films by filmmakers who must honestly engage subjects with odious views. Directors Michael Beach Nichols and Christopher Walker stumbled across one such fellow in Craig Cobb, a white supremacist with a devious and possibly quite legal plan to produce a white power enclave in the American heartland. Premiering at Sundance in the Documentary Competition, their Welcome to Leith chronicles the story of the town of Leith against Cobb but also, implicitly, their own story of engaging their subject — who says he's available for Skype interviews after the premiere.
Welcome to Leith premieres Monday, January 26 at Sundance.
Filmmaker: Documentaries usually produce strange, complicated relationships between filmmakers and their subjects. Tell me about yours.
Nichols & Walker: That's definitely true. In this instance, our relationship with Craig Cobb, a heavyweight in the white supremacist world, led to exposure to a community that Chris and I really knew little about. But that's part of what's so interesting about this line of work — making documentaries gives you access to ideas and groups that you otherwise wouldn't look into. Cobb understands that Chris and I don't share his views, but trusts that as filmmakers we're committed to listening to them insofar as they relate to the story.
Filmmaker: What were the challenges of making a movie about such real-time events and confrontations? And how long did you live in the town of Leith?
Nichols & Walker: The biggest challenge for us was figuring out how to get to North Dakota from NYC quickly enough to keep covering the story with its many unexpected twists and turns. Luckily we were able to partner up with some incredible producers who believed in the potential of the project (Jenner Furst and Julia Willoughby Nason of The Cinemart and Joey Carey and Stefan Nowicki of Sundial Pictures) — they helped to ensure we could get out there at a moment's notice.
We made three trips to Leith, with each lasting close to three weeks. Bismarck was our home base (a 90-minute drive from Leith) — it was helpful for us to be in a city so we could maintain our gear if any issues arose, but it was also a way to respect the community and give them a little space from our cameras.
Filmmaker: Tell me about your relationship as directors — how did your work divide, and were there disagreements during the course of the film?
Nichols & Walker: This was Chris's first film as a director, and my second, though we'd worked together for five years at a production company called Blowback with Marc Levin and Mark Benjamin. So we went into this project pretty familiar with each other's process. In the field, I was the main camera, while Chris ran audio and would shoot second camera if we were getting b-roll. We edited the film as well, so I think we were fortunate in having a relatively clear vision of the story as we were capturing it. We're both pretty committed to the two-director set up — there's that feeling that someone has your back, and the process is necessarily more collaborative and flexible to both people's ideas and inspirations. I'm racking my brain, but I don't recall any disagreements — I think we're both new enough to the filmmaking game that we're still open to trying anything and trusting that both our ideas deserve to be explored.
Filmmaker: Had you gone to the town of Leith before discovering this story, and did you attempt to insert yourself there, or did you function more as outside observers?
Nichols & Walker: Neither of us had been to North Dakota before making this film, but we were intrigued by the region's landscape and its cinematic potential. I think we were perceived as trusted outsiders – residents on either side of the conflict understood that we were there to document the story from all perspectives. It's a small town, so people could easily spot our car and know who we were with at all times.
Filmmaker: You guys made this film partially with crowdfunding. What communities did you target in your campaign, and how did you reach them?
Nichols & Walker: We reached out to a lot of blogs that had covered the news story or had shared our initial teaser, in addition to our own networks. Most of our traffic ended up being from The Daily Kos, a leftist news blog. Some people from Unity ND, a group formed to combat Cobb's takeover plan, shared our Kickstarter campaign with them and their subsequent post generated the bulk of our fundraising and pushed us over the finish line. We also did a Reddit IAmA, which resulted in a ton of hits to our trailer and helped to spread the word about the project.