Back to selection
"THE MONASTERY"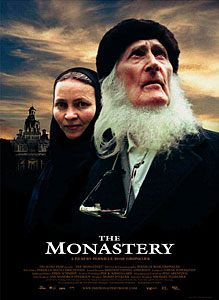 This heartfelt doc of one man's attempt to give something back to the world before he leaves it has gone on to win the hearts of festival goers all over the world. Following the journey of Mr. Vig, an elderly Danish man who's been a lifelong bachelor and recluse, he offers up his 50 year old castle to the Moscow Patriarchate so that they can turn it into a Russian Orthodox monastery. But seeing it hasn't been inhabited in 20 years there's much work that needs to be done before the church can accept his offer.
When the strong willed nun, Sister Amvrosija, comes to look over the castle that's when the fireworks start as Vig begins to disapprove of her harsh opinions of what needs to be done with the place which leads to Vig rethinking his initial offer of the place.
But as the doc goes on, the connection Vig has with director-cinematographer Pernille Rose Gronkjaer reveals a softer side. We learn that Vig is a bitter man who doesn't get along with people, especially Russians, but with some great insightful questions from Gronkjaer, Vig opens up about his willingness to go on with the renovations and his fondness of Amvrosija, who become kindred spirits by the end of the film which spans five years of the castle's transformation into a monastery.
Vig is quite the character. Hard of hearing and a little eccentric, he walks around with his glasses barely hanging on the tip of his nose and there's that beard. Vig passed away at Christmas, but his lifelong dream to leave his mark on the world didn't go in vein.
Not much to the features, only the theatrical trailer and deleted scenes.
DVD hits streets this week through Koch Lorber Films for $26.98.
[AMAZONPRODUCT=B000Z27H7M]