Back to selection
Transmedia in Miami: Diliana Alexander on FilmGate Interactive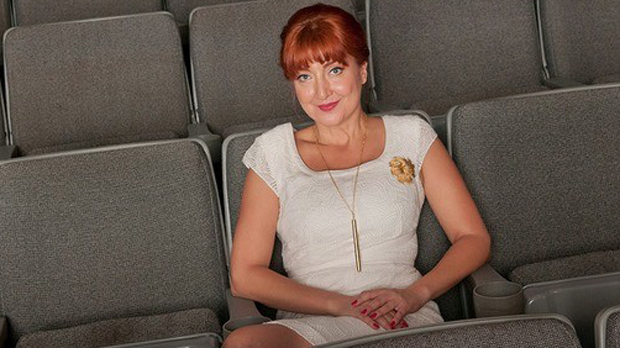 It seems that everywhere you look these days festivals and conferences for new media are springing up, and one of the fastest growing is Miami's FilmGate Interactive, running this year from February 1-8. Now in its third year, FilmGate has already hosted numerous screenings, presentations, workshops, and works-in-progress. One of last year's presenters, Jake Price, showed an early version of his new project The Invisible Season, about the Japanese tsunami and nuclear accident, that went on to screen at the New York Film Festival. Other past presenters have included POV Interactive and the NFB, and this year individuals like Murmur's Mike Knowlton and Culture Hacker's Lance Weiler will be bringing new work.
FilmGate grew out of a need seen by its founder and executive director Diliana Alexander for a transmedia-based event in south Florida. In her own filmmaking and organizing of Miami's independent film community, she saw more and more projects leaning toward interactivity. FilmGate not only provides a forum for these producers to connect but helps galvanize projects on a national scale. And, as her comments below show, Alexander expects only growth for the fledgling festival.
Filmmaker: Can you tell me where the concept for FilmGate Interactive came from? How did it all come together, and how does it relate to your work with Indie Film Club Miami?
Alexander: Indie Film Club Miami sounds and is somewhat traditional: we are a support organization for independent filmmakers in South Florida. We have monthly screenings, networking events and labs. We provide production resources. We are all filmmakers, so IFCM came out of a necessity. We created the organization that we needed. Yet, we began to get restless in a traditional narrative formats. We were looking around at the whirlwind of technological change and how it was affecting us as independent creators. To us it became obvious that cross platform and audience engagement is going to be where we would like to play. I know this is not going to sound fun, but we wanted to provide a platform for the new digital creative and audience that is not just cat videos. We planned to explore the bridge between new tech and engaging, meaningful storytelling. We intended to reflect the regional spirit, knowing that Miami is a multicultural and multilingual nodal point, connecting the U.S. to South and Central America and the Caribbean, with large presences from Canada and Europe. This is how FilmGate came about. It now is a seven-day event, a hybrid between a conference and a festival.
Filmmaker: This will be the event's third year, and you've grown quickly. How has it evolved and where do you see it going in the future?
Alexander: Even though we had worked at many festivals, conceiving and starting one was like launching a startup — so much blood sweat and tears, yet incredibly rewarding. In our first year, we had to pretty much explain to everyone what interactive and immersive is. We even put on a "WTF is Transmedia?" workshop. Then, creatives from Canada, Australia, Peru, and Columbia attended. Immediately we were international and we were hosting these incredibly bright and creative filmmakers who were meeting and exchanging ideas, and we and the Miami audience absorbed and learned. In our second year, we won the John S. and James L. Knight Foundation Art Challenge Grant, and it helped us to bring more filmmakers from around the world, as well as to support projects with some funding. Let me say, the Miami audience is the most accepting, nonjudgmental, ready for anything people I have ever met. That's important when you are presenting new ideas and are asking them to participate. This year it feels like we finally organized our thoughts — interactive screenings, interactive labs, interactive exhibits, the Interactive Tech Playground, where you find new tech from startups like AJA and EROS to blue chip clients like SONY, as well as CNTRL ALT DANCE, where we explore performance pieces in dance, theater and, for the first year ever, an opera. We concentrate solely on interactive and immserive storytelling, the projects you will usually find in a corner at another festival. For us this is the format of the future. We will continue reaching out to creators around the world as more of them enter the space — there were some wonderful creators from Brazil, Columbia and England that we talked to but ran out of time and resources to program. We plan on kickstarting immersive and interactive projects, right here in Miami during FilmGate 2015, that we would like to see screened next year.
Filmmaker: Can you give us a run-down of the different events? What are some of the presenters and projects that you're most excited for this year?
Alexander: This is not picking favorites. I want to highlight new programs that represent our philosophy, introduce new elements to our programming and represent new voices.
For the first time we have programming for teens and, as you can imagine, interactive and immersive is native to high school students. So, instead of explaining, we are challenging them to change the future through the Learn+Do+Share Lab.  he Lab is an open space for collaboration, design function and social innovation and is conceived by Lance Weiler and his Reboot Stories team. It will be led by Lance and Magalis Martinez, and it will welcome high-schools teens, aged 14 to 19, to prototype, design and storyboard their wish for the future. These three thoughts embody Lance's team's and our philosophy: we learn from everyone, we do by prototyping and we share what we learn. Youth from across the city will come together and tackle a big issue — rising waters and how they will affect our coastal communities.
For the first year ever, we are welcoming MIT's Open Documentary Lab. Documentary filmmaker Sean Flynn and sound artist Halsey Burgund will discuss some of the research conducted at the Lab, followed by a hands-on workshop using the open-source mobile platform Roundware to create a location-based audio documentary. Participants will learn about the platform as well as go outside and experience a Roundware installation and contribute to it in real time.
Jake Price's The Invisible Season, an interactive exhibit that accompanies a feature-length film and web doc, produced by POV Digital, is so special to us because last year Jake did a walkthrough of a work in progress and this year we are presenting the complete project. Set in post-meltdown Fukushima nearly four years after the calamitous event, the doc creates an portrait of four residents as they strive to hold on to their identity and ancestral heritage. Rather than abandon the land they love, they have decied to remain. Bringing it home, we are hosting it at the Art Deco Welcome Centre on Ocean Drive; we wanted the audience to hear the sounds of the ocean and see the precious coast line as they come in and depart the exhibit.
Filmmaker: Some of those programs illustrate the fact that this isn't just a film or transmedia festival. You showcase a lot of new technology as well at the Tech Playground. What is that like, something comparable to CES?
Alexander: It probably is more of an intimate NAB, a curated experience where you don't get lost between booths and you are not intimidated by the gear. Our goal is to highlight new tech in terms of how it will affect us as visual storytellers, from virtual reality to drones to 4K. We have startups that got funded through Kickstarter and are now entering the market with really cool gear. Then we have Sony, which continues to innovate. We compliment the gear with workshops and an interactive live set, so anycone can play. We highlight locally grown companies; if there are whispers about Miami being a rising tech center, let's show that it's not just rumors.
Filmmaker: A lot of projects that you've showcased have been nonfiction, such as those done by the NFB and POV. How do fiction projects play into what's going on there?
Alexander: That's true and this year we have MIT Doc Lab in attendance, as well as the interactive doc The And that is getting a lot of attention here. Miami's The Raven and Deep City are also docs that we chose to present immersively.
Yet, we have an incredible fiction project like Future States, the revolutionary series produced by ITVS that proposes seven answers in the format of seven short films of what will America look like in 10, 15, even 20 years. Then, Jacqueries is an augmented reality political heist story told through movement in the backalleys of South Beach. Our locally grown project – transmedia opera Melancholialand – tells the dark tragicomic story of three artist/engineers who design mind-altering experiences enhanced by self-pleasing technologies.
Filmmaker: Any ideas about what trends might be the most important for interactive filmmakers to look for in the next few years?
Alexander: What a great question, and there is no way I can give an expert answer — I can only dream. Like everyone else, I experienced the democratization of the creative process. What ten years ago was William Gibson territory is now affordable and common: 3D printing, high resolution, drones and virtual reality wearables. The entry barrier is getting lower and that invites more players; the options are more varied and that makes the game more interesting; there are game changers every year. I imagine that will result in really interesting projects. I know as filmmakers we will leave the confinements of a traditional physical space and explore the outside, as well as virtual spaces. We have more tools, more freedom. By making your audience global, by inviting them to participate in the creative process and the conversation, by not putting them down and by challenging them, by pushing their buttons and pushing their boundaries, maybe we can really change things.