Back to selection
Five Questions for Boy Meets Girl Director Eric Schaeffer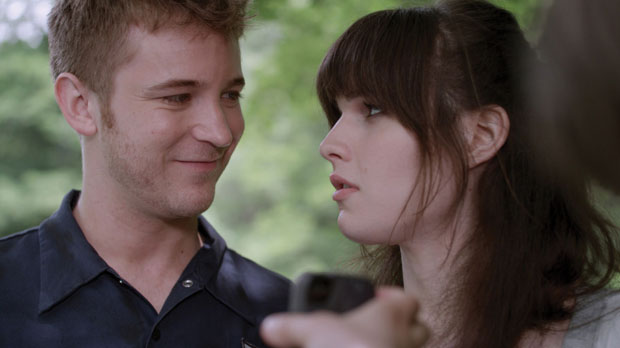 When Filmmaker last checked in on Eric Schaeffer in 2013, he was busy making his web series, Eric Schaeffer: Life Coach. The article focused on Schaeffer's determination to create the piece in any format necessary, as he transformed what was originally planned as a feature film into a self-produced web series that he produced himself. Schaeffer's next project is a feature film that took much of the same DIY determination. Boy Meets Girl is a romantic coming-of-age comedy, a staple of indie fare, but here featuring a transgender protagonist. The film investigates sexual identity and gender in very relevant ways in the days following Transparent's Golden Globe win for best musical or comedy television series.
Boy Meets Girl, after an extensive festival run, opens at the Village East in New York on February 6.
Filmmaker: You've had a varied and prolific career since the early 1990s, with Eric Schaeffer: Life Coach your most recent major project. How did you move from that to Boy Meets Girl?
Schaeffer: I feel very lucky and humbled that audiences in the forever-changing landscape of TV and independent film have continued to be interested in my stuff. Obviously it means the world to me that my films and shows mean something to people. I've only ever had one goal and that's to unite people. That's why — even though my work may, on the surface, seem varied in comedic and dramatic tone — the underlying themes that I hope always resonate are the same. Regardless of how we identify sexually — straight, gay, bi — and no matter how we identify our gender — cisgender male, cisgender female, or transgender — and no matter what race we are, no matter what our emotional and sexual interests are, we are all ultimately interested in the same thing: loving and being loved.
My TV show, Eric Schaeffer: Life Coach, followed my last feature film, After Fall, Winter, which was very dark. I really wanted to do something much lighter and funnier. Of course "light" is relative in my work, but Life Coach certainly gave me and hopefully the audience a chance to laugh. In thinking what my next movie was going to be, I really wanted, while working with the same themes that continue to be important to me, to give audiences, old and new, a chance to see my films in a fresh light which might allow them to cultivate a new perspective they might not have been able to have if the landscape of the film were similar to my previous ones. The main change to that end was for me not to act in it as I had most of my previous films and shows. By taking my acting persona out of the equation it would certainly be a different movie from the get-go. Also, making the film about people in their early twenties and from a small rural town, not New York, those changes too would constitute a considerable difference from my previous films.
I hoped that by creating a story that cosmetically looked so different than my other films, but at its heart was from the same family, more people might feel invited to watch and listen. My desire to be malleable (in order to find a greater audience, to challenge myself creatively, and to be more effective in saying what I want to say in a way people can hear it) was the real motivation for making this film.
Filmmaker: Can you talk about casting Michelle Hendley (at right in the picture above) and the other performers? Was it difficult at all to find her?
Schaeffer: I thought it was really important to cast a transgender woman to play the transgender character of Ricky in the film. Being an independent filmmaker, I had the latitude to cast a trans woman and not have to satisfy a studio (which would have ponied up a ton of money) by casting a famous cisgender man or cisgender woman, which likely they would have required. I felt it socially important that a trans woman play the trans part. I am also excited at the prospect of opportunities for trans actors to play cisgender characters. I'm thinking of doing that in my next film actually.
But at present, there are very few trans actresses available to audition through the normal channels (calling agents and managers and casting directors), so I had to get creative in finding Michelle. I posted ads at the LGBT Center in New York, I asked all my friends if they knew any trans actresses, and of course took to Google where I searched "transgender actresses, transgender women." After following numerous cracks in the cement and going down various rabbit holes as you always do when you're on the internet trying to research any topic, finally I found Michelle, who had a YouTube channel with a bunch of vlogs where she talked about her life, her loves, her fashion, etc. She looked perfect for the part. [She is] in her early twenties, is very beautiful and clearly has no problem being in front of a camera in front of a lot of strangers.
I got in touch with her, asking if she would be interested in auditioning for my film. Not being familiar with my work, she was understandably dubious of the offer out of the blue from some guy claiming to be a director on the Internet. But after verifying that I was indeed a serious filmmaker and taking me up on my offer to talk to her father to further convince and assure them this was very legitimate, she auditioned on Skype. She had never acted at all and was in cosmetology school in Missouri. But as I suspected, she had a raw, natural talent. I sent her to an acting coach in St. Louis for remedial "growl like a lion" "Acting 101" work and some scene study and continued to rehearse with her via Skype. I flew her to NYC and workshopped the entire script with her and other actors. Michelle worked very hard, was clearly committed and kept getting better and better, so I gave her the part, and the rest is history. It really is an amazing story in and of itself, and I feel very lucky to have found her. Considering how hard it is to act well on film, especially an indie film where you shoot at lightning speed, she really did an amazing job well beyond her experience.
And Michael Welch aced the traditional auditions we had in L.A. and was clearly the right man for the part. He was fantastic, and I loved working with him. It was clear this story and character meant a lot to him, and he embraced it whole heartedly. The rest of the cast I found through auditions in NYC.
Filmmaker: What was the fundraising process like? Like I said you do have an enviable track record, but you also keep pushing boundaries, either in format or theme; does that make fundraising more difficult?
Schaeffer: Thank you. I take that as a compliment. I think pushing boundaries in a way that helps us thoughtfully challenge our preconceptions is valuable. Even if I end up disagreeing and returning to my original ideas of how life should be lived, I believe I can only grow by at least considering a new idea and trying to walk a mile in another person's shoes. And more often than not, a veil of fear and ignorance falls, if only a little, and the possibility of unity comes that much closer. In that way I think art can be very powerful. The art, not the artist. The artist is inconsequential. Anonymous. And, I think, should be in any discussion of their art. Only in that way is it possible to have a truly unbiased reaction, so that the art can work its magic on somebody.
I was able to raise ten percent of the budget on IndieGoGo through the wonderful and generous support and family, friends and supporters of my work. I brought on another producer, Elisa Pugliese, who was able to help with IndieGoGo and bring in 20 percent from private investors, and I found the rest of the budget from other private investors. The good thing about the changing landscape in indie film is that now, with digital, a film can look fantastic for much less money. And because my theory on making a film is "pick a date to start shooting and do not move off it for ANY reason," it's kind of a self-fulfilling prophecy. I start shooting with what and who I have. If I have raised millions and cast stars, great, I make the film that way. If I have cast amazing unknown or little-known actors and thousands instead of millions, great, I make the film that way. I go out with both modes of attack and then do battle with whoever has shown up. That philosophy has held me in good stead and kept me busy over the last 20 years. It's definitely a riskier life, but one where I am more assured of achieving my goals. And those are to stay out of the cab (which I drove for eight years) and continue making movies and TV shows. So far so good. I still have my hack license on my desk as incentive; it expired in 1992, the year Donny (Donal Lardner Ward) and I made My Life's In Turnaround.
Filmmaker: Now that you're going into release, do any of the same issues apply with finding a distributor or a target audience? I'm curious how you found The Film Collaborative and to what extent the film is trying to reach beyond an LGBT audience to the general public — or at least the indie film-watching public.
Schaeffer: Finding a distributor was the same process as it was for my previous eight films. All of them have had theatrical releases. I may be old school but I believe that after all the hard work it takes to get a film made, it deserves to be screened 40 feet high in a dark theater. You bring your mom and your girlfriend, get popcorn and Raisinets and Coke and experience it in a community of people.
In the present world of truly indie film, theatrical releases are few and far between, but it's a deal breaker for me, and I'm willing to forego an advance in favor of a theatrical release if the choice is one or the other. To catch lightning in a bottle and be that one film that breaks out, you have to be in a theater to have a shot. I dream big, and by doing so I've been lucky enough to enjoy some of those dreams coming true. More often than not, I get shot to the ground, but I'd rather try my best, leave it all out on the floor and die a thousand deaths than go to my grave having lived a life where the fear of losing ruled my actions and kept me from putting it out there. That's a cowardly life.
So I showed the film to distributors at the biggest and best festivals I got into. A wonderful filmmaker, Darren Stein, is a friend and was generous enough to offer his help and turn me on to The Film Collaborative. Jeffrey Winter there has been great and very helpful. I then got Kevin Iwashina to rep the film, and we showed it to the usual suspects and decided Wolfe Releasing was the best home for it, and they have been awesome.
While the film has won 30 "Best" awards during its predominantly LGBT Festival run, and hopefully LGBT audiences will continue to like and support the film when it goes into theaters, this film is absolutely for straight audiences as well. That's the point of the movie: love transcends transgender. Who we fall in love with and who we want to have sex with is more fluid for more people now than it ever has been. Having a movie by a straight filmmaker, with a straight male leading character who has complicated feelings for a transgender girl, will hopefully allow all audiences, but especially straight audiences, to relax and accept their own personal desires that might have been sources of shame and self-hatred before.
I really hope that seeing open sexual fluidity, dealt with in a loving and accepting manner mirrored in our art, will be a conduit to self-acceptance in the viewer which will lead to greater unity. That's why I hope straight audiences as well as LGBT audiences will see the film. Regardless of whether or not they "like" the film, I'm hoping audiences will walk away saying, "that was just like a regular romantic dramedy." And so it is.
Filmmaker: On that note, however, the general public has been increasingly accepting of transgender issues in fiction and nonfiction films–all the way up to Orange is the New Black's very broad popularity. How does Boy Meets Girl fit into that landscape?
Schaeffer: Orange and Transparent are two shows I love. They reveal the human condition as just that, human. Not the straight condition. Not the female condition. Not the trans condition. Not the gay condition. The human condition. Inherent in that human condition are more similarities than differences. Those shows and my film focus on those similarities rather than the differences specific to gender and sexual orientation. We all know the differences. They can be fun and funny and interesting but they have been mined to death. I find the real gold is mining our similarities, the ones most people don't dare acknowledge themselves having let alone admit to others. The product of that secrecy is destroying humanity. The conditions people feel they must place on their own humanity rather than embracing their very natural, healthy human condition, without shame, without hatred, with truth devoid of fear. Without condition. That's why those shows are so universally loved. They mirror all of us. Our circumstances, bodies, colors, races, genders, families may be very different, but at the core, we are all exactly the same, where it matters. In our hearts. I hope my film can present even just a little bit of that for those who see it, and have the desire to let it mirror their inner truth.