Back to selection
The 2015 True/False Film Fest Lineup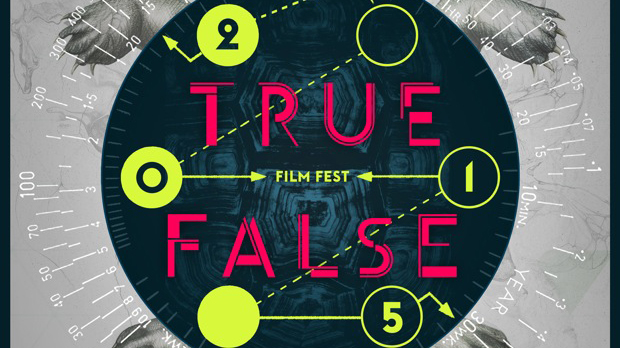 Here's the 39-film strong main lineup of this year's True/False Film Fest, the increasingly-prominent annual documentary festival (with room for what that means) that takes place in Columbia, Missouri. Our coverage begins when the festival does; this year it runs from March 5th-8th.
Almost There (Aaron Wickenden, Dan Rybicky) — "Almost There is a coming-of-(old)-age story about 83-year-old Peter Anton, an "outsider" artist living in isolated and crippling conditions whose world changes when two filmmakers discover his work and storied past. Shot over eight years, Almost There documents Anton's first major exhibition and how the controversy it generates forces him to leave his childhood home. Each layer revealed reflects on the intersections of social norms, elder care, and artistic expression." (Kartemquin Films)
Best of Enemies (Morgan Neville, Robert Gordon) — The William Buckley-Gore Vidal debates examined and retold.
Bitter Lake (Adam Curtis) — In his latest, Adam Curtis tackles Saudi Arabia's relationship with the U.S. He's not pleased.
Cartel Land (Matthew Heineman) — "In the Mexican state of Michoacán, Dr. Jose Mireles, a small-town physician known as "El Doctor," leads the Autodefensas, a citizen uprising against the violent Knights Templar drug cartel that has wreaked havoc on the region for years. Meanwhile, in Arizona's Altar Valley – a narrow, 52-mile-long desert corridor known as Cocaine Alley – Tim 'Nailer' Foley, an American veteran, heads a small paramilitary group called Arizona Border Recon, whose goal is to stop Mexico's drug wars from seeping across our border. Filmmaker Matthew Heineman embeds himself in the heart of darkness as Nailer, El Doctor, and the cartel each vie to bring their own brand of justice to a society where institutions have failed." (Official site)
The Chinese Mayor (Hao Zhou)) — A vital, riveting look at non-democracy in quasi-action in one Chinese city.
Drone (Tonje Hessen Schei) — "Drone follows people on both sides of the drone technology. The unique access to drone victims in Waziristan is juxtaposed to drone pilots who struggle to come to terms with the new warfare. The film covers diverse and integral ground from the recruitment of young pilots at gaming conventions and the re-definition of "going to war", to the moral stance of engineers behind the technology, the world leaders giving the secret "green light" to engage in the biggest targeted killing program in history, and the people willing to stand up against the violations of civil liberties and fight for transparency, accountability and justice." (Official site)
Field Niggas (Khalik Allah) — New York street life from a New York street photographer.
Finders Keepers (Bryan Carberry and Clay Tweel) — "Shannon Whisnant has a nose for a bargain. But when he bought a used grill at a North Carolina auction, the severed human foot he found among its ashes was not part of the deal. Soon the gruesome discovery becomes the toast of the infotainment world, and the new owner spies a golden opportunity to cash in on the media frenzy, until struggling addict and amputee John Wood recognizes his missing member and demands his own foot back." (Sundance catalogue description)
Going Clear (Alex Gibney) — A look into Scientology from the prolific documentarian.
Heaven Knows What (Josh and Benny Safdie) — "Harley (Arielle Holmes) is madly in love with Ilya (Caleb Landry Jones). She's sure he loves her just as much, if only he could express it. Both of them are heroin addicts, kids who pretend to be heavy-metal rockers but spend their time scuffling, arguing, and preying on each other as they wander around New York looking for a fix and the chump change to pay for it. The script, based on a Holmes's memoir and written by the Safdies with Ronald Bronstein, is a miracle of economy. Sean Price Williams's cinematography expresses the clouded vision of kids who can't imagine how invisible they are to the New Yorkers who take their homes and jobs for granted. And the Safdie Brothers, in their toughest and richest movie, direct a cast composed largely of first-time actors so that they disappear into their characters, horrify us, and break our hearts." (NYFF catalogue description)
How to Change the World (Jerry Rothwell) — " In 1971, a group of friends sail a boat into a nuclear test zone, and their protest captures the world's imagination. How To Change the World is a hippie heist movie, the story of the pioneers who founded Greenpeace and defined the modern green movement, using rare archival footage that brings their extraordinary world to life." (Official director site)
I Am The People (Anna Roussillon)) — "January 2011 in Egypt was marked by anti-government demonstrations. While tens of thousands of protestors gathered in Cairo, poor villagers in the country's south followed the tense situation on Tahrir Square on their TV screens and in the daily newspapers. It is from their perspective that this documentary captures the political changes in Egypt, from the toppling of President Mubarak to the election of Mohamed Morsi. The film reveals the villagers' hopes and disappointments, and shows that despite the wild events, very little has actually changed in their lives." (Jihlava International Documentary Film Festival)
Invasion (Abner Benaim) — "Panama's first Oscar submission for the Academy Awards foreign-language category, […] Invasion narrates the U.S. 1989 invasion to oust General Manuel Noriega from the point-of-view of ordinary Panamanians, including people nearly killed in its bombing, members of its makeshift military defense, journalists, historians and ordinary but often articulate Panamanian citizens." (Variety)
Jeff, Embrace Your Past (Roger Teich) — A documentary about Jeff Koons.
The Jinx: The Life and Deaths of Robert Durst (Andrew Jarecki) — Capturing the Friedmans documentarian Jarecki investigates the subject matter of his fiction feature All Good Things in this HBO documentary mini-series.
Kurt Cobain: Montage of Heck (Brett Morgen) — A documentary about Kurt Cobain.
Life According to Ohad (Eri Daniel Erlich) — "Ohad is an animal-rights activist. After years of being cut off from his family, he tries to heal the wounds and go home, but their decision to eat meat still stands in his way. Will the family manage to reconnect?" (The Tel Aviv International Documentary Film Festival)
Maidan (Sergei Loznitsa) — The Ukrainian ouster of Viktor Yanukovych in activist real time, captured at the square where it all happened with mathematical precision by Loznitsa.
The Measure of All Things (Sam Green) — "The Measure of All Things is a new 'live documentary' by Academy Award-nominated filmmaker Sam Green. The film, which premiered at the 2014 Sundance Film Festival, is a meditation on fate, time, and the outer contours of the human experience. Inspired very loosely by the Guinness Book of Records, The Measure of All Things weaves together a series of portraits of record-holding people, places, and things, including the tallest man (7 feet 9 inches), the oldest living thing (a 5,000 year old Bristlecone Pine in Southern California), the man struck by lightning the most times (seven!), the oldest living person (116), and the woman with the world's longest name, among others. Drawing inspiration equally from old travelogues, the Benshi tradition, and TED talks, The Measure of All Things is screened with in-person narration and a live soundtrack." (Official site)
Meru (Jimmy Chin, E. Chai Vasarhelyi) — "Rising above the headwaters of the sacred Ganges River in Northern India, the magnificent Shark's Fin of Mount Meru is a 21,000-foot peak stacked with so many obstacles that it's both a nightmare and an irresistible siren call for the world's toughest climbers—many of whom have attempted and failed to summit the elusive mountain. Meru is the electrifying story of three elite American climbers—Conrad Anker, Jimmy Chin, and Renan Ozturk—bent on achieving the impossible." (Sundance catalogue description)
Of Men and War (Laurent Becue-Renard) — "The horrors of the battlefield come home to roost in ways that are both riveting and deeply disturbing in Of Men and War (Des hommes et de la guerre), a remarkable chronicle of Iraq War veterans suffering from the devastating effects of PTSD. Made over a period of five years at a military hospital in northern California, director Laurent Becue-Renard's engrossing study of soldiers coping with trauma through intensive group therapy offers a rare look at real men shaken by real experiences, underlining the monumental courage it takes for them to get their lives back on track." (The Hollywood Reporter)
Probation Time (Avigail Sperber) — "Avigail, the director of this film, is dealing with a break-up from her girlfriend and with raising a child that she had with her. At the same time, her religious family in Jerusalem is struggling with the 'demons' threatening to overwhelm their daughter Ariella. Ariella is an Ethiopian girl, who was adopted by Avigail's parents, Rabbi Daniel and Hannah Sperber, when she was four. She is the tenth child, with nine older siblings, each of whom chose a unique path to follow. But Ariella forces the family to contend with problems of another sort: alcoholism, petty thefts, and prison. Does the story of Ariella have an inevitable ending? Can she accept and absorb the love and concern that surround her? And will her family be able to love her unconditionally? This is a depiction of the fragile bonds that make up a family." (Official site)
Rules of the Game (Claudine Bories and Patrice Chagnard) — "Charting the progress of young job seekers at a mentoring program in a human resources agency over eight months, Rules of the Game is again a thoughtful exploration about how the disfranchised are made to conform to norms they find difficult to comprehend. […] A piece that is urgent in its mission, nonjudgmental in its depiction of its subjects and entirely theatrical in its mise-en-scene and dialogue — a remarkable feat, given how the documentary comprises almost completely of scenes taking place within one single branch office of the nationwide recruitment firm Ingeus." (The Hollywood Reporter)
Il Segreto (Cyop & Kaf) — "In many quarters of Naples the collection of the spruces for the bonfires of Saint Anthony is a tradition, a ritual, an adventurous game that the kids pass down from generation to generation. For those who look at it from the outside, it may just appear as a sequence of acts of vandalisms and yelling till night, that ends with a dangerous fire, too close to the buildings. We wanted to tell about what happens in many streets around the city in January, from a point of view that's the closest to the one of a bunch of kids. Following them in their hunt, their coalitions and tiffs between gangs, observing their behaviours, their language, their codes of conduct." (a href="http://www.cyopekaf.org/en/il-segreto/">Official site)
Silvered Water, Syria Self-Portrait (Ossama Mohammed) — "Young men viciously beaten and humiliated by soldiers; unarmed protestors shot and killed; murdered children in their caskets. It's all here, in often rough footage made, as Mohammed says in voiceover, by 1,001 Syrians. Yet unlike Scheherazade and her 1,001 nights, the collected films are not tales to distract, but visceral images whose potency demands action. The problem is that no one acts: Governments watch Aleppo, Homs, Daraa, Baniyas and countless other cities burn but, like the Nero of myth, fiddle on about nonintervention and realpolitik while we, the public, skim news stories with mute concern." (Variety)
Something Better To Come (Hanna Polak) — "An extraordinary, thirteen-year personal journey about one of the bleakest urban places in the world: a large 'svalka' outside of Moscow. The largest garbage dump in Europe is where our story takes place. It is a fenced-in area where no one is allowed entry—except the garbage trucks that come and go with a chillingly robotic regularity. And yet—people manage to live here, including eleven-year-old Yula, our protagonist. Yula grows up in this forbidden land, and yet she laughs, falls in love, and puts on makeup to be alluring. She dares to dream of getting out one day…" (Director's official site)
Spartacus & Cassandra (Ioannis Nuguet) — "Two Romani children in France are forced to choose between a life on the streets with their parents or a more regular future that includes an education and a roof over their heads but with a foster family instead of their own. […] This 80-minute documentary manages to not only tell a heartrending — if familiar — story but also manages to offset the shiver-inducing grittiness of destitution with some lyrical glimpses of hope and short scenes that showcase the simple joys of childhood that these kids are mostly missing out on." (The Hollywood Reporter)
Tales of the Grim Sleeper (Nick Broomfield) — Broomfield's acclaimed documentary about an LA serial killer whose story raises troubling questions about the LAPD's attitude towards crime in black communities. The official site has a lot of information.
Tea Time (Maite Alberdi) — "Six elderly friends gather to have tea religiously once a month since sixty years ago. In these meetings they find themselves and have fall outs, they reminisce about their common past and try to demonstrate their validity, ignoring for a minute the ailments that afflict them. Afternoons go by but it seems as though time stands still, but it's presence is felt because they slowly disappear." (IDFA catalogue description)
(T)ERROR (Lyric R. Cabral and David Sutcliffe) — "I have closely known the main character of our film for 12 years, and have witnessed, firsthand, many of the salient moments of his lengthy career as an FBI counterterrorism informant. We met while he was active in two separate international and domestic sting operations, and our trusting relationship has always been complicated by both government surveillance and the turbulence of his past. Because of his desire to reveal his story for a wide audience, I have wrestled with the balance of bluntly articulating my feelings toward our main character, and the journalistic obligation of telling the "reality" of his story without the interference of my moral judgments. Since David Felix Sutcliffe and I began filming (T)ERROR in January 2012, our emotions and feelings toward our main character have oscillated as he has increasingly revealed the depths of his character on camera." (Lyric R. Cabral)
Those Who Feel The Fire Burning (Morgan Knibbe) — "The night is pitch-black, the sea stormy. Wild waves break on a little boat full of refugees, where a girl laments that she does not want to go to Europe. Suddenly an old man falls overboard. In vain he tries to grab the saving hands. Colored lightning flashes over a busy city seen from above. From that point on, the drowned man sees reality from another dimension. Unconventional and poetic in form, Those Who Feel the Fire Burning documents a serious social problem: the hopeless situation of the refugees who actually manage to make the crossing alive. The seeking soul of the old man hurries along the southern European border and dwells on the many disillusioned people, observing them calmly and up close. They would seem to be in limbo just like him, waiting on the edge of a presumed paradise. He sees people on the street chased away like dogs, follows an illegal worker and a drug-addicted mother and slips inside packed shelters. The voices of all these people blend together with his, creating a patchwork of loving memories, dreams and desires." (IDFA catalogue description)
The Visit (Michael Madsen) — "A documentary with comedy elements, and a philosophical exploration of our fear of strangers through the ultimate threat to our self-image: The discovery of Alien Intelligent Life. In Vienna lies the UN-city, with its late 1970's architecture and its extra-territorial status not unlike a giant spacecraft that has landed in the middle of the civilized world. Inside this impressive institution representing our belief in humanity, resides the UN Office of Outer Space Affairs – the OOSA.The Visit opens with a close-up of an animal. It instinctively reacts to something unknown. Inside the OOSA, a phone rings. Deputy Director-General, astro-physicist, Dr. Mazlan Othman, is informed that an alien has arrived…" (Official site)
Western (Bill and Turner Ross) — "With a gentle hand, Western deposits us in the community of Eagle Pass, Texas, where gruff, mustachioed men in 10-gallon hats herd cattle for a living and life tumbles by, save for a few modern conveniences, the way it has for decades. "Just Another Day in Paradise," announces a plaque on the office wall of the three-term mayor, Chad Foster, a silver-haired (and -tongued) gringo who speaks Spanish with a native's colloquial ease and imparts a sense of level-headed decency wherever he goes. That includes frequent trips into Piedras Negras, the Mexican town that sits just across the border from Eagle Pass, populated by simple, hard-working people who seem mercifully insulated from the drug violence that has turned much of the country into armed conflict zones. Western is about what happens when that violence does finally come a cropper, and how it disrupts the idyllic status quo of both towns." (a href="http://variety.com/2015/film/reviews/sundance-film-review-western-1201411599/">Variety)
What Happened, Miss Simone? (Liz Garbus) — A documentary about Nina Simone.
White Out, Black In Adirley Queirós — "On March 5, 1986, in a run-down disco on the outskirts of Brasilia, a group of cops used a drug raid as an excuse to severely beat everyone present in the dive; all of those beaten were black. The policemen were heard shouting: 'White out, black in.' Marquim and Sartana, two victims of the event, remember that terrible day; the former lost a leg and the latter remains paralyzed. However, remembrance is not all they want. Partially following the wishes of his protagonists, Adirley Queirós chooses to register the mysterious everyday life of these characters in the present instead of recreating their past while allowing them to stage a fantasy to exorcize this bygone event. The staging includes time travelling and an imaginary attack against the capital city, Distrito Federal." (Rotterdam catalogue description)