Back to selection
"WHO IS HENRY JAGLOM?"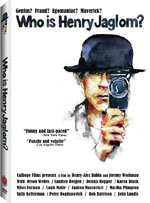 A feminist voice, maverick filmmaker, or just an egomaniac? Filmmaker Henry Jaglom has been called many things and all of them are explored in Henry-Alex Rubin and Jeremy Workman's brief (only 58 minutes) but entertaining documentary.
Armed with his trademark hat, loose tongue and nonstop-running camera, Jaglom explores the inner psyche of his actors and the audience by filming the "reality" of the moment in his films, no matter how damaging it may become to who he's filming. This style has led to comparisons to Cassavetes or Godard, and to some, a hack filmmaker with no talent.
Using archival footage (mostly shot by Jaglom), on-set visits of Jaglom's film Last Summer In The Hamptons (1995), and clips from his other films like Always, Venice/Venice and Someone to Love, Rubin and Workman shot interviews with people who've worked or admired him including Dennis Hopper, Candice Bergen and John Landis in the mid-90s. The doc originally aired on PBS in 1997.
One of the most interesting parts of the film is Jaglom's relationship with Orson Welles at the end of his life. Welles starred in Somone to Love and the two became close, talking often on set and off. This lead to a prickly moment in their relationship as Welles learned Jaglom taped many of the conversations they had (Jaglom says Welles knew they were taped). But this is just one incident in a career filled with weird motivations and incidents.
As we watch Jaglom from the set of Someone to Love, barking orders to his actors, trying to find the truth of the moment (no script in sight) to use for the film, moments later Jaglom listens back to some of his Welles tapes and comes across him saying, "I don't think the camera ever photographs the whole truth," which is interesting as it seems for most of Jaglom's life he's been searching for a truth through his.
Special feature includes Who Isn't Henry Jaglom?, a 30-minute interview with Jaglom looking back on the doc and his portrayal in it.
Released by First Run Features this week for $24.95.
[AMAZONPRODUCT=B0010YSDC2]