Back to selection
Five Women Directors Discuss Their Art and Craft at the Berlin Film Festival
Marielle Heller
I walked out after the first 15 minutes of 50 Shades of Grey. Granted, I thought I was walking into a meeting, so this unexpected private screening caught me off guard. I was also thrown by the venue's attempt to mirror the film's billion-dollar company, "Grey Enterprises." Christian Grey impersonators literally barked orders and insults at the arriving guests. This did not get me in the mood. Also, the film was dubbed in German (which is not to say that I would have preferred to suffer through it in English).
Somewhere between the 15 minutes of 50 shades of folly and the Berlin Film Festival's final night screening of Alex Ross Perry's epic Queen of Earth, I met five filmmakers. In the process, I rode the fastest elevator in Europe, stumbled into a red-carpet photo shoot and got lost in the labyrinth of every Berlinale venue. I would have sat through an entire 50 Shades of Grey screening if it meant getting the chance to sit down with these filmmakers.
Having profiled five international feature filmmakers and one U.S. director at Sundance, I went into the Berlinale looking for the reverse — U.S. feature filmmakers, plus a German standout, but I ended up with a slightly more diverse representation. I met California native and first-time feature filmmaker Marielle Heller, whose The Diary of a Teenage Girl first premiered at Sundance. I sat down with New York-based Lebanese filmmaker Rania Attieh, whose film H first debuted at the Venice Film Festival. I spoke with Texas native and part-time Berlin-based Micah Magee, whose film Petting Zoo is headed next to Austin's South by Southwest Film Festival. Filmmaker Laura Nix has traveled the world to show her work, but is at the Berlinale for the first time with The Yes Men are Revolting, a documentary that premiered at the Toronto International Film Festival. The Berlin-based filmmaker Carolina Hellsgård is actually Swedish, but her first feature Wanja is one of 14 films selected for Berlinale's Perspektive Deutsches Kino. All five films screened in separate categories during Berinale's ten-day marathon of a festival.
Each filmmaker shared with me unique snippets about her life and work. Coincidentally, a town in upstate New York called Troy is the setting for Attieh's film, the residence for "Yes Man" Mike Bonanno in Nix's film, and the home of Magee's parents, where she's also lived and waitressed. Troy is just a random similarity, but one that got me thinking about the connection between all five filmmakers. In talking with them, I realize it's not about the actual facts of their filmmaking process or personal lives. The filmmaking sweet spot they all share has much more to do with how they connect the two.


Marielle Heller, The Diary of a Teenage Girl
How is acting different than directing and writing?
I think an actor is there to serve a greater story, so it's about finding the humanity within a set parameter. But as a writer and a director, you are the one setting those parameters.
Have you always known you were on a path toward writing and directing?
I always wanted to be an actor from the time I was little because that seemed like the way to tell stories. And as I got older I started writing because I wanted to expand the way I could make things. It has expanded into directing, and keeps expanding. I just want to keep making things, so in whatever way I can, I'll do it.
What was the editing process like on The Diary of a Teenage Girl?
I worked with two Belgian editors, who are both wonderful. It was more of a traditional process. We sat side by side, in the trenches together. A movie has to change in the editing room. The actors bring new things to the scenes, so we shift and let all the nuances live. I didn't expect things to shift as much as they did, but ultimately, the edit grew and shaped the film significantly.
Did the script shift on set?
I'm really into words and language so I was pretty attached to the script. But as soon as I started working and talking through everything with the actors, I would rewrite based on their feelings. But it was never loose in the improv sense.
Was it strange to be directing actors rather than acting with them?
Hopefully, I'm able to help guide them because I have an insider idea of the language that they use, and what's helpful and what's not. I have an inherent understanding of the process actors have to go through to do their work, which is really helpful as a director — to give them the space and support they need to do a really difficult job. I think unfortunately a lot of directors are afraid of actors, but I feel really comfortable around them. I just like actors, and I like the craft of acting. And I like the magic that suddenly happens when actors start saying the words.
Did you have moments of insecurity or doubt on set?
I didn't doubt myself on set, but I doubted myself constantly during the months and years leading up to shooting this movie. The weeks of prep were really stressful, but once we started filming, it all felt really good. The moment we shot the first scene between Alexander [Skarsgård] and Bel [Powley], the d.p. Brandon Trost and I looked at each other and knew it was going to work. Then, shooting became so much fun.
What's the difference between the New York theater scene and the film scene?
My film community has largely been the Sundance Labs, which feels a lot like the New York theater community to me, where people watch and respond to each other's work. My film community is just as supportive, creative, and collaborative, as the artistic space of the New York theater community. I've loved getting to know my fellow female filmmakers. There's no competition, there's just a feeling of supporting each other.
You don't feel competition?
I'm super competitive with myself. My husband would say I'm the most competitive person he's ever met, but that's mostly from playing ping-pong. The bottom line is that making movies is so difficult so there's no real room to be competitive with the other people who are struggling through it. It's such a huge thing to accomplish. I just had a baby, and it's like wanting to look into the eyes of other people who have had babies. You also want to look in the eyes of other people who have made movies because it makes you feel less alone, that you can do it.
What do you like least about the film industry?
On one hand, the thing that's really difficult is convincing people that a story is worth telling, but on the other hand, the process of convincing people makes you understand your story more. So you have to go through that process of selling people on it, and getting people excited about the thing that's been living in your head for so long. Also, I think for everybody, writing is a really difficult process. I love writing, but it's also agonizing because it's so easy to get in your own way. To really write something well means being so okay with your own failure.
You just premiered the film at Sundance a few weeks ago. Do you expect the Berlin audiences to respond differently?
At Sundance, there were really audible reactions to the movie that made me really happy. I wonder if the European audience will be less vocal, but we'll see.
Describe your voice as a filmmaker in three words.
Loud. Human. Opinionated 


Rania Attieh, H
You are from Lebanon and moved to Texas for University. Do you want to go back to Lebanon to live or permanently work?
No, neither. As much as I miss it, it's a really stressful place for me to live. We have a bigger community of friends and collaborators in the U.S., but I'd surely like to make more feature films in Lebanon, just not live there.
Describe the long-term collaboration with Daniel Garcia. Are you interested in working separately from him?
We met in a drawing class 15 years ago, and we were both kind of interested in film so we started making little projects together. When we moved to New York for film school, we kept working together. We never thought about working separately. We've never done it, so we don't know. I would never say never to anything, but so far, we enjoy the collaboration. I do production design, Daniel does the camera work and the music, but we have equal say in each other's departments, so to speak. Both writing and directing is pretty equal. Sometimes we talk to the actors at the same time.
How do you write together?
Writing is a conversation. We don't write drafts really. It's a dialogue of ideas, and we'll make an outline on paper. We discuss scenes as we think about them. We've never needed a script because we've mostly worked with non-professional actors. H was a completely different experience because it was made for the Venice Biennale College. We had a script and the result of the film is pretty much what we wrote.
You've lived in New York for 14 years. Are you a New Yorker?
What is a New Yorker? I don't know. I live in New York, but I travel most of the year to other places. I'm not sure I want to live in New York the rest of my life. It is too cold. But it's the city that kicked off our career. I wouldn't call us part of the indie New York scene. There is a group of people that do movies about the city in a similar style, but we aren't part of that movement, and I don't know many of those filmmakers personally.
Is that isolating?
Not particularly for us. We are a unit and we make films all over the place. Our first film was in Lebanon, the second in Texas, and the third in upstate New York.

How much does location influence your work?
For H, location structured the whole movie. Location is always a character. We want to keep making films in different cities or towns that are uncommon. Even though we have an idea for a New York City movie, we have lots of ideas for films all over the world.
How would this effect your collaborations with crew and other colleagues?
We always work with a super tight and small crew. We don't have reservations about working with local versus non-local crew. Definitely we need to work with local actors or non-actors. This is the only way to keep the authenticity of the place and the people in it.
Describe the editing process.
You are making the movie for the first time in the editing room. For us, editing is way tenser than other parts of the process. We yell at each other a lot in the editing room. In the end, we are making the same project and we want it to be good, so one concedes to the other one if the idea is better.
 
You and Daniel also produce together.
We produce because we have a specific way of working so it helps us help our producers. For example, we have a certain way of picking locations and actors. Because it's such a small crew, we don't really divide jobs. We put our hands in every department. We produce and do whatever — if there's a hole, we fill it. 
Was there any challenge you couldn't fix or control?
For H, time was the most exhausting — it was like a sprint. We had to shoot in March (it was the coldest winter in upstate New York) and screen in Venice in August.
Have you considered moving to a warmer Los Angeles?
I don't know how to drive! I probably would like L.A. if I knew how to though. I don't know it very well, I've only been twice for events. But I don't have any friends there and even if I did, where do you meet them? Everything is so far.
Being cold and grey, Berlin probably isn't the city for you either.
It's my first time at the festival, and my first time in Berlin. I want to venture out to see the city. At Sundance, I didn't have time to watch movies, so I'm also looking forward to doing that here. Sundance felt more hectic, maybe because everyone is on that one street. Here, you are part of a city, and not isolated within the festival.
Do you think the Berlinale audience will receive the film differently than the Sundance audience?
Audiences change completely. They have different identifications, and understand cultural things differently. Europeans are very serious and silent, but at Sundance, people were laughing during points in the movie. We think American audiences laugh when they are uncomfortable, whereas European audiences don't. In general though, every film plays differently in different cultures because of what people see in themselves, or what they see as exotic or not. It's always very interesting to go from place to place and play the same movie. You never get the same reactions.
Can you talk a bit about the intersection of art and film?
For me, it's not a conscious thing. We don't sit and say how to make an artistic film. For us, a film should be artistic. Just a story can be read in a book. Film is a visual medium, how you play or push the medium is as important as what you put in it. 
Describe your voice as a filmmaker in three words.
My actual voice is very soft, but my voice as a filmmaker? I have no idea. 


Micah Magee, Petting Zoo
 
How do you think the American audiences at South by Southwest will respond to the film differently than the German audiences here at Berlinale?
I have no idea, but I'm excited to find out. Here, the focus has been a lot on the artistry of the film, and I believe over there it might be based more on the content.
 
How has your work as a journalist influenced your work as a filmmaker?
I enjoy working with real people, real places, and real stories. The research and analysis you learn to do as a journalist can be used in film for finding the truth in different stories, and fusing them together into something that's fictional, but hopefully still quite based in reality.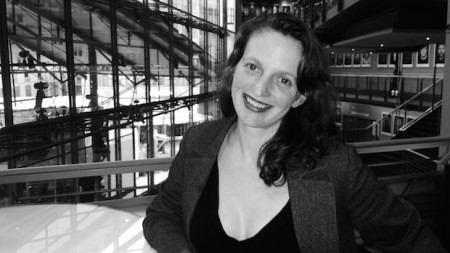 You used to work at the Cinematexas International Short Film Festival. How has programming influenced your work as a filmmaker?
I would not say that programming actually influenced my own filmmaking, but it did make me much more aware of where films go after you make them — that there's this massive amount of work after the film is done. I'm lucky to have The Match Factory on board as both producer and sales agent to help the process of getting the film to the audience we made it for.
 
What audience did you make the film for?
Anybody really, but I particularly hope it will find its way to ladies and young adults!
 
When did you decide you wanted to write and direct?
I always wanted to write, and have been since I was very young. I love reading as well (I wasn't allowed to watch television). My parents are both dancers so I watched a lot of stage performance, and I think this has influenced my choreography within the frame. But I don't know that I ever made a decision — because of my background talking to people on the radio or writing about or filming them, I guess one thing led to another. Fiction film for me seemed to be a place where I could get closest to the real story, even more so than documentary.
 
Petting Zoo is a very autobiographical film for you. Did you consider making it as a documentary?
For this story I don't think documentary would have worked. With fiction, you are free to identify a little more. You can take the position of the person rather than looking at them from the outside. It was so important for this story not to be looked at from the outside.
 
After moving to Berlin on a Fulbright scholarship, did you return to the U.S.?
It has been about a decade of back and forth between Berlin and other places. We lived in San Antonio for a while and upstate New York for a while, and spent a lot of time in Denmark as well. Most of my paid work is in Europe, but if I have projects or ways to stay in the States, then I stay as long as I can, because I do miss home.
 
You had mostly a German crew shooting in San Antonio. What was that like?
Half my tiny production crew were folks I met at the German Film and Television Academy in Berlin. I met my husband at that school as well, Danish filmmaker Johan Carlsen. He and I have a small production company together (as well as three kids and a dog). It as important that we had costume designer Joshua Hurt and production designer Utah Snyder (both from San Antonio), because they didn't try to dress things up or look at them from a foreign perspective. We all lived with Utah during prep and production, so we all got to know each other pretty well, and people had some funny and intense cross-cultural experiences.
 
What was your experience financing the film on Kickstarter?
Kickstarter is a great way to find out who is interested in your film. It's encouraging to find people you don't know but who care about the same things you care about — it helps to know there's some resonance or need for the film. It was also great to reconnect with so many old friends offering love and support going into the shoot. Kickstarter forces you to articulate what you want to do. Like grant writing, it can provide a bit of structure for pre-production. But the majority of our financing was through arts grants and subsidized loans. And deferrals and in-kind.
 
Can you describe your writing process?
I began just jotting down the frame for a story, an attitude, and a few pictures. I wrote a full script with all the dialogue for the actors, then we threw it away, but in the finished film it's mostly those same lines again. We had a frame for each scene with one or two real things happening, such as, learning how to drive for real. I would interject direction to change things during the take. The actors had read the script and had the lines and would sometimes come back to them, but they were allowed to say whatever they wanted, in their own words.
 
How did location and place influence you?
I grew up in San Antonio, so the place is almost the other main character. It was crucial casting our lead actress Devin Keller because she's from this place and of this place and has the voice of this place. It's a story about San Antonio. And working with a small budget, we let the reality around us happen and incorporated it into what we were doing. We took everything that was offered and just used it.
 
You also incorporated your three children into the film. How does motherhood or womanhood influence your filmmaking?
As a mother, you watch someone learning how to see and explore the world for the first time. This has taught me a lot as a filmmaker. Being a mom also means having a different time structure for the day, so you have to pretty vehemently reject a somewhat entrenched production model if it isn't going to be good for you or your family or your work. I think I do make stories from a female perspective. I am a woman and I make things that I care about as a woman. With this film, the feedback from men has been just as layered and complicated, so maybe the themes are not as specific to the female experience as I thought! It's just hard to tell, because I've never been a man.
 
Describe your voice as a filmmaker in three words.
Private… maybe there's just that one.


Laura Nix, The Yes Men are Revolting
Your fiction feature film The Politics of Fur opened the Berlin Lesbian Film Festival in 2003, but this is your first Berlinale. What's your impression?
My impression is that the Berlinale has one of the best international audiences, so for a film like ours, which is a global issue about climate change, it's perfect. It was a choice to frame this issue in contexts other than just the American context, so it's really important for us to speak to a global audience.
What's been your experience travelling to various festivals with The Yes Men?
Well, just like the film, it's a bit like being a part of a travelling circus, including the dancing bear. But it's been great to show the film to different audiences and meet other filmmakers, which is my favorite part of showing the film. Being exposed to filmmakers from all over the world is crucial because some of the most daring work is being created outside the U.S., but so little of it is actually distributed in the U.S.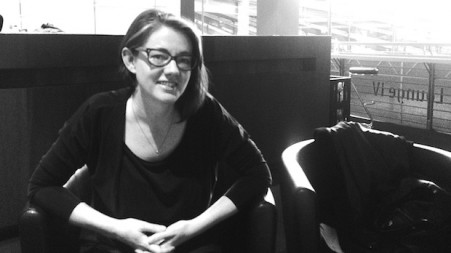 What kind of daring work have you encountered?
There are more documentaries that are experimenting with blending fiction and nonfiction elements being made outside the U.S. I'm interested in starting to work in that capacity, so it's really important for me to see as much work as possible, and to talk to other filmmakers about how they are making these hybrid films.
What's the biggest difference between working on a fiction and working on a documentary film?
One of the biggest differences is how long documentaries take. You can spend a lot of time developing fiction projects, but you don't necessarily spend a lot of time shooting it (unless it's Boyhood). Docs often shoot for years, because it can take years to cover a story. Especially if they involve verité elements where you're relying on events in the characters' lives to unfold in real time — it can take a very long time to get the story you need.
How much of the story developed in the editing room?
Like many docs, The Yes Men Are Revolting was really created in the editing room. There are so many story lines — the climate story, the story of activism, and the personal stories of each of the two characters — it took a long time to figure out each of the different stories, and how to interweave them from beginning to end. I had to make sure we created the right balance between each story, and pinpoint the moments where the stories could intersect, so they served the pacing of the narrative overall.
What's most challenging about filmmaking (other than financing…)?
For me personally, what's most challenging is working intensely but being able to stay relaxed. It makes you more open and receptive to human experience, and therefore more observant. I'm most impressed by filmmakers who are able to improvise between a structure and what's happening directly in front of them. You have to be really calm to be able to pay attention to what's in front of you, and to be truly observant. For me, it's the most important skill a filmmaker can have.
How is directing a subject in a documentary different than directing actors?
It's both similar and different. As a director working with actors, I need to understand the individual process of each actor. In a documentary context, I'm observing someone in real life. In each mode it's my job to create a situation and environment where everyone is able to express themselves authentically.
How is your producer personality different from your director and your writer ones?
As a director, I think you have to be in a receptive state to what you are receiving through the camera, and open to possibilities in the edit room. As a producer, you have to be more externalized, pushing things forward all the time. Even though they are different, both producing and directing are extremely collaborative efforts. But as a writer, I have to be totally and completely isolated, and set up very rigid schedules for myself. I can only write first thing when I wake up, and I can't read anything or even talk before I start writing. I need total silence with absolutely no internet access — it's kind of monastic.
Is it convenient or difficult to both direct and produce one project?
It's very schizophrenic to both direct and produce. I've done it out of necessity. I learned how to produce because I had to produce my own work, but there are many producers who are much better at it than I am. I have a lot of respect for them, in terms of the unbelievable amount of work it takes and how difficult it is. On upcoming projects I'm working with more experienced producers so I can rely on their expertise.
What are you working on next?
I'm in the beginning stages of a new documentary about a dance studio in Los Angeles where a group of middle-aged Chinese ballroom dancers are pursuing their passion in lessons taught by Russian dance pros.
Describe your voice as a filmmaker in three words.
I strive to be curious, precise, and warm-hearted.


Carolina Hellsgård, Wanja
You are Swedish but you are living and working in Berlin. Why aren't you making Swedish films?
I moved to Berlin in 2001 to study at the Art Academy because it was a particular mix of film and art, which I really liked. I have made one Swedish short film, which screened at the Berlinale three years ago. But right now in Sweden, it's difficult to make art house films because the grants are hard to receive, and I wouldn't know how to make a privately funded film. I got tired of waiting for funding in Sweden.
So you applied for German funding?
First I met Anne [Ratte-Polle], the main actress in the film. We met in a bar. I was so fascinated by her face. I couldn't imagine anyone else. After I met her, I wrote the script in about a week, and then we applied for the German financing. There was a chance it wouldn't work out, but it was the only way to do it. Once we got the financing, it all went fairly quickly.
Did you speak German when you moved to Berlin?
No, I had to learn it. It was really hard. For the first two years, I was basically hiding until I learned. Now, I still make mistakes, but I write and direct in German. The biggest challenge for me is directing in German, but I'm always well-prepared.
Was it challenging to write the script in a week, on top of writing it in German?
I wrote the dialogue as just subtext, which is the opposite of what you are supposed to do.
But the actors knew what I meant. In the rehearsal process, they developed the dialogue, and then I'd rewrite. By the time we were on set, we stuck to the script. We also did location scouting for more than a year, and I would adapt the script to the locations we liked. The script is really just a blueprint in many ways.
How does it feel showing your film in the Perspektive Deutsches Kino, a category of the Berlinale specifically for next generation German filmmakers?
Wanja is a very German film, with a very north German character. Sweden and Germany are quite similar countries in many ways. Culturally, people don't talk that much, there's a similar emptiness. I grew up in an incredibly bleak suburb of Stockholm, which translated really well to northern Germany. I'm really grateful to be in this section because it's a small section. I don't know if we'd have gotten as much attention if we'd been in another category. At the Berlinale there are over 400 films, so there's a risk of disappearing.
When you received a grant to study at California Institute of the Arts, did you like Los Angeles?
I met a lot of really interesting people who are successful filmmakers, and it was good to be there, but I probably would not want to move back. It's too confusing for a European, in many ways. Also, people kept complaining about me dressing in black. They kept asking if I was depressed or from New York. I'm just European!
Is it easier to work and collaborate with fellow Europeans?
My producer is Swedish, and we studied together at the Art Academy. This was the first feature film for her, and it was my first, and it was also the first feature for the cinematographer. But somehow, we just did it. We are all really old friends, so we have this history and can work really well together.
You are also all women.
Yeah, we are. I just really wanted to work with my friends, and they happened to be women. It's not some political statement. But I would say that I prefer to work with women, on some level.
Why?
There's a certain understanding and a certain loyalty…I don't know how to explain it without sounding like a total cliché. You know how life is — it's quite hard with a lot of rejection, but when you have similar experiences with people, you can give each other a lot of power and achieve more together. There's certainly a difference being a woman in the film business than being a man, it's just hard to sum up. We work with a lot of men also…
Describe your voice as a filmmaker in three words.
I'd have to think about it. My voice as a filmmaker is really informed by my network of friends who make art house films. I would recommend that all filmmakers surround themselves with good friends. You have to let go of competition. I realized this a while ago, and it's really so important, especially for women — stop competing and start collaborating.