Back to selection
Bruce Sinofsky, 1956 – 2015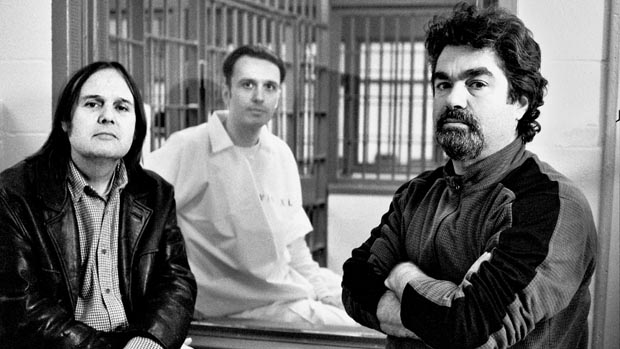 Sinofsky (at left), Damian Echols and Joe Berlinger, from Paradise Lost 3.
Documentary director Bruce Sinofsky, whose Paradise Lost Trilogy collaborations with Joe Berlinger caused the release of the wrongly-convicted West Memphis Three, died this morning of complications from diabetes.
Sinofsky's passing was reported by Berlinger on Twitter.
Sinofsky and Berlinger were nominated for an Academy Award in 2011 for the final film in the Paradise Lost trilogy, Paradise Lost 3: Purgatory — the culmination of a filmic and legal odyssey that began in 1996 with Paradise Lost: The Child Murders of Robin Hood Hills. In a 2011 Filmmaker interview, Sinofsky remembers the series beginning:
When we went down to Arkansas, for the first movie, we thought the three were guilty. We were committed to tell the story until its end — that is our approach to every one of our documentaries. But there were too many loose ends and as the story unfolded, we became convinced of the three young men's innocence. At the end of the trial, when they were sent to jail and Damien to death row, the story had not come to its natural conclusion. As people saw Paradise Lost, they also felt there was more to the case. The first film led to many questions and it became a cause. WM3 introduced celebrities and regular folks to the situation. Without these people, the WM3 may have been forgotten. We are proud that the first film kept things open, otherwise Damien would probably be dead at this time.
Sinofsky began his career in 1977 when he went to work at Maysles Film as a Senior Editor. He told Filmmaker in 2004:
The best thing that came out of it for me was working with Charlotte Zwerin, who co-directed Gimme Shelter, and David Maysles, who was my mentor. The next best thing was meeting Joe. One thing I learned from David involves the editing room. Every great film is going to look like a disaster during the [first] nine cuts. That tenth cut is when you really start to have something that makes sense. Films don't just come together magically, and they often look like disasters until all of a sudden something clicks. Your 1,600 hours of footage finally boils down to two-and-a-half hours and looks and feels like a real movie.
Sinofsky and Berlinger began their filmmaker careers together when, in 1992, they made the enormously influential Brothers Keeper, a riveting and sensitive documentary that looked at the power hierarchies at work when a poor, rural man is accused of murdering his brother. "Brother's Keeper, the year's best documentary, has an impact and immediacy that most fiction films can only envy," wrote Roger Ebert in his review.
Paradise Lost was the duo's next feature, but as the trilogy progressed, both made other work, together and singly. With Berlinger Sinofsky made the rock documentary Metallica: Some Kind of Monster in 2004. His solo credits include much TV directing, such as episodes of Iconoclasts, San Quentin Film School and Oprah's Master Class.
About Sinofsky, Berlinger told Variety, ""Bruce's humanity is on every frame of the films that he leaves behind, and words can't express how graced I feel my life has been by having the extraordinary opportunity of being able to say we were partners and, more importantly, best friends."
Variety reports that a memorial service will be held in March.