Back to selection
"ELECTROMA"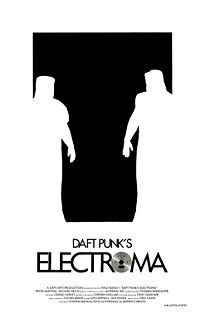 I gotta admit, I had no clue who Daft Punk was when I got a DVD of their first film, Electroma, in the mail. Now, I did vaguely recall the title because people were telling me that it was a bore (it premiered at Cannes in 2006). But after watching it I strongly disagree.
A beautifully shot, intimate story with no dialogue, Daft Punk (Thomas Bangalter & Guy-Manuel de Homem-Christo) creates a touching commentary on life and the loneliness of being an outcast. In Electroma, we follow two robots — decked out in matching jumpsuits with "Daft Punk" spelled out in rhinestones on their backs — as they roar down the endless desert highway in a '87 Ferrari (almost a twisted homage to the video for "I Can't Drive 55") in search of being human…
What's the deal with the robots? Here's some backstory for those, like me, are Daft Punk novices: Legend has it that Bangalter and de Homem-Christo were in their studio on 9/9/99 when an explosion occurred at exactly 9:09 a.m. and when they gained consciousness they were robots. Now, back to the film…
Though most of it is just straight up bizarre, the imagery is gorgeous and at times plays with your mind. In one of the most meorable scenes, the robots walk down a long dark corridor and when they appear in a white room, everyone else inside has the identical white tone and the only time we can see them is when they walk in front of the dark clothed robots.
This is where the robots are turned into "humans," which doesn't work out well as once they get outside they're chased back into the desert. Then there's the conclusion, a disturbing yet touching finale of the robots fate that was all the more haunting by the piece of music they use to close with: the Jackson C. Frank song "Dialogue," one of the few times words are spoken in the film.
Electroma certainly has the makings of a Midnight Movie classic, and in no way is this a self-serving venture to build the Daft Punk brand. In fact, none of their music appears in the film and they aren't even the ones in the robot suits.
I'm excited to see what Bangalter (who also shot the film) and de Homem-Christo come up with for their next film. But in the mean time there's a lot to digest with Electroma. And I don't mean just the film. Currently on shelves through Vice Films (which brought us Heavy Metal in Baghdad) for $17 (on Amazon), there's a 40 page booklet of film stills. Talk about going all out on your first project.
You can read more about the film in our interview with Daft Punk.
[AMAZONPRODUCT=B0014DC8VQ]