Back to selection
"What Do We Mean by 'Interactive'? Why Does it Have to be 0s and 1s?": Tribeca Interactive's Ingrid Kopp on the She Does Podcast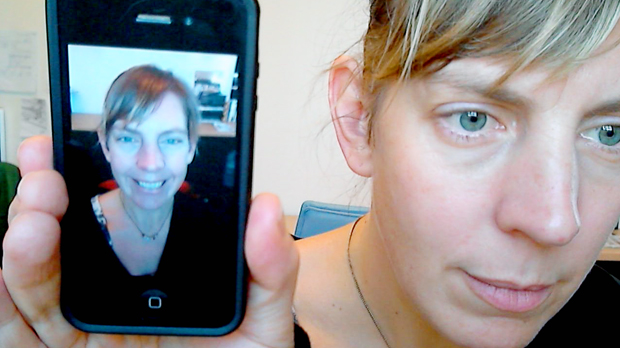 Ingrid Kopp has been exploring the highest peaks and lowest valleys of independent film for the past 15 years, and for the past six years she has been island-hopping to discover intersections between storytelling, social media and technology. As the Director of Interactive at the Tribeca Film Institute, Kopp supports interactive and cross-platform projects through the TFI New Media Fund and TAA Interactive Prototype Fund. She is the creator of Tribeca Hacks, TFI Interactive and the curator of Storyscapes at the Tribeca Film Festival. All of these spaces invite story, tech and design into the same room to foster conversations and collaborations.
In this episode of She Does, Kopp talks about growing up in South Africa during apartheid, the balance between offline and online communities, lack of diversity in technology and curation, and her dreams to write a book and climb Mt. Kilimanjaro–at the same time. And, check out the She Does Google Hangout with last week's guest, Lina Srivastava and Kopp on April 10 at 3 PM Eastern.
The TFI Interactive Day is April, 18.
5 HIGHLIGHTS
The role of documentaries v. journalism in our society:
Documentary filmmakers, the good ones, are often really good at taking something that is being chewed over in the news everyday and then really thinking it through so that it becomes much more nuanced. It's actually in some ways resisting that news cycle where things get chewed up and spat out. I love that documentaries can make you think about things differently because of the time that the filmmakers spent with the subjects, or with the story, and if you spend time with something it changes your relationship with it. Because of the craft that you're bringing to the story, that can move an audience in so many interesting ways that even a really powerful news story can't. I'm not setting journalism up against documentary either. I think journalism is vital, but you need both, they do things differently.
How the TFI New Media Fund grants have started to incorporate a wider idea of interactivity:
Creators are getting more sophisticated. There's more work out there so there's more reference points, which means that you're building on the work and the work gets more ambitious. I started to think a lot more about interactivity as not just being digital. One of the things you see in later projects is that some of the work is analog, it's on the ground. That was partly an intellectual focus on, 'What do we mean by interactive? Why does it need to be 0's and 1's? Why can't it be people actually meeting in person and doing things?' It was also partly because I started to think a lot more about digital access and what that meant. Which is one of the reasons we started the fund in the first place. I realized that iPad apps don't necessarily solve the problem of access at all.
Making documentary work more accessible and appealing requires makers to play with the form:
One of the things we were talking about when I first connected with TFI was this idea that documentaries are either perceived as being boring, or perceived as being 'not for me.' Documentary stories relate to everyone in some way, but maybe a 70-minute documentary is not the format for everyone. And one of the things that interactive work can really lend itself to is the idea of different entry points into story. People are consuming media in different ways now and they are consuming more media than ever before, so maybe it's thinking about where you meet them in terms of the work that you're creating.
The importance of demanding diversity, early on, in new fields:
I think that I have not been as good as I could have been as a curator, but it's also been really frustrating when I have reached out to people to speak and they've said "no." I've sort of bullied a few people and been like, "You have to because it's the only thing that will make all of this work well.: In order to get where we want to go, which is creating really amazing pieces of work for audiences everywhere, you need to have diverse production teams and diverse audiences. It makes the work better. If you want this new interactive storytelling culture to be diverse and inclusive where everyone feels welcome and when you say civil dialogue you really mean that, then you have to do it early, because otherwise you're going to start building in all of that legacy bullshit and I just don't want to do that. I don't want to be a part of that.
The role of Tribeca Film Festival's Storycapes in creating a shared experience for tech and story:
One of the things that I really miss in the interactive space is going to a screening with a Q&A and being with people. I wish we had more of that in this world; more of a shared experience. Storyscapes was really an attempt to create a space so that people could go and experience projects together. It is really challenging though. How do you take something that was designed for the web, for a single user, and create an experience that feels immersive and welcoming? I don't know if we've completely cracked it, but it has been lovely to see people in the space. What's been the most rewarding is seeing people interact with projects and then talk to other people in that space afterwards so that you get that conversation happening in real life. I've missed that online. I really have.
Subscribe to She Does here at iTunes.