Back to selection
"THE INGLORIOUS BASTARDS"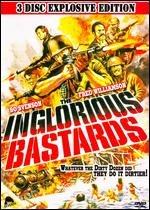 With word that Quentin Tarantino has FINALLY begun work on a remake of Italian director Enzo G. Castellari's EuroCult classic The Inglorious Bastards, Severin Films has put together a remastered three-disc release of the original, the first time it's been available in the States (though there have been numerous incarnations — you may recall Deadly Mission and G.I. Bro).
An homage to war films before it like The Dirty Dozen, Kelly's Heroes and Peckinpah's Cross of Iron but with a little more edge and a Spagheti Western feel (not to mention one of the best film titles ever created), Bo Svenson and Blaxploitation icon Fred "The Hammer" Williamson star as part of a rag-tag group of U.S. military convicts who are sent off to prison until an air raid gives them the opportunity to escape. But in their trek to freedom in Switzerland they find themselves thrust back into the war when they agree to take on a mission to hijack a train.
All the testosterone-filled '70s war film touchstones are there — outcasts and loose canons who turn out to be the best solders America has, a no-way-out finale and violence in slo-mo.
I mean, the tagline says it all: "Whatever the Dirty Dozen did, THEY DO IT DIRTIER!"
Features include Tarantino interviewing Castellari, which has a fun back-and-forth on Taratino's hopes for the remake and Castellari explains how he had to get creative in some of the scenes after the Italian government confiscated all the guns in the production in fear that they would get into the hands of the Red Brigades (what they would do with prop guns is anyone's guess). There's also a featurette on the making of the film that includes all the principles and another where Castellari goes back to some of the memorable locations from the film (like the waterfall where the men come across a group of naked, gun-toting, female Nazis). The third disc only has the film's soundtrack.
In stores this week, the 3-disc goes for $29.95, and the single disc is available for $19.95.
This is an essential for your Grindhouse library.
[AMAZONPRODUCT=B00140PKCS]