Back to selection
Five Questions for Peggy Guggenheim — Art Addict Director Lisa Immordino Vreeland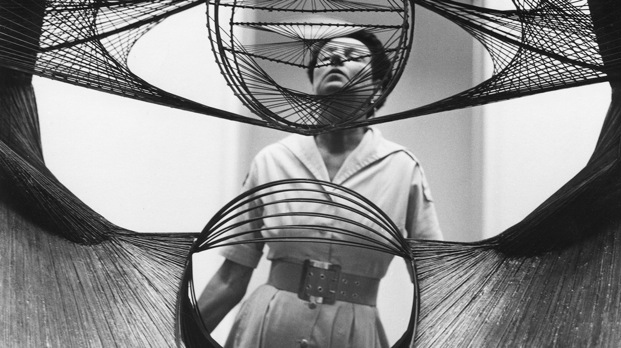 Peggy Guggenheim: Art Addict
Lisa Immordino Vreeland's feature debut, 2011's Diana Vreeland: The Eye Has to Travel, examined the life and legacy of the legendary fashion photographer. The filmmaker was the granddaughter-in-law of her subject, and the film established Vreeland's acumen in reconstructing the life stories of complex, powerful women. That applies to her new subject, Peggy Guggenheim, from whose candid memoirs the subtitle Art Addict was drawn. Almost as well known for her numerous relationships, sexual and otherwise, with many of the key creative figures of her time, Guggenheim's story is reconsidered in this documentary. The film premiered last night at the Tribeca Film Festival; for more screening information, click here.
Filmmaker: Filming works of art is always difficult. How did you approach filming the collection?
Vreeland: We were very fortunate, as we were given access to the museum on a day it was closed.  We shot throughout the museum, but only used that footage to create an ambiance for the film. What the viewer primarily sees throughout the film are the beautiful photographs taken by David Head, Director of Photographic Services at the Guggenheim Museum, who personally took the photographs himself. He really made the work come to life.
Filmmaker: Peggy Guggenheim's life has been dramatized on stage, and there's her own memoir, from which your film takes its title. To what extent were you following her life story as narrated by herself or others?
Vreeland: We were very lucky to be able to work with the writer Jacqueline B. Weld, who wrote Peggy: The Wayward Guggenheim. This was the only authorized biography ever written on Peggy and she taped an extensive interview with her that took place from 1978 – 1979, which we used in the film. Those tapes provided an amazing opportunity for Peggy to narrate her own life story.
Filmmaker: It's been four years since your first film. How much of that time was spent in production on this film, and did you find this film easier to make than your first?

Vreeland: Diana Vreeland: The Eye Has To Travel premiered theatrically in 2012. As I promoted that film worldwide, I had already begun research on Peggy Guggenheim: Art Addict. It was a long process to accrue the information and try to tell the story correctly. This film was more challenging to make because of the amount of material that we had on hand, not to mention her own history, which is fascinating but full of so many details.
Filmmaker: Guggenheim knew many, many famous figures. Which characters do you most regret having to cut?
Vreeland: Peggy Guggenheim began to support people at a young age and we were not able to include many of those names, especially the many Italian artists whom she supported in Italy, such as Tancredi, whose career she really impacted.
Filmmaker: Do you have a particular process you follow when conducting on-camera interviews?
Vreeland: I like the conversation of on-camera interviews to be very relaxed and I have found that it works very well if the team is small, conducting interviews within a two-hour window. I am eternally grateful to the interview subjects who always are very prepared and responded so well to our questions.