Back to selection
Towards the Palme d'Or: A Conversation with DP Gökhan Tiryaki On the Set of Asif Kapadia's Ali and Nino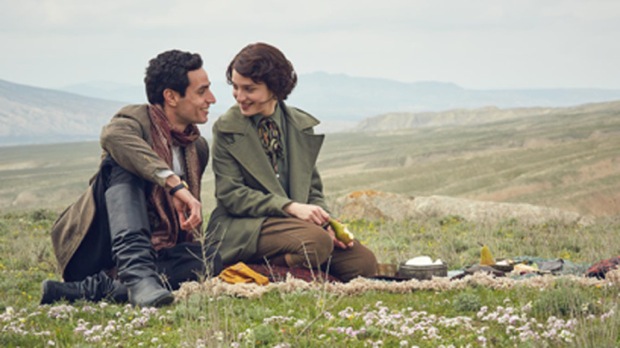 Adam Bakri and Maria Valverde in Ali and Nino
When you have one of the most anticipated films of the year about to premiere at the Cannes Film Festival, how do you prepare? For Asif Kapadia — director of Amy, the forthcoming documentary about the British jazz singer Amy Winehouse — the answer is to direct another film. His adaptation of Kurban Said's 1937 novel Ali and Nino is the first fictional narrative the British director has helmed since 2007's Far North; both it and Amy are his first features since 2010's much-admired documentary Senna.
For his fictional narratives, Kapadia has made a habit of shooting in remote, unique locations. In 2001 he made his breathtaking debut The Warrior in the Indian Himalayas, while Far North was shot in the Arctic Circle in the north of Norway. So when invited onto one of his sets, you feel some excitement. In that respect Ali and Nino did not disappoint. Set during the early 20th century in Azerbaijan, it's a love story between a Muslim Azerbaijani boy and a Christian Georgian girl that, refreshingly, doesn't fall into Romeo and Juliet clichés. It's also the tale of the Azerbaijani nationalist movement that took place against the backdrop of the First World War.
On the eastern edge of Europe next to the cold Caspian Sea, Azerbaijan's capital Baku has seen an influx of skyscrapers, big brands and five-star hotels in recent years. Most of the film was shot in the glorious old town, with its beautiful cobbled streets, turrets and market squares. The production had moved west to Ganja by the time I arrived in Baku, but what was apparent is that the battle between the Old World and New World that resonates throughout the book remains as true today as it did a hundred years ago.
The next morning I took a one-hour plane ride west over the snow-capped Caucasus Mountains to Ganja, Azerbaijan's second-largest city, followed by a two-hour drive into the mountains along the twisting, winding road to Gadabay. I discovered why we needed a 4×4 as the car drove off-road along a dirt track and then onto a grassy plain, stopping 100 meters away from where Kapadia was filming. Figures dressed as the Russian army descended a hill on the horizon. Before it was a beautiful stone railway bridge, upon which lead actor Adam Bakri — star of the Oscar-nominated Omar — was filming a pivotal climatic scene alongside Days of Glory star Assaad Bouab. Kapadia was striding about with purpose while cinematographer Gökhan Tiryaki, best known for his work with Nuri Bilge Ceylan, was bobbing between cameras.
What looked like a found location was in fact the film's most expensive setting. Producer Kris Thykler said workers had spent six months rebuilding the bridge so that it was safe to film on, but the day before the production feared the location would have to be ditched. The shoot was meant to spend four days at the location, but disaster struck on day two when a snow storm swept in from the north, completely transforming the landscape and making it impossible to film on the bridge.
The production was leaving Azerbaijan in six days, and it's important to the story that it end in the country, so Kapadia didn't just rue his luck or hide for the day, instead shooting an alternative ending in the snow. These scenes will never be seen or used; the next day, just as quickly as the snow came, the sun started to shine and the snow melted. The drainage caused a lot of mud, but the scenes could be matched with what was shot before, though what was meant to shoot in four days had to be done in two and a half.
The next day's shoot in a plain surrounded by mountains was much less stressful but no less exciting for an observer. Three shoots were taking place at the same time. The main crew was in a tent with the actors, shooting a scene showing the declaration of an independent Azerbaijan; the visual effects department were shooing extras in front of a green scene to insert into the battle scenes in post; the B-roll team were shooting a vintage car coming along a road to insert into footage from an earlier scene with Nino's parents. It was like a mini-studio had been created in the Caucasus.
The next day, I sat down with cinematographer Gökhan Tiryaki to talk about his work on the film, the advantages of shooting day for night and his collaboration with Nuri Bilge Ceylan.
Filmmaker: What has it been like working with Asif and shooting in a new country?
Tiryaki: Besides commercials, I haven't worked on many big international movies. Seeing how other countries work and what their procedure is and working in English is very interesting to me, because I haven't done it before and it has helped in making me better at my job. I knew about Asif Kapadia and watched his films before starting on Ali and Nino. Our shoot is 11 weeks long, but we also had 11 weeks of prep, which was very good for me. Normally there isn't this much prep for a movie. Having 11 weeks of prep made me really understand how Asif works and thinks, so I was able to understand what he was thinking while we were shooting the film and less time was wasted on set.
Filmmaker: Was there an aesthetic that you wanted to make this film different, or do you think all period films have started to look the same?
Tiryaki: In my opinion, lots of period movies are starting to look more and more alike all over the world. There is a big misunderstanding on the subject, and the reason is period films always have a certain grade that they put on each film. After filmmakers watch the way period films have been graded before, they come to the conclusion that the period actually looked that way. In prepping the set, also with set direction and costumes, [period movies] all started to look more and more alike, because they were working to the same color schemes that had come before. I feel that there is a color grade put on this movie before we actually grade the film ourselves, because of the costumes and set direction. The colors used on set while shooting were cool colors, which actually put us in harm in the grading. The colors we're using are not helpful for me to grade, but that's a long story and very detailed. It's hard to explain, but the film is going to look great anyway.
Filmmaker: Was your understanding of how to collaborate different with Kapadia different from, say, Ceylan, who you collaborate with often?
Tiryaki: Working with each director, the first week is always hard, but then I understood what Asif wanted and it worked out well. The thing I admired most about Asif is he listens to everyone's opinions and takes them into consideration when coming up with his own ideas. Not a lot of people listen to people around them, but Nuri Bilge Ceylan also does this. This is an attitude that I admire. In art, there is no exact science; you have to try every possibility to find the best one. That is the way Asif works.
Filmmaker: Can you tell me about the choice of camera?
Tiryaki: Rather than choosing the camera first, I wanted to choose the lens first, which is more important. We wanted to shoot with anamorphic lenses, but we had too many cameras and not enough lens sets. Having more than two ALEXAs made it hard for us to find more than two anamorphic lens sets. As the first shooting day came closer and closer, we became fed up with trying to look for the lenses. It made me very happy that the production and Asif really stood behind me and did their best to find what we needed when I wanted to use anamorphic lenses. Finally, we wanted to shoot with Master Prime high speed lenses, because Asif said he liked working in natural light and also low light conditions.
Filmmaker: You shot one of my favorite films, Once Upon a Time in Anatolia, and that film was very dark. Did that experience help with this one?
Tiryaki: There is not a big likeness between the two in terms of the technical side. But we used a lot of day-for-night in this film, as we did in Anatolia. Not having streetlights and warmth allowed us to do day-for-night shoots.
Filmmaker: What do you see as the advantages of shooting day-for-night?
Tiryaki: When shooting night shoots for night, you need to light the place you are shooting even though it's exterior, but you can't see the detail in dark and far away places. With day for night, you can shoot details that you can't normally see on a night shoot. For example, if you are shooting a horse riding through a meadow, you are able to see the mountain tops, the horizon, everything more clearly. The other option is that you try to light it as best you can, but you can't always see the little details. You need the light to look as natural as possible and it's hard to control that light in big locations. It's also very time consuming and costly.
Filmmaker: What has been the most difficult shot so far on this shoot?
Tiryaki: On my other projects I didn't have to shoot a lot of war scenes, so shooting them was hard. I had to shoot with a lot of cameras and, being a DP, if you can't control every camera, or you can't see what every camera is doing, then it's very hard and frustrating. I'm also a cinematographer that likes to hold the camera and not to be able to do everything was frustrating.
Filmmaker: Using a lot of visual effects, was that different?
Tiryaki: No. I'm very used to it and know it really well. I didn't have trouble. That is one of my hobbies; I love playing around on computers at home.
Filmmaker: How did you start your career and how did that lead to you working with Ceylan?
Tiryaki: I started when I was 14 by taking pictures with a still camera from my father. When I was 20 I started working for a Turkish television company, TRT. At that time Turkish cinema was at a halt, so TRT was the best place to go. After being there for five years, I worked as a Steadicam operator. I had a big interest in digital cameras, and digital cameras advancing really helped me. Nuri Bilge Ceylan is a director who likes to do long takes and low budget films. The digital cameras that came out really grabbed his attention as well, and he found me because we shared this interest.
Filmmaker: How has the relationship developed between you and Ceylan?
Tiryaki: Starting on each new movie is like starting a new cinema class. You don't shoot movies with him, you write a novel. Working with him is full of research, because he always wants to try new things in acting, lighting, voice and video, so we always have challenges.
Filmmaker: Was receiving the Palme d'Or for Winter Sleep a special feeling for you after coming so close before?
Tiryaki: When your movie gets selected for Cannes, you get to see other directors' movies who get into Cannes, talk with them and learn their opinions. It's a very good experience watching the movies each year from these great directors when they are new. With each film you get closer to the Palme d'Or and you know which films will get you there. You know what kind of films get their attention, what they are looking for, so you work towards it in a way.
When I was sent the script for the first time, I said we'd get the Palme d'Or with this. Nuri Bilge Ceylan just laughed at me and said anything can happen to anyone at any time, so you never know. But he really believed in the fact that he would win the Palme d'Or and while shooting Winter Sleep, this belief got greater and greater. The thing that most excites me is that Nuri is not a director who has a film where one is good, one is bad, then another is good. It's not a wave, it's always a straight line up, and he knows that each movie will be better than the one before. That is the way I feel working on his movies. It might not be that way, but us working together is not by accident. We don't do things by accident; we have a very methodical way of working together. He is his own boss and always challenges himself to do stuff.
Filmmaker: What makes a beautiful image?
Tiryaki: I look at the drama. If in a scene the drama is good, that is the best frame for me. The best frame is the one with the best sound, the best acting; the light can be bad if the acting is good.
Filmmaker: That sounds like a director's answer.
Tiryaki: Well, that is how it is. If the acting is not good, or if an actor looks at the camera, then it's not a good frame. Anyone can shoot a good landscape, beautiful sun, beautiful lighting; I don't see that as a special thing. The most important thing is acting, what your scene is trying to say, what emotion you are trying to give. Sound is also very important. Sound can give a very flat scene focus and life. It can turn a blurred image into a clear image, or a clear image into a blurred image. Drama, acting and sound have to be very good. Lighting, framing and lens: that is my job.