Back to selection
"I Fantasized About Being a Glamorous Drug Addict": Director Adam Baran on His Twin Peaks-centric Documentary Northwest Passage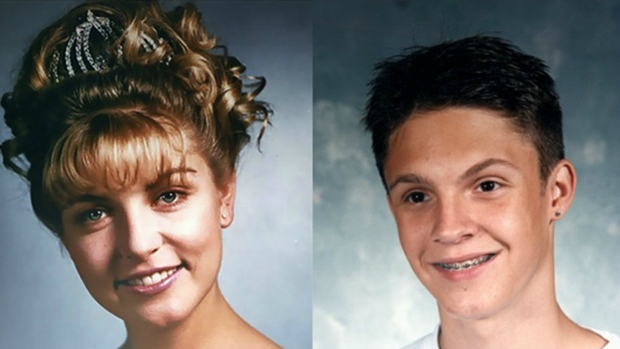 "Laura Palmer" and Travis Blue
In the late '80s, a troubled gay kid named Travis Blue stumbled upon a film production in his sleepy hometown of North Bend, Washington. Fascinated, Blue watched as they transformed a local restaurant into a place called the Double R Diner. The production was for a television series titled Northwest Passage, later renamed Twin Peaks. When it aired in 1990, David Lynch's cult masterpiece became for Travis not simply an obsession, but a world he wanted to literally inhabit. Taking Laura Palmer as real life role model, Blue spent the next decade lost in various underworlds and struggling with his own identity. His compelling story stuck a chord with his friend and filmmaker Adam Baran, who is making an audacious documentary about Blue's dark odyssey. Filmmaker had a chance to sit down this week with the director as he neas the end of an ambitious Kickstarter campaign for the film, which he plans to shoot this summer.
Filmmaker: How did you meet Travis Blue, and what drew you to his story?
Baran: I met Travis at NewFest, New York's LGBT film festival, in 2005. We just hit it off and bonded over a shared love of Lynch and Twin Peaks. We became friends and eventually he started to open up to me about his experiences growing up and following this dark path. He wound up shooting stills on the set of Jackpot, my short from 2013. When it was over I gave him my rare copy of Julee Cruise's Floating into the Night on vinyl, because I knew he'd love it. Travis's story is so dramatically different from my own. In many ways, I had always craved the dark life he had. Growing up, I fantasized about being a glamorous drug addict and living a fast life. But the reality was that I was just a nerdy gay teen sitting in my room and watching five movies a day. So I completely understood how he could have watched Twin Peaks and felt so completely into that world that he wanted to live it. I feel that his story is also one that many gay kids live or understand implicitly. So I decided to make a movie about it.
Filmmaker: Northwest Passage is not just a portrait of obsessive fandom. You've said that it's about the necessity of fiction in all of our lives. How do you see this in relation to the LGBT community?
Baran: Fiction informs our lives in so many ways, and I think LGBT people learn this very early on. We pretend to be other people so that we can fit in and be accepted. When we come out, we have to build our identities almost from scratch. But where do we look for cues on how to do that? Often, it's from fictional representations in media, and unfortunately there still are not a lot of really honest portrayals of LGBT people in the world of film and TV — the kind that really help you figure things out for yourself. Back in the day, gay men and lesbians had to read between the lines to find coded portrayals of themselves on screen — and they rarely were positive portrayals. Travis saw in Twin Peaks an underworld and a way of being that was attractive to him. I'm fascinated by people who enter fantasy worlds and reinvent themselves. In addition to this, Northwest Passage also calls attention to LGBT issues like abuse, homelessness, addiction and sex work.
Filmmaker: You've expressed dissatisfaction with the mainstreaming of LGBT culture in films today. Can you talk about your goals as a filmmaker and how you envision Northwest Passage?
Baran: I had a screenwriting teacher at NYU who told me that I was limiting myself by focusing exclusively on LGBT stories. I often think of that remark because I've stood on stage at the Castro Theater in front of 1,400 people laughing at my films. I've won awards at festivals and for the last six years, I've co-programmed a film series called Queer/Art/Film at the IFC Center that sells out nearly every month. My goals as a filmmaker are basically to not follow her advice ever, and to make films about whoever and whatever I want, LGBT or not. My mother worked as a human rights expert and advocate, helping victims of torture and repression find freedom. So I really try to follow her example, and I want my films to give people strength and help them figure themselves out.
With Northwest Passage, I really see the film as a hybrid documentary. No talking heads — just throw the viewer right into Travis' world in an inventive way. It will have Lynchian re-enactments of his life. I imagine the film to be a cross between Sarah Polley's Stories We Tell, Jonathan Caouette's Tarnation, and that intense bestiality film Zoo. I'd like to experiment with using different styles to tell different stages of Travis' story. I love what Trent Harris did with The Beaver Trilogy, where story is told first as a video documentary, then as a narrative short on video, and finally as a narrative short on film.
Filmmaker: This is your second Kickstarter campaign. Can you talk about what's been different this go-round and what you've learned about the process?
Baran: Oh man, this campaign could not be more different than the one I did for Jackpot! That one worked more predictably: a straight shot up for the first 10 days, followed by a lull in week three, and then fully funded four days before the end. With Northwest Passage, we're trying to raise $60,000. We have less than a week to go and are not yet 50% funded. But I am still really confident we'll make our goal. There's an anonymous fundraising challenge — if we can hit 30K this week, we'll get an additional $5,000. So, it's basically a sprint to the finish. I think the big thing I learned is that you can never predict how these campaigns will go. Even though we've been featured on blogs like Rolling Stone and Huffington Post, the articles translated into only a handful of pledges. I figured with the Twin Peaks and gay angles, we'd be covered, but I realized that not every gay person cares about Twin Peaks, and not every Twin Peaks fan cares about telling a gay kid's story. I also learned that it's essential to source big level backers before starting a campaign like this.
Filmmaker: If all goes well, your film will be finished just around the debut of the Twin Peaks episodes. Are you hopeful that Lynch will pull it off? How does Travis feel about it being revived?
Baran: I'm hopeful. I think every Lynch fan is excited about 18 hours of new material. I'm pretty certain the whole will-he-or-won't-he thing was a publicity stunt, but it was a good one! Of course, from a producing perspective, it helps us enormously that there's this new awareness of the show. Hopefully by the time our film comes out, there will be millions of new people who have watched Twin Peaks, and will want to learn about Travis' story. It's hard to say what Travis feels about it because he has a super complicated relationship with the show, as you can imagine. But I think he'll be watching like everyone else!