Back to selection
Five Picks for the 2015 Northside Film Festival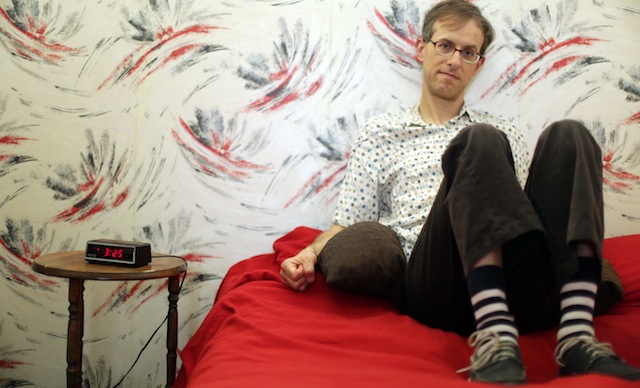 Aspie Seeks Love
Clocking in at just three days, the Northside Film Festival still provides enough breadth in programming to rival an event three times its size. In addition to the centerpiece DIY Competition and short programs, the fest has added an episodics sidebar this year, featuring Doron Max Hagay's Monica web series, among others. Due to pre-screener availability, the following recommendations are features only, but that scarcely means you shouldn't keep any eye on the other sections. Northside runs from today through Wednesday at UnionDocs, Nitehawk, Videology and the Wythe Hotel.
Tired Moonlight
If you missed Britni West's Slamdance Grand Jury Prize winner at New Directors/New Films, here's your chance to catch one of the year's strongest debuts. A beautiful, atmospheric ode to the topography and inhabitants of her hometown of Kalispell, Montana, this 16mm work collapses the conventions of an ensemble piece as it drifts from one character to the next with the ease of a summer breeze.
Eden
A decidedly different approach to the dream deferred genre, Mia Hansen-Løve's latest tracks a DJ through drug addled decades as he comes close to, but never quite achieves, his dream of stardom. That the years go by while the protagonist Paul (Felix de Givry) barely ages poses an even more unsettling inquisition into stagnancy of self-involved artistry.
The Winds That Scatter
Chris Bell's directorial debut is a formally composed, open facing look at a Syrian immigrant adrift amongst the world of menial jobs in New Jersey. Starring Ahmad Chahrour in a quiet, affecting performance, The Winds That Scatter proves a much needed counterpoint to the more inward facing, narrow character studies of late.
Aspie Seeks Love
Diagnosed with Asperger's at age 41, Dave Matthews (no relation to DMB) struggles to find a spouse as he embraces the clinical aspects of what he assumed to be an off-kilter, hyper-intelligent existence. Director Julie Sokolow shares an obvious complicity with Matthews as he allows her inside pivotal moments in his dating and professional life — all punctuated by holiday title cards, like some winking Hallmark riff — in this uplifting but never saccharine documentary.
Deviltown 
A Martha Marcy May Marlene tinged mystery set inside a very particular milieu, Harvey Mitkas's debut stars just about every independent filmmaker you could drum up (Alex Ross Perry, Caveh Zahedi, Sophia Takal, Lawrence Michael Levine, etc.), but the true star of the film is behind the camera: director of photography Nandan Rao, who wields some of his most impressive, haze-tinged cinematography to date.