Back to selection
"Couple That With a Long Take and I'm Ecstatic": Chris Bell on The Winds That Scatter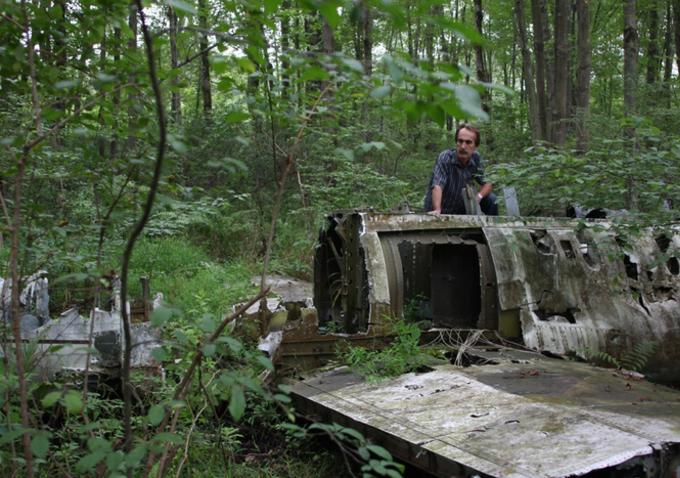 The Winds That Scatter
A former critic for The Playlist, Chris Bell fulfills the promise of the observant, patient lens he wielded in shorts such as Bridges with his feature length character study, The Winds That Scatter. Baring more in common with the films of the great Abbas Kiarostami than say your average Brooklyn-based filmmaker, The Winds That Scatter follows a Syrian immigrant named Ahmad as he moves from job to job in nondescript New Jersey. Primarily structured in long takes and slow-burning, affecting episodes, The Winds That Scatter will have its world premiere at the Northside Film Festival next Wednesday at UnionDocs.
Filmmaker: You've spoken about wanting to create something that was in stark contrast to much of contemporary white American independent cinema, but how did you come to Ahmad and the immigrant's economic and social hardships? What was the casting process like?
Bell: The local gas station in my hometown had an employee with such an amazing, expressive face. When I graduated college I immediately started writing a script with him as the lead. It was pretty bare and it was meant to be a collaboration between myself and the actor. Unfortunately I didn't have the courage to even talk to him about it and before I knew it he was gone. Still, I liked what I had and decided to drive around NJ looking for a gas station employee that had a strong presence and would be down to shoot a feature film. This was definitely a weird endeavor and an odd, random proposition but hey… I'm a strange person. I met an Egyptian man who was initially very interested in working together. Around this time was the Arab Spring and he told me a lot about his life in Egypt, how his family fared while living there, etc. I fleshed out the script with those details and some of my thoughts regarding them. We did a test shoot and it just didn't work so I had to start over from square one. However, I felt that having a character of Middle Eastern descent was something that was desperately needed in contemporary cinema. I kept the script and hit the pavement, passed out flyers, put up online ads. One response led me to Mohammad Dagman, a Syrian, who then led me to Ahmad Chahrour, another Syrian. I rewrote the script to fit them and their experiences and it just kept mutating as we shot.
Filmmaker: How much research went into crafting the script? In terms of both the Arabic dialogue and creating an arc that felt situationally truthful, assuming you felt perhaps an added responsibility in portraying a character so distinct from yourself.
Bell: I spoke to a lot of people and read a lot of news, articles, and essays about the Middle East. I was also very aware that I am a white guy and there's a long history of portraying people from the Middle East as "others," so I read a lot of Edward Said and other pieces about Orientalism. I read the Quran. Most importantly I just asked questions and tried to think of someone else's perspective rather than my own. Despite everything, I think the film does have a lot of "me" in it, for better or worse — my thoughts, situations that happened to me, and so on. But collaboration was key. Dialogue was written in English and I just passed it off to the actors and had them use it as a guide. I encouraged them to go off-book and say lines in ways that they thought sounded more realistic. As for the arc of Ahmad's story, we talked it through and while writing it I kept returning to Werner Herzog's Strozek and some Nagisa Oshima for reference.
Filmmaker: Ahmad's professional life is incredibly transitory but there is something still jarring about the fact that he returns to such generic living quarters every evening — it's as if he has no place of his own. Can you talk about selecting locations and how you envisioned the somewhat episodic nature to his job search?
Bell: Locations were very important. I wanted the environment to be vibrant and varied, I also wanted it to lend power to what was going to be a heavily atmospheric film. I tried to avoid a lot of "people talking in apartments" because that's what I was seeing in other films — which is fine, I don't want to knock them because I love a lot of them, but I thought it was important to go the other way. Since we shot in New Jersey I thought of places that meant something to me or had this weird untapped aura that I could utilize. With regards to his employment, I decided to have a bit more human life surrounding him in his earlier jobs, and then as he finds new jobs, the work becomes increasingly solitary, mechanical, and maybe even dehumanizing.
Filmmaker: You have a particular knack for situating a character in an uncomfortable context, allowing ingrained prejudices to play out before the audience, in the opening and jewelry store scenes especially. Is that how you approach these scenes in writing them, as sort of trials for Ahmed and us?
Bell: I wasn't really thinking they'd be trials, but maybe that's a good word for them. The early drafts of the script had much more overt moments like this: One character straight up refers to him as Osama Bin Laden. When I was in high school I was in driving with my friend and his family and he pointed at the car next to us, the driver being a Sikh man with a big beard, and said "Look, it's Osama Bin Laden!" My life isn't very subtle. But that's where the ideas come from. It's not always so direct. I would never say that moments like that cause more hurt than blatant bigotry, but there's something to be said about those more muted moments. I also just like extreme discomfort in movies — situations that are incredibly awkward but not necessarily glaringly so. Couple that with a long take and I'm ecstatic.
Filmmaker: This project was in post for a while as you struggled to place it at a festival premiere. Did you ever think of forgoing the circuit altogether, and has the elapsed time given you some idea of an ultimate release strategy?
Bell: Yes, I did anticipate that the film might not play at a film festival. I submitted to a few last year before it was really complete — no sound design, no mixing, no coloring. It was probably a bad idea. Also, I'm not as dumb as I look: I understand that this is a micro-budget film with all the hiccups that entails and I also understand that I'm the guy who made a feature film that's about 80% in the Arabic language. I'm also a nobody, really, and I always assumed that festivals wouldn't be dying to have me and my film. It was disappointing to be rejected but I wasn't terribly surprised. That said, I did get a lot of great responses from programmers who loved it but ultimately didn't include it in their festival. That was a bit of a bummer but I'm also seasoned enough to know that programmers don't have to say anything when your film gets rejected — so their thoughtful, extremely kind responses were celebrated as a little victory. I did come up with a game plan in case it ultimately didn't play film festivals, which included both online doings and grassroots screenings. For now I'll travel with it and execute that scheme later down the road. My short films are all online and they find new life almost every day. That's really exciting. I'm curious how one of my longer-form works will do.