Back to selection
"ELEGY"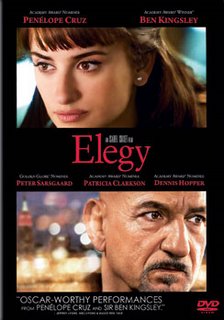 What most fascinated me about this adaptation of Philip Roth's short novel, The Dying Animal, is that it's directed by a woman, Spanish director Isabel Coixet. As Roth is known best for his semi-autobiographical male centered stories with promiscuous themes, Coixet puts a refreshing twist on the womanizing David Kepesh character — who also appears in two other Roth novels, The Breast and The Professor of Desire.
Not as well recognized as Roth's other main protagonist, Nathan Zuckerman, Kepesh is a literature professor who has never had a problem attracting the opposite sex and often times is wooing more than one at a time. In Elegy (meaning a poem of mourning) Ben Kingsley plays Kepesh with equal stoic confidence and debilitating vulnerability.
A man who is going through the motions as a professor at Columbia as well as with his steady fling (Patricia Clarkson), when the beautiful Consuela (Penélope Cruz) enrolls in his class Kepesh is rejuvenated by her youthful (she's supposed to me in her 20s) curiosity of life while at the same time growing a pretty wicked obsession to her. (At one point he follows her and her date to the opera and hangs outside like a sad puppy dog. You get the impression Kepesh twenty years earlier would not have pulled a stunt like that.)
Coixet incorporates some beautiful shots in a film where there's not that much going on. If Kepesh and Consuela are not at his place having deep discussions (or sex), then Kepesh is with his married poet buddy George (Dennis Hopper in one of his better performances in recent memory) who eats up all his friend's juicy stories. There's also the subplot of Kepesh's troubling relationship with his son (Peter Sarsgaard). This here in lies the real man we're following — one who wants to be young forever with no responsibilities; or any that he can't toss away at a moment's notice.
But who really holds the film together is Cruz. Though she deservedly won the Oscar for Vicky Cristina Barcelona, this is the film that gave her the greatest challenge this past year and is one of her best English speaking performance to date. In the scene following Kepesh's attempt to take the next step in their relationship and meet Consuela's family only to be paralyzed with fear and never show up, Consuela leaves a heart wrenching voicemail on Kepesh's machine. Only seeing his reaction to Consuela's voice on the machine, he crumbles before our eyes as Consuela's vocal daggers stick into him. This is certainly a scene Cruz would not have been confident to pull off a few years ago.
The film is on sale starting today through Sony Pictures, unfortunately special features are non-existent on the disk.
[AMAZONPRODUCT=B001OXLGJQ]
[AMAZONPRODUCT=B001E95ZFG]
[AMAZONPRODUCT=B002886C4K]