Back to selection
The Five Terrors of Filmmaking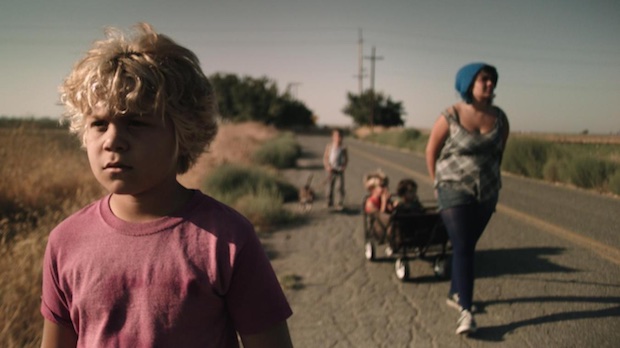 God Bless the Child
Filmmaker 25 New Faces Robert Machoian and Rodrigo Ojeda-Beck's latest feature, God Bless the Child, premieres at IFP's Made in NY Media Center on Friday, August 7th and runs through the 13th. Robert, Rodrigo, Producer Laura Heberton and many special guests will be there in person. Tickets are available here. The film will be digitally released on many platforms on August 18th and is already available for pre-order on iTunes. Below, Machoian and Ojeda-Beck open up about what terrifies them when they make a film and offer a clip from a new series of shorts about their film, 40 Years from Yesterday.
THE CREW:ONE from FOUR THIRTY-THREE PICTURES on Vimeo.
1. Never Getting to Day One of Production. Our biggest fear is getting trapped in development and never getting to actually make the film. It affects the type of scripts we write and the way we imagine shooting a film. Robert tends to write things that he knows we both could make ourselves. This fear lends itself to always writing and working on two projects at the same time: the one we can just make if no one cares at all, and the one that requires financing.
2. Making a Bad Film. This has always been an enormous fear, because it can easily happen. Sometimes things on paper are better on paper than on the screen. People always say, "The book was better." That is a frightening thought, because it can apply to scripts as well. A filmmaker once told us, "It's easy to make a good film. Anyone can do that, but only a few can make a great film." There is a lot of truth to that statement, and it makes the process daunting.
3. The Acting Will Suck. We have worked mostly with non-actors in all of our films. It is an amazing experience and with each film they have brought their "A-game," but it's a very scary to always be resting an entire film on someone who is not an actor. They can easily say, "I'm not an actor" when you are trying to work through a scene with them — and they would be right!
4. The Film is Going to Look Ugly. Robert has shot the majority of the films that we have made together, and it's scary to not only carry the responsibility to direct a film but to shoot it as well. As we come from art backgrounds, cinematography is a real passion for both of us. We know the quality of work that we desire, but we also know the very limited resources we are always working with. We are always striving to have the best image possible within our tight parameters, one that supports the story we are trying to tell.
5. This Will Be the Last Film We Get to Make. We love making films. We love the entire process and we know for a fact it is all we really want to do. But it's a hard process, and we've made all of our films for little to no money, and it always worries us that we won't get to make another. Even at this very moment we are afraid that God Bless the Child will be the last feature we get to do. It would be devastating if that were the case, but it is a real fear. It is terrifying, in fact.