Back to selection
"BAD LIEUTENANT": SPECIAL EDITION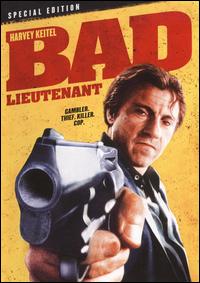 When a film is labeled controversial on its release, often times with the passage of time things that made it risqué become tamer, leaving the story less effective. Abel Ferrara's Bad Lieutenant is not one of those films.
17 years after being released, Ferrara's disturbing look at a dirty cop (played by Harvey Keitel in one of his most powerful performances) running rampant on the streets of New York City is still as gritty, horrifying and powerful as when it premiered at the Toronto International Film Festival in 1992. Receiving a much needed special edition, out this week through Lions Gate, the film has grown in popularity through the years, as a new generation of filmmakers and film lovers, too young to have seen the film when it first came out, have embraced its honesty and amazing, no-holds-barred filmmaking.
Written by Ferrara and actress Zoe Lund (who stars in the film), the film examines the mortality of man and how power can be one of the most intoxicating vices. But it also explores a New York that no longer exists, as Ferrara calls it in the disc's commentary, "a cowboy, shoot 'em up time."
Guided through the late night New York City streets by LT (Keitel), dazed and confused most of the time, Ferrara's use of sports talk show host "Mad Dog" Russo in the opening credits sets a feel that's as tense and unsettling as the Dog's patented rambling, high-pitched voice.
The film's plot is very basic. LT is on a big case trying to solve who rapped a nun in Spanish Harlem while having a huge debt over his head from a bookie on the Mets/Dodgers League Championship Series (a fictitious event).
But the plot isn't what keeps you glued to the screen. It's Keitel's tour-de-force performance in which he portrays the most despicable anti-hero ever to be put on screen. (In the documentary special feature it notes that Christopher Walken was offered the role of LT first, but quickly bowed out stating he could never play this kind of part.) Like Ferrara's King of New York, some of Bad Lieutenant's best scenes are the ones where nothing is said. Keitel is able to convey everything you need to know in a scene through a blood shot-eyed stare, or stumble down a shady stairwell or bass thumping night club. "It's what you don't write that counts," adds Ferrara in the commentary. But when there is dialogue it's stirring. Like Lund's harrowing line after shooting up: "Vampires are lucky, they can feed on others, we gotta eat away on ourselves."
The commentary alone is definitely worth the purchase. Listening to Ferrara laugh hysterically at the most retched moments of the film is twistingly funny (the film's d.p., Ken Kelsch, also is with Ferrara on the commentary). And Ferrara shares entertaining stories, like getting Mickey Rourke to let them shoot some of the scenes at his suite at the Mayflower Hotel and the time Ferrara was offered to make a sequel to the film with the main character being one of LT's kids from the original film, now in his 20s (no, he never mentions Werner Herzog's remake). And if you ever wonder how they were able to get a crowd to gather around LT's car after being shot in the final scene, Ferrara says he basically yelled out "Hey, I think someone got shot" and had five extras look into the car, everyone else followed.
Disc is available here.
[AMAZONPRODUCT=B0028OH568]