Back to selection
TIFF 2015: 5 Questions for Born to Be Blue Writer/Director Robert Budreau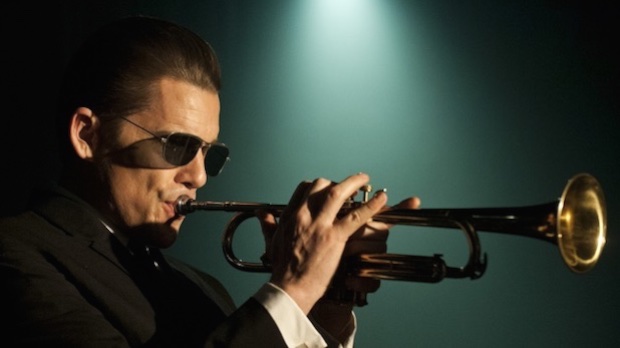 Ethan Hawke in Born to Be Blue
More than three decades after Charlie "Bird" Parker, nearly three decades after Thelonious Monk and just a couple of weeks before Miles Davis, the jazz great whose trumpet style his own owed something to, West Coast jazzman Chet Baker is brought to the screen in Robert Budreau's appropriately intimate biographical drama, Born to be Blue. I write "appropriately intimate" because the constricted scale of Budreau's picture, in which Baker's troubled life is evoked through scenes set at and in the beaches, cafes, apartments, recording studios and even film sets of California's "cool jazz" scene, scales the trumpeter's life just right. Handsome, white, with an "almost flat" trumpet tone and a nakedly emotional vocal style, Baker is, arguably, a minor figure in the jazz pantheon. But without the jazz historical expectations that will loom over Don Cheadle's upcoming Miles picture, Born to be Blue manages to inventively improvise its melancholy notes, mixing visual styles as well as fact and fiction. Centering on a stretch later in Baker's life, after his teeth were knocked out in a parking lot attack and when he attempted a comeback, Born to Be Blue features strong work by Ethan Hawke as the jazzman and Carmen Ejogo as his suffering actress wife. The film premieres today at the Toronto International Film Festival, and below Budreau talks jazz and biopics.
Filmmaker: What are thoughts in general about artist biopics — what works, what doesn't work — and how did those thoughts affect the strategies you've used to tell the story of Chet Baker in Born to be Blue? Are there other films about jazz that inspired you?
Budreau: A lot of music biopics follow a clichéd roadmap of career turning points gleaned from Wikipedia. I set out to tell a different type of story that captures the essence of an artist without being dogged by factual milestones.
In many ways, Born To Be Blue is an anti-biopic because it pokes fun at the biopic formula through a film-within-the-film structure that openly addresses the pitfalls of trying to capture "truth" in the telling of a person's life.
Artist biopics that I admire don't feel like biopics – Raging Bull, Lenny, Adaptation, Renaldo and Clara.
Movies about jazz that inspired me include Round Midnight, with its focus on improvisation, as well as film noirs out of the '40s and '50s steeped in subversive musical violence — pictures like Siodmak's The Phantom Lady or those of Otto Preminger.
Filmmaker: What was specifically about Baker's music that attracted you, and how does the film itself reflect the tone, vibe or structure of his compositions and playing?
Budreau: I'm attracted to untrained voices – Bob Dylan, Tom Waits. The fact Chet sang unmannered, as if he was playing the trumpet, I find fascinating. He never wrote any of his own famous songs, but instead was a re-interpreter of American songbook standards. Born To Be Blue reflects this approach by taking well-known episodes from Baker's life and then improving and re-imagining around that melody to create an organic narrative structure that keeps faith with the spirit of jazz and stands a better chance of capturing an enigmatic character like Chet.
Filmmaker: How did you get Ethan Hawke to play Chet Baker, and what level of preparation did he have to commit himself to? What was your involvement with him during that preparation phase?
Budreau: We made Ethan a traditional offer and happened upon an actor who was an obsessed by Chet Baker as I was. He came onboard after we met extensively and agreed on a collaborative partnership.
We prepared extensively – first with a series of meeting to refine the script and then with trumpet/vocal lessons to prepare for the music side, which was considerable and challenging.
I was involved with the music preparation visiting Ethan in Brooklyn as he took trumpet lessons and working with him to record the vocals in New York.
Filmmaker: Why tell the story of Chet Baker at his cultural moment?
Budreau: The universal elements of Chet Baker's story that we focus on in Born To Be Blue were as culturally relevant in the 1960s as they are in 2015. The themes explored – addiction, race, art vs. love – remain vital and topical today. The fact that young artists still adore Chet Baker and face many of the same challenges speaks to the universal nature and cultural significance not only of Chet's story, but of the jazz age in America.
Filmmaker: What was the biggest challenge in terms of the production of your film, and how did you surmount it?
Budreau: The biggest challenge, other than having all the stars align to finance and shoot the film in the fall of 2014, was creating the period aesthetic of Los Angeles and New York of the 1950s and 1960s in the small town of Sudbury in Northern Ontario in early winter.
Clever production design by Aidan Leroux helped overcome this obstacle, not to mention that fact we shot several pick-up days in Los Angeles following the main unit days in order to capture the California exteriors critical to the music and world of Chet Baker.