Back to selection
Miami Female Filmmakers: Three Points of View on Thursday, October 22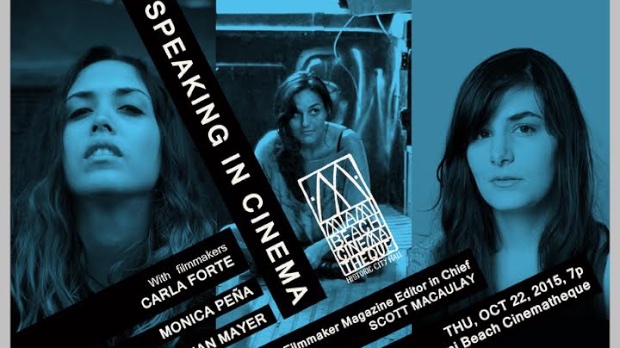 I'll be moderating a Q&A tomorrow night, Thursday, October 22, in Miami with three of the city's most compelling and original filmmakers: Jillian Mayer, Monica Pena and Carla Forte. It's the closing night of this edition of the Miami Beach Cinematheque's "Speaking in Cinema" series, and we'll be discussing the individual works by these directors that have played at this series as well as the filmmakers' general practice and thoughts on the Miami scene.
Filmmaker readers will be familiar with Jillian Mayer's work as she, along with partner Lucas Leyva, were selected for our 25 New Faces list in 2012. Screening at the series were #PostModem, The Life and Freaky Times of Uncle Luke and I Am Your Grandma. From Monica Pena was her no-budget hybrid picture Ectotherms, an entirely unique journey film traversing family history, Miami landscapes and the city's black metal scene, as well as scenes from her forthcoming Hearts of Palm. And from Carla Forte was her documentary on abandoned pets and a culture of disposability, The Holders plus her recent experimental short, Interrupta.
These are all exciting filmmakers and Miami's is among the most vibrant independent filmmaking scenes today. The event starts at 7PM at the Miami Beach Cinematheque and there's an after party at the Sagamore Hotel. Hope to see new and old Miami friends at the event.