Back to selection
This Animated Documentary Won the IDA Award for Best Short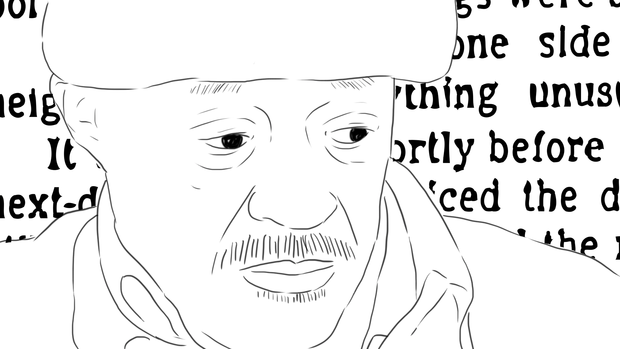 Last Day of Freedom
Last Day of Freedom is a hand-drawn animated documentary which chronicles Bill Babbitt's relationship with his mentally ill brother, Manny, a Vietnam veteran with PTSD who was sentenced to the death penalty after murdering a woman. Using a confessional format to tell a compelling story encompassing the treatment of veterans, PTSD, mental illness, the criminal justice system, racism and family, the film won the Best Short Award at at the International Documentary Association's IDA Awards Saturday night.
Directed by Dee Hibbert-Jones and Nomi Talisman, Last Day of Freedom has taken top prizes at a number of festivals, including the Full Frame Documentary Film Festival, where it won the Jury Award for Best Short, is on the shortlist of Academy contenders.
Filmmaker reached out to the first-time filmmakers to ask them about the process of making the short film, which features about 32,000 drawings.
How did you find your subject? And how much did you involve him in the process?
We met Bill through Nomi's previous day job as a media specialist preparing videos for court testimonies for a non-profit organization that works with prisoners on Death Row and their families. Nomi and I have been working on art and new media projects that look at the ways individuals are impacted by larger systems and we realized that these families' stories needed telling. We interviewed several families and finally decided to produce Bill's story as a short animated film. Bill has become a fast friend. During the development we kept in touch and he followed our progress. He is very excited to have the "Babbitt story" seen through Last Day of Freedom.
Why did you decide to tell the story in animation?
When we first started on the project some of the families we were working with needed anonymity as their circumstances were complex and could be compromised. As we began to focus on Bill's story we decided to use animation to create a way for audiences to see and hear his story in new ways that allow metaphor to live alongside the story facts and details. We didn't want to use reenactment and so we turned to animation. We believe animation has the ability to take us beyond the bare facts into psychological states, abstract feelings. It allows us to deeply feel and empathize with Bill's intense emotions, witness violence and understand a complex, disturbing story in new and possibly unexpected ways.
We consciously chose to draw a broad range of styles in the film, from isolated, stark scenes [and] textured, nostalgic stories of childhood to wartime scenes drawn from archival footage of Vietnam battles and vivid, saturated images whose depth and intensity reflect Manny's charged emotional state as he returns home from war, mentally damaged and homeless.
We spent a long time exploring the line quality — how to draw Bill to represent his strength and also his fragility? With animation every line is intentional. We considered each gesture and image completely and spent a lot of time re-drawing, layering and removing content to describe emotional states of absence, loneliness and overwhelm at different times in the film, through the eyes of both Manny and Bill.
What's your next project?
We are developing the interactive online documentary project to accompany Last Day of Freedom which will broaden the lens to include four families' animated stories, facts and additional perspectives from victims' families, wardens and exonerees.
Watch Last Day of Freedom below.
https://www.youtube.com/watch?v=5diBuNHV75U